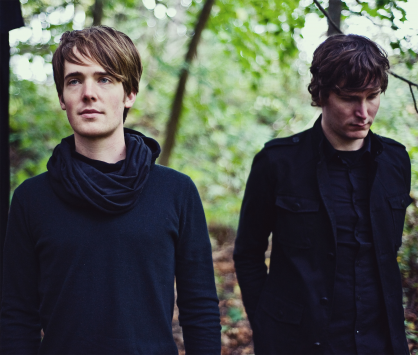 14 May 2012
Earlier this year, minimalist experimental songwriter Benoit Pioulard teamed up with Rafael Anton Irisarri to release a new project under the moniker Orcas. This self-titled project continues Pioulard's tendency towards hazy, dreamy pop, but Irisarri's assistance gives their self-titled album a dimension previously unheard on any of Pioulard's previous work, which had primarily been a singular, bedroom affair. It's a rainy-day affair, to be sure; it's the perfect soundtrack to a day that requires you to stay indoors.
BT: You've primarily been a solo recording artist. What is it like to be in a "band" situation, in terms of your songwriting?
BP: Naturally it's a little bit different than what I'm used to on my own, but it turned out to be very harmonious. Part of this ease has to do with the fact that Rafael & I respected each others' work off the bat, and we quickly discovered that we get on well as friends; this is also important to the collaboration, of course. During our recording sessions at his studio/home we'd watch lots of Larry David-centric comedy and drink in the evenings, then he'd wake me up at 7 or 8a.m. to record vocals – since we both decided we should try to make my voice sound a little different – and we'd work together on editing the best takes from that. Rafael's strengths are in the instrumental & atmospheric parts of the songs and mine tend to be in the structural and lyrical, so it was a nice split of duties… Instrument-wise, the playing is typically shared fifty-fifty.
BT: How does a typical Orcas song wind up being written? What's your process?
BP: We'd almost always start with improvisations using really circuitous guitar pedal setups and live amps with microphones. From there we'd settle on chord structures that we liked and I'd let my mind set on a melody idea or two for the voice parts; at that point I'd usually go to the other room and compose lyrics while Rafael worked on sound wrangling and mixing. The only exceptions are the cover of "Until Then", and "Arrow Drawn", which is a song I wrote while on tour last year.
BT: Have you performed live?
BP: We've had one show to date, which was last October in Seattle as part of the Decibel Festival – coincidentally at the same place we'd met two years prior. I've been living in the UK since December, though, so it's only now that we're finally gearing up for a proper set of shows, all of which will be on this side of the ocean. Unfortunately our friend Kelly – who played piano for the October show – won't be joining us, but for several of the gigs we'll be assisted by Martyn Heyne, who is a friend of Nils Frahm and a really excellent pianist.
BT: What's next for you guys, both separately and with Orcas? Have you felt any changes to your own solo writing style, Mr. Pioulard?
BP: Rafael is always working on new solo material and he's also heavy into the legwork for the second edition of his Substrata Festival, which will be happening in Seattle during the first weekend of August. I'm well sad that I probably won't be able to go to this, as the lineup is absolutely killer… As for Orcas, we're still shuttling ideas and files back & forth by email, making demos of new pieces and preparing for the next time we can sit down together and get back into proper recording mode. While I'm overseas for the year (or however long it ends up being) I'm working on lots of new things with a slightly pared-down setup and roughly the same writing process with a few necessary & natural changes. I found a surprisingly nice classical guitar at a car boot sale a couple of months ago for £10, so that's getting some good use.
comments powered by