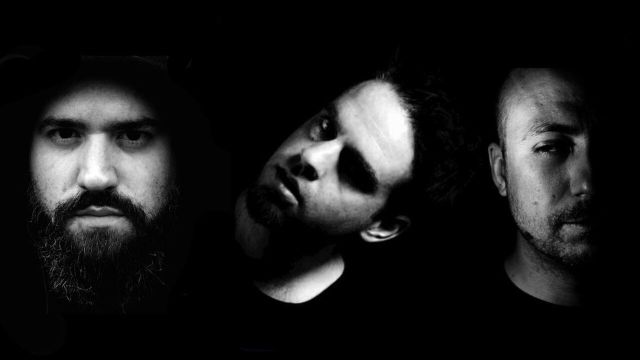 22 August 2016
Post Death Soundtrack is the atmospheric alternative rock/electronic/industrial project of a trio of long-standing Canadian musicians who have collaborated and released two full-lengths, most recently the genre-blending concept album The Unlearning Curve this past May. Kenneth Buck, Steve Moore, and Jon Ireson form the core of this collective, with Colin Everall joining in for the creation of The Unlearning Curve and on some live performances. Jon and Steve take some time out to explore the band's history, other music-related activities, the crafting of their latest album, and what the future holds in store.
Heya guys! You released your spectacular, genre-blending sophomore concept album, The Unlearning Curve, this past May where you move through the electronic, alt-rock, industrial, and psychedelic fields with ease. Before we delve further into The Unlearning Curve, can you go into who is in the band and what instruments you play?
JON: Ken and I handle the majority of the production, so that's guitars, synths, programming, and drum programming. Steve will sometimes add guitar or write drum beats. My main instrument is bass, so I take care of that live and Ken bounces back and forth between guitar and synths. Steve and Ken share the vocal duties. Colin was around a lot during the creation of the album. He contributed some piano and played drums for us live. He may not be a member, but we definitely consider him part of the collective.
Steve, you founded Post Death Soundtrack with Ken at some point in the mid-2000s. When exactly did the band form and Jon, when did you end up part of it too?
STEVE: The band formed in 2006 as far as I recall, but the seeds and initial demos were likely a little earlier. It started off as a way for me and Ken to explore some musical freedom and do something different. We ended up really forming a strong musical connection as a duo, and it seemed like our personalities and song instincts complimented each other very well. We wrote and recorded Music As Weaponry within about a year's period and released it in 2008. I still have a fondness for that album.
After the first album, we found Jon and he was an instant perfect match. And within a very short time we were all connected… as brothers, both friend-wise and music-wise.
JON: I've known Ken for almost 20 years now. Jesus…. Back in what must be 2006, my band was playing a show with one of Steve's former projects, Inner Surge. We'd always dug sharing a bill with those guys. Ken showed up and told me about this weird industrial crossover project he had in the works with Steve. I was about to move to Vancouver, but I told them if they ever needed someone to throw down some bass, I was in like sin. I ended up joining in 2008, shortly after they released their first album.
From what I understand, you are all involved in other musical endeavors besides Post Death Soundtrack. Steve, I know of you from your work with Gus De Beauville as The Unraveling. Are you all active with other musical projects at the moment?
JON: Right now, Post Death Soundtrack is my main focus. The Unlearning Curve took a long time to release; we want to churn out the follow-up a lot quicker. I've also been doing some engineering for Steve's new project, He Is Me, and have a psych-rock/trip-hop project in the works here in Vancouver which will be more of a live venture than these other projects.
STEVE: I'm focused right now on writing and recording as much Post Death Soundtrack material as possible. We're feeling on a roll so we could have over an album's worth of tracks in a very short span of time. The new stuff is heavy in mood, very heavy. The Unlearning Curve is going to seem like a walk in the park, and that's exciting to me. It really feels great sharing Post Death Soundtrack with people and, while we have a lot of fun creating, we take it very seriously. So we're motivated.
Other than Post Death Soundtrack, I'm currently involved in a duo with myself and Casey Graunger from Portland called He Is Me that I'm pretty excited about. We're both aiming to do something very emotionally visceral and musically hypnotic; state-changing music. Not too heavy on the guitars, but very focused on mood and feel. We just released our first single and are working on an album. I'm also working on solo material, building a live band, and for any musically-inclined readers, looking for collaborations. I'm doing as much as I can – I think I've come down with some sort of 'carpe diem' syndrome.
What are the main themes behind The Unlearning Curve and how did they take shape? Would you say that what you write is about a journey through the inner psyche?
STEVE: I'd say it could definitely be a journey through our inner psyches, but our core concerns may or may not be something other people relate to. There are a few core themes, and while the album seems like a concept album, it's not a true concept album because none of it was planned. Certain things just happened to repeat naturally. Some lyrics on The Unlearning Curve are partially inspired by the views of Alan Watts and J. Krishnamurti, who pose an alternate view to consider about the value of thought, memory, and knowledge. The Unlearning Curve, needing nothing, judging nothing, dropping identity, going beyond thought. So, some of it is about letting go.
"That Which Is", the lyrics were written when I was recovering from cancer and going through some physical and emotional pain. The words were written to myself for the most part. "You Can't Go Back" pretty much says "Why would you want to join the crowd?" and "What could you possibly need?"
Other songs like "Arrythmia Dreaming" and "Our Time Is Now" are visceral with digging into the moment, getting mad, getting outside yourself. "Through the Gates" is about being nobody, nothing. I don't mean that in a negative way at all. There are a lot of themes, but they go together in a strange way.
Your sound melds a combination of musical genres, most (all?) of them dark and intense. Are your songs sonically constructed out of these different styles because each of you has a specific background, interest, and/or strength in a certain genre?
JON: It's not that we each have drastically different tastes from one another, but rather that we all enjoy a very wide variety of music. Ken tends to listen to a little more synth-pop and Steve listens to a little more metal. I listen to a little more psych and ambient, but in general we all appreciate a wide array of styles. If you look through my vinyl collection, you're not going to find a lot of industrial considering the tone of our work. I like dark, intense, and weird, but it's got to have a song at its core. The Beatles are still my favourite band. When it comes to translating influence into writing music, I think to us the safe musical choices are boring. If it's weird or unsettling we go, "Oh, we like that!"
STEVE: I think that I must have connected with intense music at an early age, because, well, I'll hear something like Swans and I'll tell myself, "If I don't feel something this much, if I can't strive to bring that kind of intensity to my art, I really shouldn't do it at all. There would be no point." I really feel that way. It's just personal preference, but that's the way I naturally write and it's what I enjoy. That being said, my favorite band is also The Beatles! Play the Beatles and your worries leave you.
"You Can't Go Back" is mesmerizing – dreamy and foreboding at the same time. What is the meaning behind the lyrics and what was the creative process like for this song?
JON: The essence of the song came from a recording of a 5 in the morning jam with a drum machine, synth, bass, and vocals. A few months later we came across the tape and liked it, so Steve and Ken wrote guitar and vocals and put it into a basic structure. From there I took it and layered on the production and orchestration and added the reprise at the end. In one section I layered 6 or 7 brass lines that I laid down on an old baritone horn that I have. I pitch shifted them up and down to turn it in to a brass ensemble. I used an EBow to make a sound like a siren. There are a lot of weird studio experiments on that one. I consider the music a bit of a nod to "Strawberry Fields Forever".
STEVE: The lyrics, to me, say that there is no going back after the action is complete. There are consequences to everything and there is no fixing anything. You are free as you are now and you need nothing, no one to support you, none of it. Don't be afraid, as you may be surprised what comes through the fog.
You walk a fine line at times between noise and melody. Why the desire for dissonance and aggression? Why not spin everything into a psychedelic dream?
JON: The balance is just what comes naturally to us. I think we'd get bored of just writing dreamy stuff. When I listen to that kind of music, like shoegaze or ambient, I can only last so long. In a way, it mimics the way that we shift from moments of preoccupation and frustration to contemplation and peace throughout the day, often very abruptly.
STEVE: I find that having dissonance, because you even hear it used in great classical or jazz pieces, really adds to the depth of the experience. When used correctly, of course. Silence makes the scream more potent, and vice versa. In The Dark Knight, everyone pays attention when the Joker is near, and the dueling violins ring the alarm with dissonance. We want aspects of the music to get people's attention, to wake them up. It's tough to do that without hitting the odd devil's note. Also, I just love it, myself.
Your debut album, Music As Weaponry, came out in 2008. What has your journey been like, musically and/or otherwise, between that album and this one?
STEVE: Well, I think that our stuff became more psychedelic '60s and David Bowie*/*Velvet Underground -inspired after Music as Weaponry, whereas on the debut album there was a lot of NIN, Skinny Puppy, Portishead, and Tool influence. Now we're starting to put everything together into a cohesive whole.
From what I gather, you're each located in a different region of Canada (Vancouver, Calgary, and Toronto). Did the distance make the material grow deeper and more complex? Were there times when there were missing connections when creating the music?
JON: Although a lot of the production would happen while we were in different cities, many of the basic ideas and live tracks were recorded when we all assembled in the same city. When the members are only in town for a week or two at a time, you put your head down and you really get things done. Conversely, when you're spread out across the country, everything takes longer to assemble because it's harder to have instant feedback. Year after year the technology makes that less and less of an issue.
How did you hit upon your starkly bleak band name?
STEVE: Ken came up with it. It could mean many things – We actually see it as a beautiful name. We're not really morbid people at all, so in one sense it means that Post Death Soundtrack is everything you leave unfinished, unexamined. It's the attachments at the end of your life that keep reverberating. Alternatively, great people throughout history have a post death soundtrack, so it's also an idea that can't be killed. A powerful intent that breaks through the limitations of time. Sorry to get heavy, haha!
Where does the album's artwork come from? Is it an image of a painting?
Jon: We commissioned Toronto artist Kayla Aileen Brown to do the painting. We gave her very little direction other than to listen to the album and paint what you feel and we were all extremely pleased with how it turned out.
There's a resurgence of interest in vinyl of late and you offer a limited edition vinyl format. Is that still available? Can you please list your official sites where we can find out more about you and your music?
STEVE: It is not currently available, but we will be releasing a lot of new merch as soon as we can, including vinyl. You can find us at our official site. All the social media links are right there and we communicate on Facebook and Instagram quite frequently.