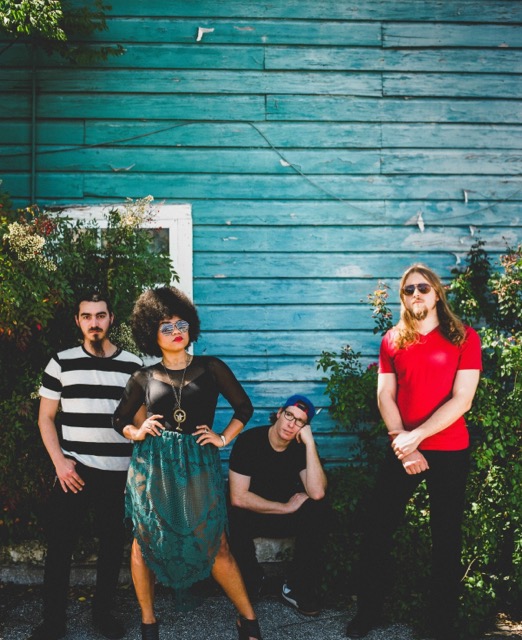 11 July 2016
Photo by Pooneh Ghana
Not much consideration is given towards Shreveport, Louisiana as being a hub for great indie rock but Seratones may change that. The city is practically equidistant to several regions with roots ingrained in our nation's musical history. The jazz of New Orleans, Mississippi delta blues, early rock 'n' roll of Memphis, as well as regional staples such as country/western and gospel; thereby producing a perfect melting pot to incorporate all those influences and flavors. Enter Seratones. The band features A.J. Haynes (guitar/vocals), Connor Davis (lead guitar), Jesse Gabriel (drums), and Adam Davis (bass) and has just released their debut full-length 'Get Gone' on Fat Possum Records.
With day jobs, the band met and bonded at local punk gigs and began rehearsals followed by late-night listening parties featuring a variety of blues and jazz records. These influences ebb and flow through songs such as the garage rock/punk speed demon "Sun" and the swampy raunch of "Don't Need It" all capped with Haynes' soulful, impassioned delivery, (a technique developed from a very early age at Columbia, Louisiana's Brownsville Baptist Church). In a city with no musical identity, Seratones have set out to establish what southern rock should really be about; gritty determination courtesy of a DIY ethic. Huge thanks to Elizabeth Heyman at Press Here for coordinating the interview and to A.J. and Connor for their responses.
 
"Get Gone" hit me like a ton of bricks when I first heard it. I am excited to know something so great is coming out of Shreveport. It is hard to imagine bands, (outside of cover acts), like Seratones originating from there. How would you describe the music scene in that city and was it difficult to get noticed? Has it been a struggle considering demographics and socio-economic/political impacts or, rather, do you pull inspiration from those factors? 
 
AJ: I think of Shreveport more like a playground…like the playgrounds we had when we were growing up with metal slides, questionable merry-go-rounds, and the derelict seesaws that all teach you important life lessons. I love my city. We make a lot with the little we have and I couldn't ask for better people to spend time with when I'm not on the road. The music community is very close-knit and everyone has their own weird sound. I'm close friends with folks from both Cloudbreather (a devastating hardcore riot of a band) and Bloodpunch (a hip-hop duo from outer space that has songs about spaghetti and Bangarang!!!) and on any given week we'll all be at shows together. We have an annual Blues and Jazz festival with the usual suspects; damn good cover bands and incredibly talented folk artists. Buddy Flett (ex Bluebirds) taught me how to play guitar. We all look after each other and help each other when we can. Are there severe socioeconomic disparities in my city? Yes. Any economy that draws from something as awful as casinos that prey on the poor and desperate will. Racial inequality, low literacy rates, police violence? Yep. Does that make me love my city any less? Nope. We're all just trying to make a dollar out of fifteen cents. 
 
It is easy to compare the Seratones sound to garage/punk bands but, being from the South, it is hard not to notice blues/jazz undertones to your music, including your vocals. Is it a matter of each band member bringing their own tastes to the songwriting process and mixing it together to create your sound? Seems like there is a bit of a melting pot going on with 'Get Gone' and musical stylings?
 
A.J.: Our songwriting process is collaborative. We do, indeed, bring our own influences and styles to the mix when we're writing. Our goal though, at the end of the day, is to write a good song. Everything else is an afterthought.
A.J., from what I've read, you were formally trained in gospel? That would certainly explain the Etta James soul in your voice but, I must admit, I immediately thought of the late, great Poly Styrene of X-Ray Spex when listening to the record for the first time. What influences would you cite as having an impact on your vocal style?
 
A.J.: I would definitely agree that I have more in common with Poly Styrene than Etta James. I honestly never really listened to a lot of Etta James, aside from her (1994) record of Billie Holiday covers, "Mystery Lady: Songs of Billie Holiday". My biggest vocal influences are Billie Holiday, Anita O'Day, Ella Fitzgerald, Jello Biafra, and Jorge Ben. I believe whole-heartedly that Jello Biafra would have made a killer jazz vocalist. He damn sure has the phrasing for it and a killer band to boot; take a listen to the rhythm section on "Night of the Living Rednecks", (off 1987's 'Give Me Convenience or Give Me Death' compilation by Dead Kennedys). Impeccable stuff!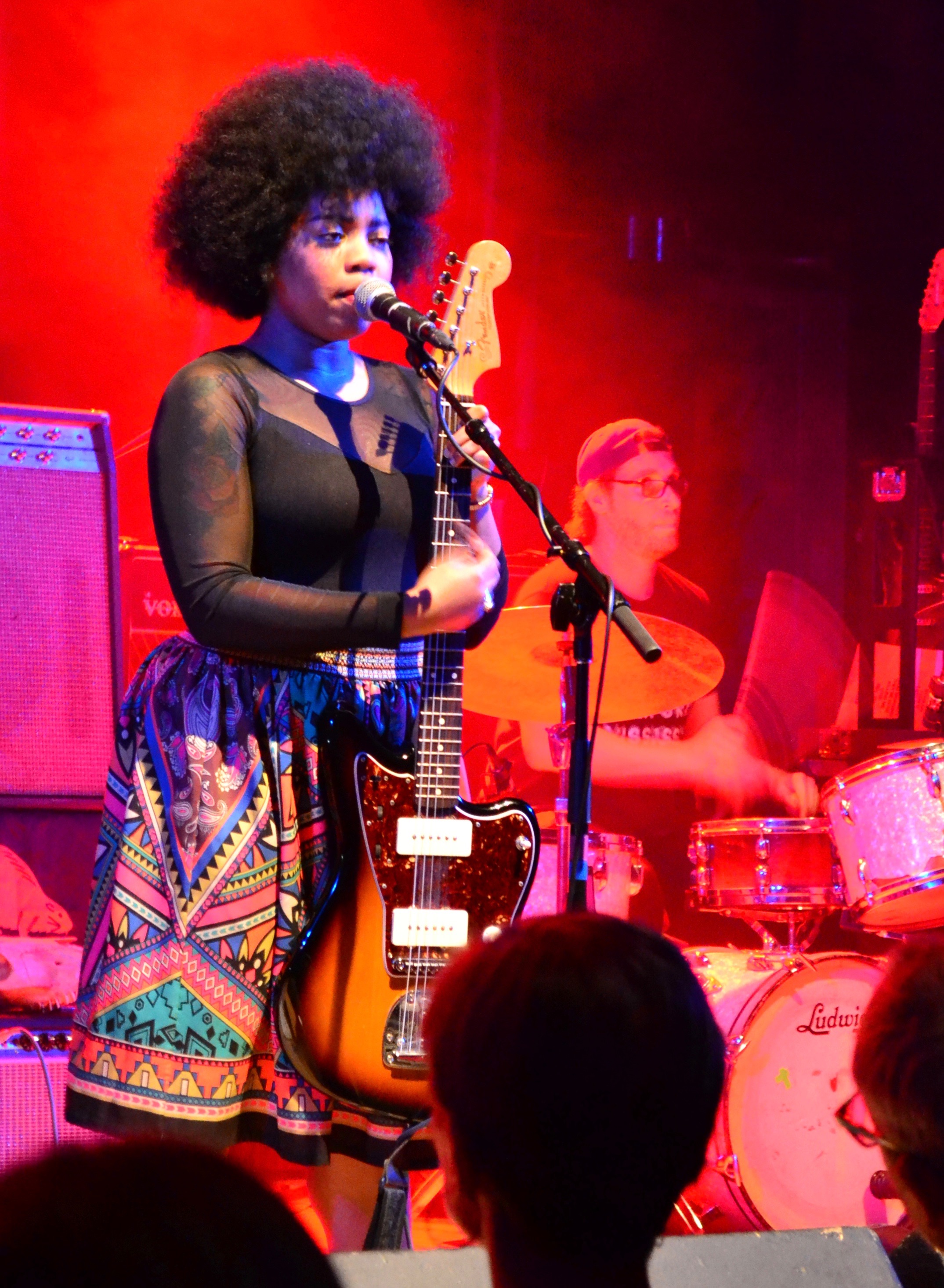 Photo by James Broscheid
Have all of you been able to quit your day jobs yet? Maybe play a farewell show at the high school you teach at as your two-week notice A.J.?
 
A.J.: Buy the ticket, as they say. We're now all full-time Rock & Roll, with the exception of a part-time job or two when we're in town. I left my teaching position last May and was able to juggle some part-time work in the interim. All of our (employers) were incredibly understanding of our touring schedule and supported us along the way. 
 
I don't think there is a better fit for the band than Oxford, Mississippi's Fat Possum. How did that relationship come about?
 
A.J.: We've been Fat Possum fans for years. Jesse introduced me to R.L. Burnside and between Hill country blues (regional style of country blues) and The Black Keys, I was hooked. The fact that Fat Possum stumbled across our band by complete chance still blows my mind. When we started Seratones, we hadn't really considered a label. We were focused on writing, playing shows and staying relatively sane. We played our first out of town show at Maxine's in Hot Springs, Arkansas with regional bands Ghostbones and NERVS. NERVS' frontman Deg (Ronilo) just so happened to work at the Fat Possum warehouse and told (manager) Bruce (Watson) and (label founder) Matthew (Johnson) about us the next day. I soon after received a message from Bruce and we signed with Fat Possum within that month.
 
I enjoyed learning about the story behind the song "Kingdom Come" and agree that King David is a complete piece of shit! A.J., do you still find time for church with everything that is going on or is your singing style and lyrics hold-overs from a bygone era? Was singing nurtured and supported by your family all along? I suppose that same question goes to the whole band. What kind of early influences have you had that helped you come to the realization you wanted to make music?
 
A.J.: I will always love my family from Brownsville Baptist Church. I believe that we are all on our own spiritual paths; a brick & mortar church just doesn't seem to fit with mine. I've actually been called a "Satin worshipper" (yes, I suppose the fabric is quite nice?) by a very confused and angry Shreveport Baptist in response to an absurdist Christmas pageant play I helped put together.  Yes, my family has always encouraged my pursuit of music. My first "manager" was my grandmother who would pay me to sing for family members or whoever she felt needed entertaining. My mother was also a professional singer. I still have her Bossa Nova sheet music book with the beautiful Astrud Gilberto on the cover. 
 
Connor: I had an early exposure to a wide variety of music. One of my first memories is listening to the (The) White Album (1968 double LP by The Beatles) in my crib! I asked for piano lessons for my fifth birthday and I haven't stopped playing music in one form or another. My mother was a pianist and has kept me constantly motivated and encouraged, while my father taught me the power of a good, loud-as-hell rock and roll song. I remember listening to Jimi Hendrix's version of "All Along the Watchtower" for the first time on a road trip with my dad and being completely spellbound and slightly deaf afterwards.
 
It's hard to NOT think about bands like Lynyrd Skynyrd, Molly Hatchet, Blackfoot et al when someone says "Southern rock" to me. "Get Gone" does not come across as Southern rock to me at all going by that logic. Does that adjective apply more towards the spirit/diversity of the south and how it pertains to your music? 
 
A.J.: (Civil rights advocate) Medgar Evers' last words from his essay "Why I Love Mississippi" have always resonated with me: "It may sound funny, but I love the South. I don't choose to live anywhere else. There's land here, where a man can raise cattle, and I'm going to do that someday." I do believe there is something in the land here that makes Southern music special, albeit the terrain in some parts is very different than from Medgar's time. A few months after writing those words, Medgar Evers was shot dead in his driveway by cowards (1963). Those cowards and their kin don't get to lay exclusive claim to the land for which Medgar fought. His blood and the blood of many others is in this soil. I'll be damned if such a one-sided overly simplistic representation of music from this land is all the world comes to know. I don't think that Skynyrd, Molly Hatchet, or Blackfoot set out to make music that would be co-opted by a handful of loudmouth bigots. I think they are all great bands. And not all of their fans are bigots. To say that these bands are representative of Southern rock is an erasure of other stories told and yet to be told. I'm excited about a new era in Southern Rock & Roll led by such bands as the Alabama Shakes, St. Paul & The Broken Bones, Lee Bains III & the Glory Fires, Jason Isbell and the other great storytellers that will come along.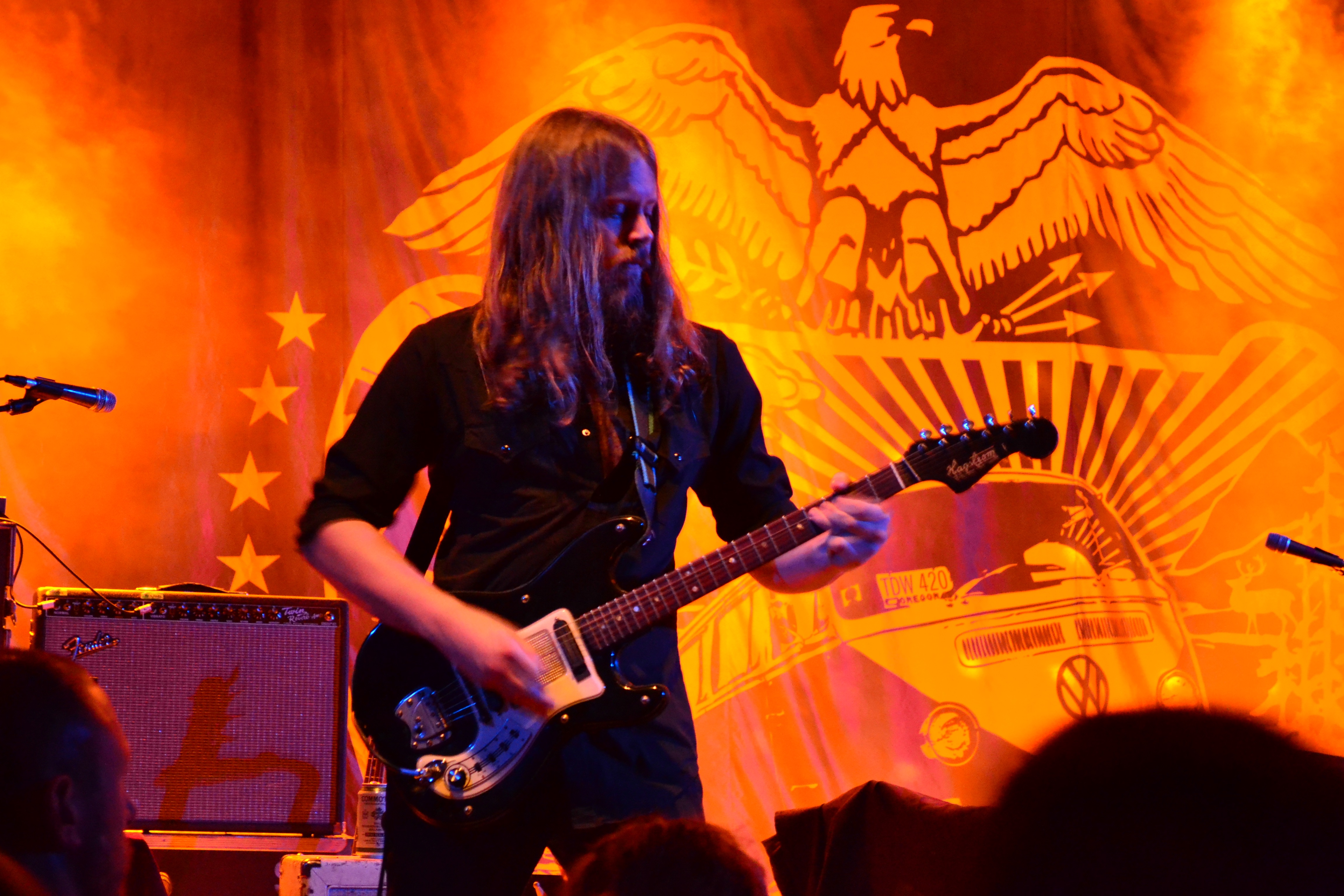 Photo by James Broscheid
2016 Tour dates:
July 15 – Forecastle Festival – Louisville, KY
July 16 – Sloss Music & Arts Festival – Birmingham, AL
August 12 – Aura Ultra Lounge – Shreveport, LA
August 19 – Pukkelpop Festival – Hasselt, Belgium
August 20 – PStereo Festival – Trondheim, Norway
August 22 – Molotow – Hamburg, Germany
August 23 – Berghain Kantine – Berlin, Germany
August 24 – Blue Shell – Cologne, Germany
August 25 – Cabaret Vert – Charleville-Mézières, France
August 26 – Bramham Park – Leeds, UK
August 27 – Reading Festival – Reading, UK
August 28 – Leeds Festival – Leeds, UK
August 30 – Music Hall – Ramsgate, UK
September 1 – Lexington – London, UK
September 2 – Bullingdon – Oxford, UK
September 3 – End of the Road Festival – Dorset, UK
September 4 – Together The People Festival – Brighton, UK
Tour Dates with St. Paul & The Broken Bones
September 15 – Marquee Theatre – Tempe, AZ
September 17 – Brooklyn Bowl – Las Vegas, NV
September 20 – The Wiltern – Los Angeles, CA
September 21 – Fox Theater – Oakland, CA
September 23 – Roseland Theater – Portland, OR
September 24 – Paramount Theatre – Seattle, WA
September 25 – Commodore Ballroom – Vancouver, Canada
September 27 – The Depot – Salt Lake City, UT
September 28 – Fillmore Auditorium – Denver, CO
October 1 – Cain's Ballroom – Tulsa, OK
Headliners
October 5 – Horseshoe Tavern – Toronto, Canada
October 6 – Beachland Tavern – Cleveland, OH
October 7 – Empty Bottle – Chicago, IL
October 8 – Turf Club – St. Paul, MN
October 9 – Colectivo Prospect Cafe – Milwaukee, WI
October 12 – Big Room Bar – Columbus, OH
October 13 – Club Cafe – Pittsburgh, PA
October 14 – Milkboy – Philadelphia, PA
October 15 – Brighton Music Hall – Allston, MA
October 16 – Levitt AMP – North Adams, MA
October 18 – Mercury Lounge – New York, NY
October 19 – Knitting Factory – Brooklyn, NY
October 20 – DC9 – Washington, DC
October 21 – Cat's Cradle Back Room – Carrboro, NC
October 22 – The Earl – Atlanta, GA
October 25 – Club Downunder – Tallahassee, FL
October 27 – Proud Larry's – Oxford, MS
October 28 – VOODOO Music & Arts Experience – New Orleans, LA
October 29 – Duling Hall – Jackson, MS
November 2 – Iceland Airwaves Festival – Reykjavik, Iceland
November 11 – Paradiso – Amsterdam, Netherlands
November 12 – Rotown – Rotterdam, Netherlands
November 13 – Vera – Groningen, Netherlands
November 14 – AB Club – Brussels, Belgium
November 15 – Le 106 – Rouen, France
November 17 – Fuzz Yon – La Roche Sur Yon, France
November 18 – L'ASTROLABE – Orleans, France
November 19 – Cartonerie – Reims, France
November 21 – Les Inrocks Festival – Paris, France
comments powered by