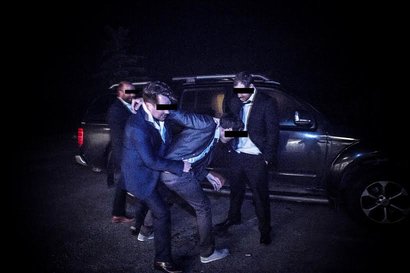 6 July 2015
Back in the1980s, young Jamie Fry formed The World of Twist with a handful of friends. The first incarnation of the band fell apart, and Fry went off and formed Earl Brutus with several ex-World of Twisters, and that group released two albums and a handful of singles, featuring the band's trademark sound of not-easy-classifiable sounds, blending punk, electronica, rock, and psychedelia into a heady, hearty stew. (Sleaford Mods should at least send Earl Brutus a father's day card, just to show you how their influence lives on.) But Earl Brutus came to an end, and in 2010, Fry reunited with his former bandmates, continuing on the Earl Brutus' sonic legacy with The Pre New. While maybe not as raucous as Earl Brutus, The Pre New definitely has its moments, and their latest album, The Male Eunuch (out now on 3 Loop Music/Cherry Red) is an album that proudly is unclassifiable. Mellow one minute, brash the next, with changes coming with no announcement, it's certainly an album that'll make your head spin..but in a very good way, indeed.
When you returned as The Pre New, what prompted the name change? Why not Earl Brutus again, or was the vibe a different one? 


For me it was never in question that Earl Brutus would continue following Nick Sanderson's death, I was clear in my own head that it was done. We had often talked about making another album before Nick got ill, we had song titles like 'Train Driver In Eyeliner' and 'Edwardian Wanking Machine' in the note book, and when we played at Ken Livingstone's London Mayor show we had no idea that this would be the last ever Earl Brutus gig. Much as we were a classic group who all made up something far greater than the sum of its parts, Nick was a huge personality who as time went on, got deeper and more spectacular at being the front man. 
So finding someone to fill his boots was never on the cards and I would have felt cheap.
The lazy option would have been to form a group with what was left, you know, with people who had also known him, but it would have just been Earl Brutus minus Nick, like the The Family Stone without Sly. It would never have been good enough. So a few years later it made sense to start all over again, and anyway working with LB and New Stu energized our new band; it was because they wanted to make this happen that I wanted to be involved.
On Music For People Who Hate Themselves we honor both Tony Ogden (World of Twist) and Nick. You can hear them on Transfer and I guess that was our way of saying goodbye, referencing our past and facing up to the future.
The Male Eunuch just sounds like The Pre New to me, its got its own reference points and it stands on its own two feet and, for someone that can't sing or play any instruments it's a bit strange and very exciting to be involved with yet another album that I would have gone out and bought anyway. 



The Pre New. I like that band name because it suggests innovation yet tradition. What does it mean for you, and what does the name represent?
It's the ultimate name for a band isn't it? The past and the future colliding, perfect, and it feels right for the people we are. Vinny Gibson, Stuart Boreman and my encyclopedia of punk rock and acid house verses New Stu (Stuart Wheldon) and Laurence Bray's bizarre faith in modern technology. And let's not forget that Gordon King orbits around this same solar system. And our logo, our badge of honor, if you like, is based on the classic British Rail sign, two arrows pulling in two different directions, The old verses the new … distorted guitars vs. simple minimalist electronics and a never-ending argument that is pop life.



You guys came about from the famed and now well-regarded World of Twist, even though one might not necessarily make the connection sonic-wise. Do you feel a sense of continuum between the two; what do you feel they bring to your music two decades on?


To set the score straight this is the World of Twist that Tony and Gordon created in Manchester. It started as beat group in Sheffield with me on vocals but didn't really function as a decent band until they moved back to Manchester; by that time I was taking the pictures and flashing the lights.
People have always made the connection between Earl Brutus and The Pre New, happens a lot, but I personally think we've got more in common with World of Twist, I don't know about sonic-wise but there feels like there's a connection which I put down to New Stu's pop sensibility, something that is very similar to Tony Ogden's approach. They were never in the same room but they both like a tune, a melody and they get/got pop music. "Listen to Flaccid Astronaut" and "Cathedral City Comedown" and you can hear that connection. 


Stu Boreman said to me a while ago that had we not run into New Stu and LB we would have probably formed a truly dismal miserable British band, and I agree, we wouldn't have had a problem being in that vile band, I like that kind of stuff, but New Stu and LB brought some sunshine into the proceedings, which is what Tony Ogden would always do. Both are never scared to project pop tunes into the dark corners.
And… don't forget New Stu, despite being born in the North of England emigrated to Canada pretty early on, as a youth he would work in a record store playing World of Twist records. I guess he could have helped us create that vile band had he stayed in England, but Canada must have forced some positivity through him and that reflects in everything he does.
There was always a desire in Earl Brutus (and World of Twist) to 'get it wrong' and never chase what would work and what would be cool. As individuals we all carried this with us through school and it has continued to run though the music and artwork of all three bands and that is the collective umbrella we all stand under, hopefully keeping the dull and dreary at arms length. 



Tell us a little more about "Photographed." What does it mean to you? How did it come about?


Musically it's a smooth European electronic ride, you can hear Nick's wife Romi (Gun Club bass player) whispering and singing the chorus, and it all sounds magnificent when you're on the move in a car or on a train. When we're in the USA we can plug our gear in and show you what we mean.
'Photographed' is one of two tunes on our album set in Barcelona. The city used to be Vinny's home for a while. If you haven't been, it's a wonderful football obsessed place, like Glasgow or Manchester, but with a beach and palm trees.
The song is open for interpretation but for me it's about being in a great city having all these wonderful things like technology and cheap air travel and still not being able to be satisfied or content.The 'we' in the song is a phone, your ultimate traveling companion, which is tragic really.
I guess you should just enjoy the beach and leave your phone at home.
Next time I'm in New York City I'm going to play 'Photographed' driving though the Holland Tunnel to New Jersey and back, it will always remind me of "Holland Tunnel Dive" by IMPLOG, one of the great tunes of my youth.