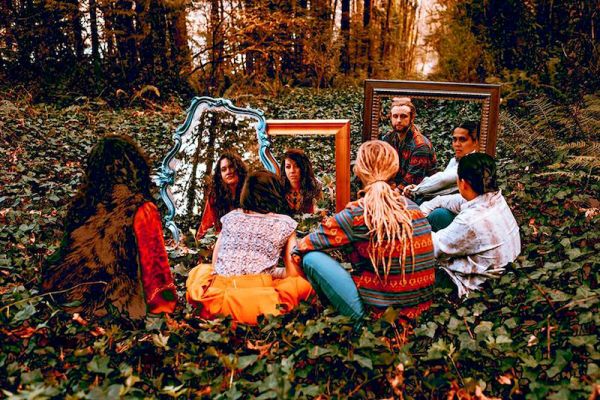 20 December 2019
Dream Wulf – Photo courtesy of Dream Wulf
Portland, OR-based band Dream Wulf blends elements of alternative, psychedelic, prog, heavy, and dream-rock on their new record All Things Unconsidered.The double-EP contains remixed and remastered classics from their demo release in 2017 and four new songs. The band is also in the midst of writing a full length concept album to be released at a future date.
Founding members John Villadelgado and Jessica Bahl enjoy following their dreams and capturing their imaginative vision through Dream Wulf's sound. They are joined by prog- metal, and jazz-trained drummer Glenn Walters and psychedelic punk enthusiast Kyla Maunakea on her headless bass.
The Big Takeover is stoked to host the premiere of the vivid and captivating All Things Unconsidered on the day of its release. The songs on the double EP are fiercely psychedelic, rife with powerful female vocals, mind-melting guitar riffs, intricate time signatures, and atmospheric and heavy undertones.
The band shapes tension between the push and pull of light and dark energy, crafting a charged synergy that forebodingly delivers their positive messages. The band explains, "All Things Unconsidered is a collection of work expressing the frustration and sorrow for all the world we love and live in. It's about the chaos that [permeates] us all, and therefore that [permeates] the world. We are without acknowledgement lost within the constraints and construct of time. It is said that creativity lies within the eyes of a child. The album echos the desire to not lose that creativity [which] is often stifled with age."
"The title of the album… describes the left behind; the subconscious thoughts and feelings that have been pushed aside and forgotten. Throughout the album, lyrical and musical compositions [reveal that] the power for radical and creative change has always been our own hands. All Things Unconsidered… dares you to open [your] personal perspective…"
Website
Facebook
Instagram
YouTube
Bandcamp
Soundcloud
Spotify