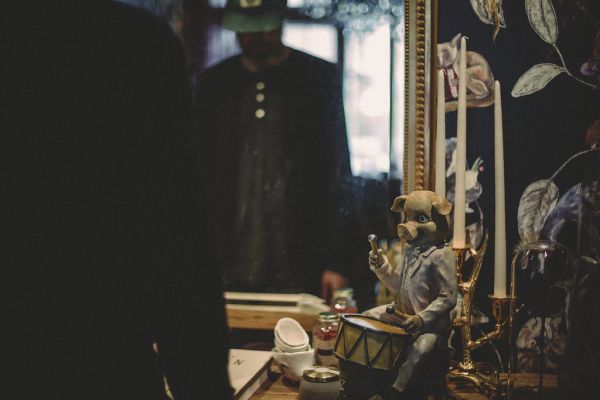 27 September 2019
The Cabin Fever – Photo courtesy of The Cabin Fever
The Cabin Fever evolved from single-cell/mind consciousness into full existence in Los Angeles and they have been captivating listeners with their disquieting and cathartic lullabies ever since.
Their restless music portrays a distinctive world that The Cabin Fever have created, which, despite its mordant-humor approach, almost always ends up loaded with ruminative sadness, bittersweet beauty, and just enough cynical hope to keep ears tuned to their absorbing sound. From their very own Fever Dream Studios they create with total control – to set a mood for the moody and offering simple songs for complicated people.
The Big Takeover is pleased to host the premiere of Alone Together, The Cabin Fever's newest collection of tracks. The self-released EP drops today, September 27th, and the record is streaming in its entirety below. This is the band's third EP, which follows up debut Enjoy Yourself from 2016 and last year's Exercise The Demon EP.
The Cabin Fever was brought to life in 2016 by songwriter S. Moriarty (vocals, guitar), who started out in punk and hardcore bands, and also includes J. Bedolla (guitar), Tripp Beam (drums), and Patrick Taylor (bass).
Alone Together shows the band in a reflective, atmospheric mood. Each song on the EP sonically flows into the other, with slight changes of pace and variations in shadows and brightness, yet always retaining a state of questioning reverie.
Moriarty's vocals are airily hazy and touch with a brooding pensiveness. "White Dwarf And A Supernova" starts off the EP on a measured pace of marching drum beats, low-key guitar strum, ticking drum sticks, and in the background, but growing in intensity free-wheeling synth cycles and electronic squirks.
Spare lead single "Window Pain" winds with a vespertine flair, at one point just featuring an emphatic drum beat and Moriarty's voice before it builds up again with siren-like guitar and a supple bass line bounce. Calm ballad "Soccer Moms" showcases Moriarty's acerbically cutting lyrics about, who else, soccer moms in general, while the rest of the instrumentation is played with a straight face.
"A Chemical Reaction" is a dreamily sweeping dream-pop number that roils with an undercurrent of vocal and lyrical anxiety ("I can taste the failure / before it begins"), while "NiteLite" adds brighter sonic elements to leaven the depressing (but relatable!) lyrics ("I wake up so tired / of waking up").
The EP ends with a Crimewave Mix of "Nitelite", adding an at-first cinematic soundtrack touch to the record with its ghostly echoed vocals and pulsating instruments. Then a hip-hop beat materializes, spinning the track into a new and rhythmic dimension.
Website
Facebook
Twitter
Instagram