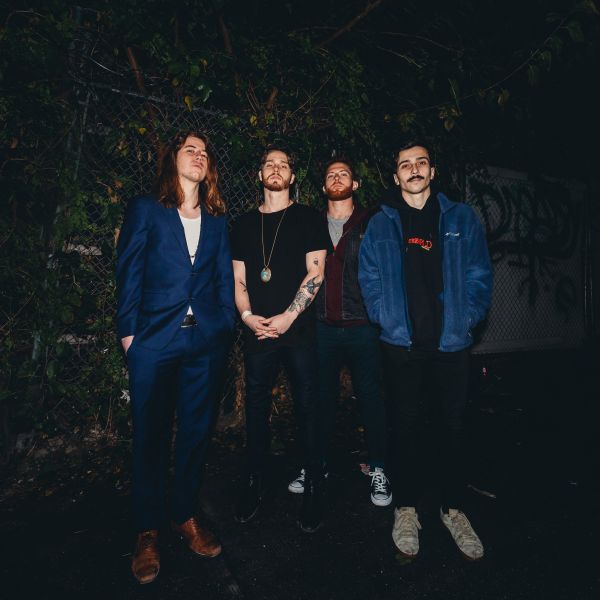 10 July 2020
The Dragon Berries – Photo courtesy of The Dragon Berries
Austin, TX-based alternative rock quartet The Dragon Berries are releasing their latest record, And The Moon Turned Red EP, today, July 10th.
The new release emphasizes the importance of self-worth and overcoming depression and anxiety, intertwined in a sound composed of anthemic rock, rap, and dance-inducing vibes.
The EP's lyrics represent a very male-oriented point-of-view on relationships that was typical of the male-dominated alt-rock '90s scene, where the personal turns into more generalized statements on love, lust, and anger.
Creating an eclectic soundscape, the group's influences range from '60s, '70s, and '90s rock to modern hip-hop, including inspirations like Red Hot Chili Peppers, Rage Against the Machine, Jimi Hendrix, Eminem, and Kendrick Lamar.
The Dragon Berries formed when Connor Poteat and Quinn Donoghue were residing together in Boone, NC while attending Appalachian State University. They started writing songs together with the intent of starting a band.
Poteat decided to leave school and move to Austin, Texas in 2017 where he met both Chris DePalatis and Reid Harmon. He showed them some rough recordings of several songs and they subsequently decided to join the group.
Donoghue then moved to Austin in early 2018 and the musical journey of The Dragon Berries was underway.
Big Takeover is hosting the premiere of the 5-song EP in its entirety today.
And the Moon Turned Red kicks off with the funkily strutting, Red Hot Chili Peppers-reminding "I Don't Mind" that segues from laid-back raps and squelchy to fiery guitars to drifting chorus sections, all held together by a rubbery bass line and kinetic drumming and cymbals bash.
"Nectarine" is also lyrics-focused with more intense, Linkn Park-like sing-talking on the verses, while "Fall, Rise" staggers with a choppy rhythm, but stark instrumentation.
A moody atmosphere pervades "Get On My Side" at its start, but quickly builds up with pressing drum beats, ominous guitar jags, and emotive stream-of-consciousness vocals. At times, the pressure dissipates into airily floating, questioning vocals, but then the pendulum swings back to furious rap attacks that speak to love, betrayal, and toxic relationships.
EP-ender "Love Over Death" grinds with a light to heavier alt-rock churn and features sing-talking vocals that straddle the line between rap and singing, and are bolstered by harmonizing backing vocals.
About their music and their outlook, the band state, "And the Moon Turned Red captures what The Dragon Berries are all about. You can hear the wide variety of influences, yet we believe it's a cohesive sound that is uniquely ours. It can be difficult to pinpoint what this band is all about after hearing only a few songs due to the multitude of genres we partake in, but hearing this EP as a singular musical entity really paints a picture of who we are and what we're going for. That being said, we understand this is only the beginning of our journey as a band and we're excited to continue learning and growing along the way."
Instagram
Facebook
Twitter
Website
Spotify
iTunes