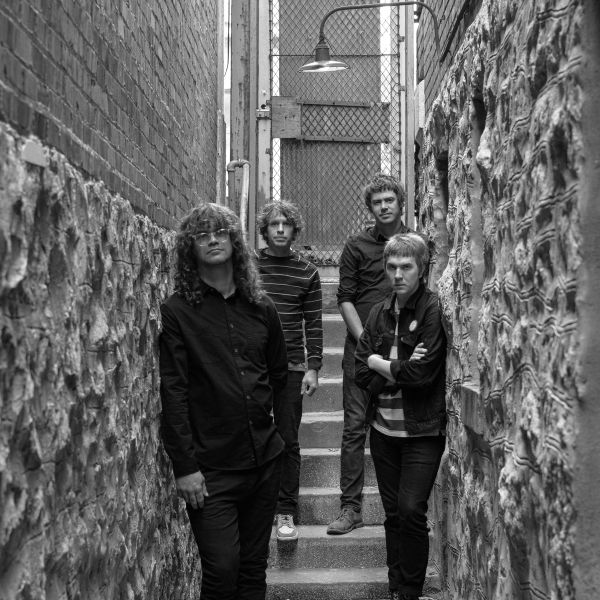 6 December 2019
The Whiffs – Photo Credit: Jake Cardwell
Can you smell what The Whiffs are cookin'? Hint: it's not Phish, Meatloaf, or a String Cheese Incident. Nope – Kansas City's prodigal sons of power pop are sticking to what they know best and stirring up a tasty sonic stew on Another Whiff, their debut full-length for Dig! Records.
Since 2017's Take A Whiff EP, the band has been busy allowing their auditory aromas to ripen with the addition of Joey Rubbish (of The Rubs) for a fuller, more robust sonic bouquet. While the band can still get it up for Stiff Records – their pop-centric punk remains in full force – their new album takes detours down lonelier roads in the form of broken-hearted ballads from the heartland.
The Whiffs are continuing a journey forged by pioneers like Chilton and later Westerberg, the looming with the legacy of Petty and the cosmic country harmonies of The Byrds before them, and no melodic and harmonic rock is left unturned.
The album was recorded by Rubbish, mixed by Vince Lawhon, and mastered by Jordan Peterson.The 14 tracks are timeless love songs steeped in emotionally sincerity, guitar-driven dynamics, and infectious vocals. The three distinct songwriters add their own personal flavors to the mix, delivering three-part harmonies for a catchy and engaging rotation of upbeat punk belters ("Now I Know"), aching ballads ("She"), and triumphant tearjerkers ("How Could You").
Over the past year the band have been playing shows, sharing the stage most recently with The Get-Up Kids, and also La Luz, Bad Sports and Patsy's Rats.
The Big Takeover is excited to host the premiere of Another Whiff in full and to celebrate its official release today, founding members Zach Campbell and Rory Cameron offer their track-by-track VH1 Behind the Music -inspired commentary on the album:
"Shakin' All Over"
Zach: "One of the catchiest songs on the record almost didn't make the record because Joey showed it to us in the final hour, so we learned it quickly, and recorded it even quicker."
"What Do You Want Me To Do?"
Rory: "I wrote this song about being in a long-term relationship that kept hitting the same walls repeatedly. The title line is the question being asked of the other party; Do I stay in stagnation or do I leave and hurt you? A bit of "Should I Stay or Should I Go?""
"Hey Little Anne"
Zach: "I was trying to write a classic '70s punk song, and then I heard the new Number Ones single and realized I had to up the game a bit, so I owe that one to them really."
"Please Be True"
Zach: "Very Gene Clark era Byrds-sounding song, with a splash of Big Star. This was the first song written for the Whiffs when Joey made to move to KC. We knew off the bat that his songs were going to fit perfectly with our band."
"My Vision Of Love"
Zach: "As our friend Marty Moore put it perfectly. "Y'all like Bob Seager?" Though I'd rather think of it as a homage to Them or the Kinks."
"Dream About Judy"
Rory: "Who is this power pop pinnacle girlfriend named Judy? Well, I literally had a dream I was living and in love with a woman named Judy. The feeling of familiarity and comfort was what really stuck with me. That feeling is what I think we should be seeking in our love lives. Penned after a night out with Zach around 5am. We remembered it the next day so it must be good."
"I Don't Wanna Know"
Zach: "I was having a bit of a rough time in a relationship, where I was at a point where I wanted to see the person, and was sick to death when I actually got my wishes, I'm sure everyone has felt that before."
"Throw It Away"
Rory: "This one is about myself and others becoming callous after so many relationships have gone south. Being given love and rejecting it as a defense mechanism, and trying to get over it enough to open up to someone new."
"How Could You"
Rory: "Took me a while to write this one, I had the chord progression and the melody but struggled with the lyrics. It's a lament of broken trust and helplessness when you've been ditched."
"On The Boulevard"
Rory: "My favorite track I've written in a long time. I think it's easy to write love (or lack of love) songs but writing more of a social comment is kind of hard to find an angle that hasn't been used a million times. This is about the people I know and see doing what they think is expected of them in their adulthood, settling down, getting married, big house, etc and ultimately being unfulfilled with their choices. Sort of the same thought behind the Stones classic "Mother's Little Helper" but less about suburban maternal boredom and more about how following these societal norms don't really lead to happiness."
"She"
Rory: "I don't really know who this is supposed to be about; an ex? Maybe all of them? But the sentiment is one of being in a relationship where it seems like the other person doesn't even like you but keeps you around to bolster their own egos."
"Seventeen"
Rory: "This song was definitely trying to hit on the nostalgia evoked in the song "Thirteen" by Big Star. I don't think I even came close. It's a lot of memories of being in high school and the kind of shit I would get into. I think this is the one I wrote that prompted Zach to write "Now I Know"."
"Now I Know"
Zach: "Rory wrote a really great song and then decided to take a shower. Me, as a act of jealousy wrote this before he was done showering, so that way I had something when he was done."
"Please Come Home"
Zach: "I wrote this the day Pete Shelly died as a tribute, but ended sounding like a Wire/early REM-sounding song. But that one is for Pete!"