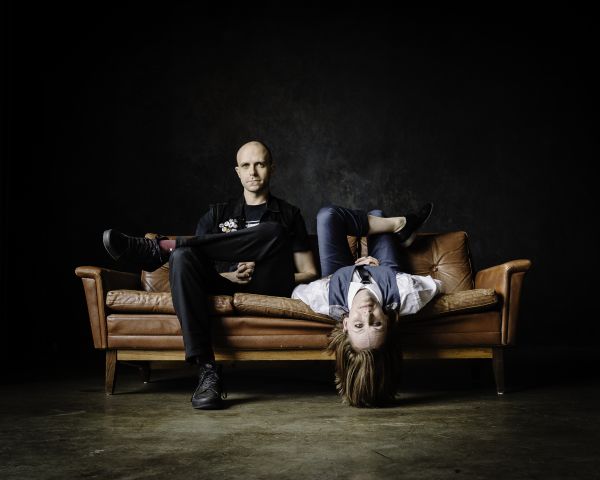 4 October 2018
Friendship Commanders – Photo Credit: Gregg Roth
Friendship Commanders are a rock duo from Nashville, TN. Their forthcoming album, BILL, which The Big Takeover is super-excited to premiere right here, was made with Steve Albini at his studio, Electrical Audio in Chicago.
The thirteen-song body of work addresses themes important to band members Buick Audra and Jerry Roe: abuse survival, addiction, feminism, unity, human rights activism, equality, and friendship. With the unrest turmoil of today's sociopolitical climate, Friendship Commanders are a voice for the voiceless, with feminist driven messages about women's rights, equality, and abuse survival.
With the sonic assistance of Albini, the band was able to capture the energy and intensity of their live show and document their songs about human dynamics and relationships. Audra and Roe spent four days tracking the work in Studio B, while a root beer-drinking Albini manned the board and mics.
Friendship Commanders have been collaborating for five years, in which they've released one full length album, DAVE, and three EPs; their releases each partially benefit socially responsible organizations.
Friendship Commanders have toured extensively and will do so again with the release of this second record, which arrives on October 5th.
All thirteen tracks on BILL are 100% intense, relentlessly dynamic, and lyrically relevant. The LP is like a rocket continually blasting off the launchpad into space. There's is no letdown. It's all spectacular sound, super-fast and heavy, and rife with raw emotions, vocal passion, and potent lyrics.
Each track is a highlight off the album, as the band whips through, or speedily blends together, heavy rock, hardcore, and alt-rock genres into one explosive sonic mix.
Be prepared for Friendship Commanders to be your new favorite rock band. And crank this one up loud!
Buick Audra comments, "BILL is the album we've always wanted to make. It's loud; in the statements made within the songs, and in volume, tone, and force. We didn't set out to make an album about loss, friendship, addiction, abuse, and gender dynamics, but that was what unfolded in the writing. That was what unfolded in life. Albini was able to capture the energy and gnarl of it all and lent a real backbone to the recording process. We both benefited from having the freedom to perform, knowing that the technical side was in his more-than-capable hands. It was a pleasure to make this work, top to bottom, and we hope it speaks to you. We're on your side; keep hope alive."
Album Pre-Order Link
Website
Spotify
Apple Music
Bandcamp
YouTube
Facebook
Twitter
Instagram
comments powered by