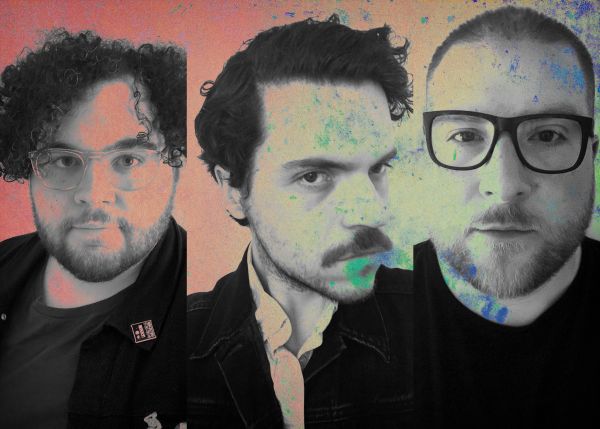 9 July 2020
So Sure – Photo courtesy of So Sure
So Sure was conceived in 2019, and officially formed during the 2020 COVID-19 pandemic. Brothers Sean Kelly (vocals, guitars, bass, synth) and Brendan Kelly (guitars, bass, synth, programming) share a similar drive to explore the vast world of dream-pop, shoegaze, post-punk, and alternative music of the '80s and '90s that they loved deeply.
Longtime friend and collaborator Kyle Polk (drums, pads, percussion) shared a similar interest, and a front-to-back performance together of My Bloody Valentine's seminal Loveless album sealed the deal.
Caffeine Drip is the first offering from So Sure and officially releases on July 10th through MPress Records, with 100% of proceeds going to the ACLU via Noise Trade.
The EP features five songs written and recorded over two months. Recorded remotely between Savannah, GA, Montgomery, NY, and Charleston, SC, the tracks are political and relevant, and reflect the frustration and anxiety that the majority of Americans are feeling at this time.
Big Takeover is mightily pleased to host the premiere of the EP in its entirety today. The laid-back title track goes down easily, featuring hazily sung layers of vocals, a simmering drum beat, a shimmer of synths, and drifting waves of reverb-touched guitars.
"Cookstown Mary" accelerates the pace with a warped propulsion, a running bass line, and airier vocals, while "Banging the Drum So Slowly" goes for a narcotic languor on the verses and more intense chorus passages.
Squelchy guitars and a funky rhythm grooves through "Further Down" that at times breaks out with more vivid alt-rock guitar churn. EP-ender "Paper Thin Skinned" flies on the breeze of wistful vocals, dynamic drumming, the ebb-and-flow bass line, buzzing synths, and chiming guitars.
Sean Kelly kindly took some time to answer questions about the band's sound and meaning:
Hi Sean! You made the jump from a fan of shoegaze and similar-type music, to actually playing it. What impelled you and Brendan to do this?
"This was, quite honestly, a project that had been in the back of both of our minds for a long time. We always knew we eventually wanted to dive into this music, but it felt like something we'd do a ways down the road. When the pandemic began, we found ourselves in a position to start working on some musical ideas we had stashed away for this, and we looped in our friend Kyle Polk to be the drummer. We'd all bonded over My Bloody Valentine's 'Loveless,' which we played front-to-back together at a show last year, and that was sort of the catalyst for this project."
Your lyrics are timely and political; Can you focus on a track and go into its meaning?
"I'd like to focus on a song called "Further Down," because I feel like it relates both to the political landscape and the cultural zeitgeist. It'a song that, musically, was collaborative between [me and] Brendan. And Kyle's production ideas really come through on this one as well—He really helped strike the balance between The Cure and MBV that we were aiming for."
"Anyway, lyrically I'd been thinking a lot about the major problem of misinformation that plagues us these days. The idea that anyone can say something is true with enough conviction and there will be a faction of people who not only believe it but follow that word as gospel. It's a frightening thing, really. The Internet can lead you down some really terrifying and conspiratorial rabbit holes. I'm all for challenging government and even questioning things to a reasonable degree, but there's a difference between that and blatantly believing ideas that completely defy science, logic and reason because it fits a narrative that you're more comfortable with."
"The song basically just comments on that—falling down further and further into the deep hole of misinformation that certain people create as a means of profiting off of people's fears and suspicions through books, documentaries, etc. It's pretty sick, and to me is not unlike the whole idea of seed faith and televangelists preying on vulnerable people. Like virtually every song I've ever written, it doesn't have a beginning-middle-end dynamic lyrically. Rather, it's just a collection of thoughts on a particular subject. But this is one I'm really quite fond of in terms of how the message was sent."
And you and Brendan are both in another band as well, right?
"We are! We're in a band together called A Fragile Tomorrow. That band features us, our brother Dominic, our best friend Shaun Rhoades, and our other best friend Josh Kean. We're working on a record right now that was actually put on hold when quarantine began, and I'd anticipate that being out next year!"
How would you describe So Sure's sound; as pure throwback shoegaze or maybe a modern take on the genre?
"I'd say it's definitely a modern take. The goal here is to put our own stamp on the big, wide umbrella of shoegaze and dream pop. We're not trying to be carbon copies of bands like MBV, Slowdive, Ride, etc—We're trying to wear those influences and the many others we have in such a way that we can mine inspiration from them to create something unique to us as a band. It feels like we found that on this EP, which is really where the motivation came to push ahead and get it done."
"It felt like we stumbled on our thing, which was a good feeling after having been in a band for 16 years that is constantly evolving but also already has its defined roles and underlying concept in place. It's been great to feel like I have two creative outlets that co-exist, and especially ones that both involve my closest collaborator. Not to mention, being in a band with Kyle is pretty special. It's a big, open, trusting creative field we're roaming in together."