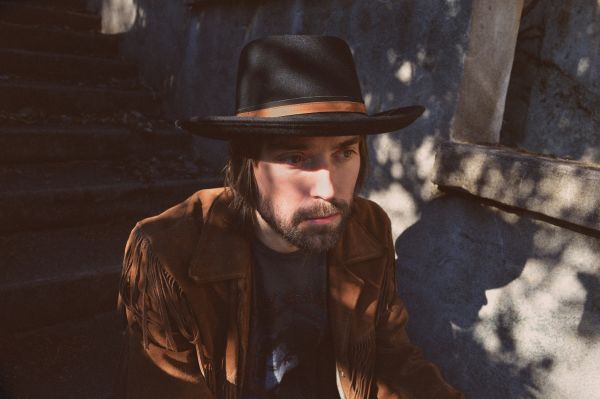 19 July 2019
Ryan Traster – Photo Credit: Kimberly Traster
Minneapolis-based singer-songwriter Ryan Traster's new cosmic-country album Choses Obscures sees the light of day today, July 19th, via Slow Start Records. The Big Takeover is highly delighted to be hosting the premiere of Traster's second full-length record in its entirety.
Choses Obscures (the title translates from French as "obscure things," and implies a hidden, "dark energy") features the warm, nostalgic vibe of an album that's been in your cool parents' record collection since you were a kid. Eventually, it gets passed down to you and is there when you need to take a walk down memory lane…
The worn-in sounds of the LP are both comfortingly familiar and a journey into new and unexpected pathways. There's an implied bittersweet darkness in the at times narrative lyrics that provides a subtle contrast to the hazier or sunnier side of the some of the musical arrangements.
When Traster throws curve balls with lyrics of places and times that don't abide the most famed of singer-songwriter eras (the kind that even the album's cover art evokes), things get real.
It comes as a delightful surprise to hear Jesus and Mary Chain name-dropped on the languorous and captivating "Endless Summer Blues" where Traster sings, "We were living in Echo Park / I was smoking dope in the backyard / You were listening to all those Mary Chain records / We had the endless summer blues."
According to Traster, the album's cosmic-country, straight-outta-Laurel-Canyon, feel is heavily influenced by Skip Spence, Bert Jansch, and Judee Sill, all of whom passed before their time. That "beyond the grave" murkiness pervades Traster's lyrics in a profound way, even down to that JAMC reference.
The restlessness and mystery on Choses Obscures is "born from the subconscious in troubled times, both personally and globally," Traster explains. "I wrote a good chunk of this record while traveling the east coast, following a few years of international touring. I ended up in Nashville, going to dive bars alone, and hanging out in a dingy bedroom."
After that long world-wide stretch on stage, Traster was actually unable to perform when he got to Nashville, as he had sustained a vocal cord injury on the road. "My focus was solely on crafting the best material I could with the plan to record it when I regained full health," he says.
It was a dark period for Traster, but he managed to find inspiration while working at Nashville's world famous Ryman Auditorium, where "listening to old timers' tales, and being submerged in song, helped me create what I believe is my best material to date."
Traster also reveals the latest news on his vocal health, recounting, "All is back to normal in [the] vocal world. I'm truly grateful to be able to record and perform again at full capacity and look forward to doing it as much as I possibly can for years to come!"
Album-opener "Old World Present Tense" sets the stage for the classic and the new to collide and merge with its flowing Americana sound, but uneasy lyrics that fit into the turmoil of today's times. That Traster is backed by acoustic folk guitar strum, a smoldering electric guitar line, and harmonizing female vocals only makes the bleak nature of the lyrics stand out more.
Past recollections and a gentle melancholia roll through country-rocker "New Again", while the sonically dreamy, yet lyrically dark and stark "How Dark It's Been" delivers deep rumination in a delicately lovely composition. The melodic "Lost in a Sound" sweeps smoothly by, yet pin-pricked by spiky lyrics.
Plainer and more direct "Libra" is a storyteller steeped in traditional folk trappings, while "Kansas" features a richer and fuller country-tinged sound. "Endless Summer Blues" is an enveloping stunner with riveting lyrics, raw lyrics, and starry-eyed instrumentation. Maybe a description of Traster, album-ending "Busy Mind Lazy Mouth" is rife with mellifluous guitar curls at its start, before sliding into a vintage folky number that caps off a lyrically impressive and soncially mesmerizing album.
Website
Facebook
Twitter
Instagram
Bandcamp
Slow Start Records Website