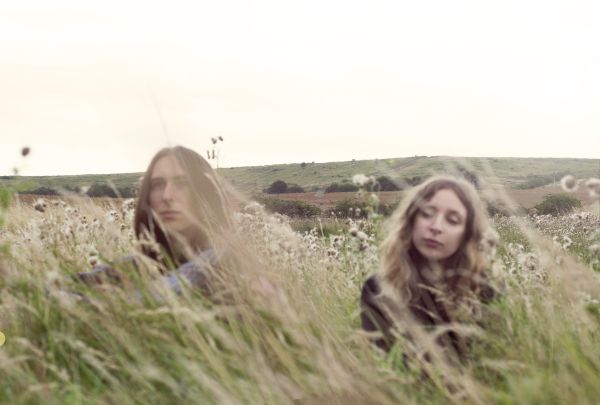 13 November 2020
Slow Weather – Photo Credit: Gemma Dagger
Slow Weather is the new project from renowned producer and Catholic Action frontman Chris McCrory and Last Night From Glasgow's Annie Booth.
Booth and McCrory first met when Booth was providing feature vocals on a Wojtek the Bear track. A big fan of his recording style, Booth then went into the studio with McCrory to work on her Spectral EP. The process was extremely fun and organic, leading to talk of writing together for a new project.
After they penned their first song together in four hours, the two knew they'd stumbled across something exciting. Their debut EP as Slow Weather, titled Clean Living arrives today, November 13th via Last Night From Glasgow.
The EP was recorded mainly at Hermitage Works Studios in London, with the finishing touches added at McCrory's home.
Big Takeover is pleased to host the premiere of the engaging EP on the day of its release.
The EP is both timeless and vintage in vibe, carefully crafted and melding acoustic and electric instruments into its five songs, with reflective folk-pop and vibrant rock elements co-existing or colliding with each other. Each song is distinctive from the other, while the at times acerbic lyrics mirror the changeable nature of the music.
Opener "What To Know" unfolds with extended organ-like keyboard notes and a measured beat, and then adds sporadic cymbals crash and a dancing piano motif to the contemplative lyrics. At its end, spacey synths lift it up to a higher plane.
The retro and mellow "Alice" sways unhurriedly in the breeze with dual vocals and occasional guitar reverb, while psych-folk number "Great White Male" tramps forward with a determined pace. McCrory sing-talks directly on the track, backed by the lighter tones of Booth.
"Lisbon" is a shimmering ballad/rumination with heartfelt vocals, gleaming acoustic guitar strings, and a sedate '50s dancefloor pace. The title track caps off the EP with lyrics rife with relationship ennui ("I'm too bored / You're too close"), unfurling into the poignant refrain of "How did I let this happen to us?"
Annie Booth kindly took the time to detail the EP, as a whole, and song by song, giving insightful thought into the backstory of each track:
"Slow Weather [EP] was very much unintentional. There was no elaborate plan – We simply agreed to write some songs together after working on another project and it just worked. There was a beauty to making music with no pre-conceptions of what it should sound like or what it should be. The order that follows is the natural order in which we wrote the songs – the same sequence as the track list."
"Want to Know"
""Want to Know" was the first song we wrote together. We were in Chris's flat and he handed me an Omnichord, a really pretty instrument that I'd never tried to play before. The chords came about pretty quickly, as well as the main lyric – It's aching and yearning, trying to question and fight general impassiveness, I think."
"We tried to keep things simple and pared down in order to build the quiet intensity of the track. There's a drum machine core throughout the EP and it definitely began with this song, as did the vocal harmony interplay. There was a tangible moment in the studio where loads of high end was taken out and it felt much more intimate and special."
"Alice"
""Alice" is a somewhat breezy, escapist track, providing a bit of light on the EP. We wrote it in an afternoon, facing a record adorned by the face of an all-knowing Alice Coltrane, surrounded by houseplants. It looks at the nature of transient relationships and lazy, uncertain days – You can hear a bit of Beach Boys and Beatles influence in the vocals. Really enjoy Chris's vintage bass lines and scuzzy electric here – the drums also bring a lot of levity to it all."
"Great White Male"
"The title idea "Great White Male" came from Mr. McCrory. The song deals with a voice that is entitled and bitter and desperate – The track is playful but dark, echoing the shameful parts of ourselves that are not as distant as we may think. We wanted the arrangement and melodies to reflect these sinister shifts and twists – moving from skulking, moping drums and acoustic to the idea of something nasty finally escaping in all its glory. We were very happy with the video Benjamin Hall directed and animated for this – It was injected with plenty of surrealism, paranoia, and not-so-subtle social commentary."
"Lisbon"
"This track has a bittersweet feeling that you can't quite put your finger on – somewhere between sadness and elation. It touches on addiction and the heady comfort you can find in the midst of doing something you shouldn't – regardless of consequence. The electric guitar riff you hear was the same as the one I wrote during the writing process – played in response to the chords Chris was coining on my extremely old, cheap Yamaha keyboard. The aim for recording this track was to keep it dreamy and expansive, with old-school synths and drum machine."
"Clean Living"
"The end section of this song is a definite favorite for me and Chris – He worked very hard on it. "Clean Living" gently mocks detox culture and getting hooked on the ruthless swapping of our food, our bodies, our choices, our lifestyles, our bad habits, our friends and our lovers – with the idea that we're driven on by a creeping fear of missing out and falling behind. All the while not knowing if we're abandoning something real."
"I really enjoyed playing the twinkling, innocent keys lines here which intersect with the more urgent, brutish guitars. It was rewarding to keep this song the (long!) length it is so that by the end you're hopefully really carried away by it all."
"Thank you for reading, and listening – It means a lot!"
Last Night From Glasgow Website