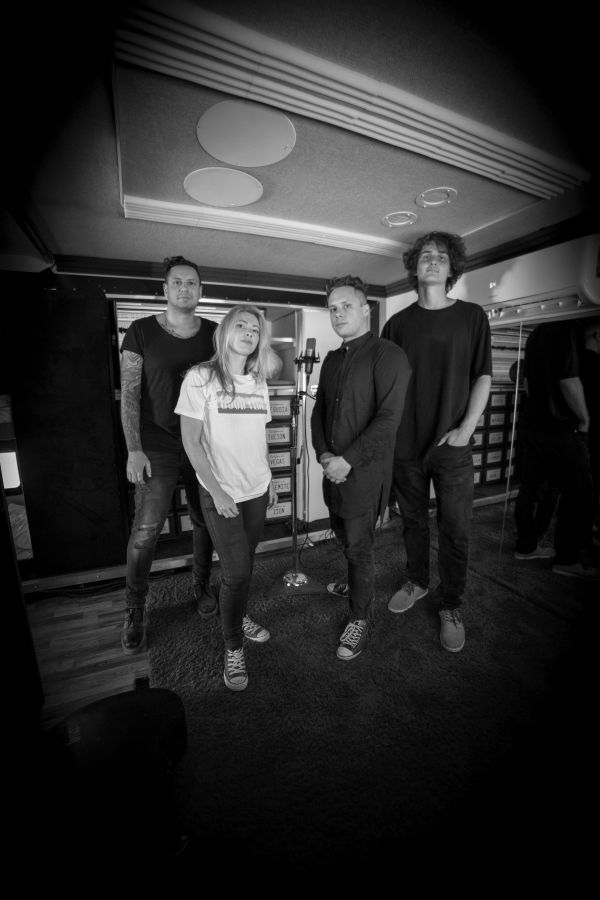 3 July 2020
Yard Of Blondes – Photo courtesy of Yard of Blondes
Big Takeover is stoked to be hosting the premiere of Los Angeles-based (by-way-of-France for two of its four members) alternative rock band Yard Of Blondes new EP, Close to Home, as a dynamic and heartfelt under-quarantine house show today on the EP's release date.
Just like the rest of us, Yard Of Blondes had to alter their plans when the pandemic hit the world. That's when they decided to make the most of it and recorded a kick-ass at-home live session aptly titled Close to Home.
Band members Vincent Walter Jacob (guitar, vocals,design), Burak Yerebakan (guitar), Fanny Hill (bass, vocals), and Forrest Mitchell (drums, vocals) filmed themselves in their homes performing a handful of their recent acclaimed singles ("Murderology," "You and I & I," and "Lowland"), accompanied by a cover of "Pyramid Of Bones," originally recorded by Julian Casablancas' side psychedelic side project The Voidz.
"Like many artists, we had to cancel or postpone most of our plans and we knew we couldn't just sit at home during the whole pandemic. We started doing live acoustic shows on Twitch and Facebook and that gave us the idea to push it a little further," states Jacob.
"We wanted to do something with the whole band and we developed this idea of creating a quarantine house show. To make it even more of an experience, I created some little animations in between songs to reveal more of our universe,"
The short animations represent the lyrics of each song, revealing that the core of Yard Of Blondes is a distorted and tragic, yet still beautiful take on reality. But not everything is dark in Yard Of Blondes' world. The video shows that humor is never far, just like when Jacob shows off a rare wooden spoons solo in "Pyramid Of Bones" or when Hill starts jumping on her couch in the intro of the closing track "You and I & I."
This is the first release from Yard Of Blondes on their new labels Die Laughing Records and Golden Robot Records and it's a cool way to discover the band. Together the labels are scheduling the release of the band's debut album, Feed the Moon, for early 2021, and after watching this show, you will be excited to hear more from Yard Of Blondes as well.
Stream/Buy Close to Home EP on your favorite platform HERE
Website
Twitter
Instagram
Facebook
Spotify
Die Laughing Records Website
Golden Robot Records Website