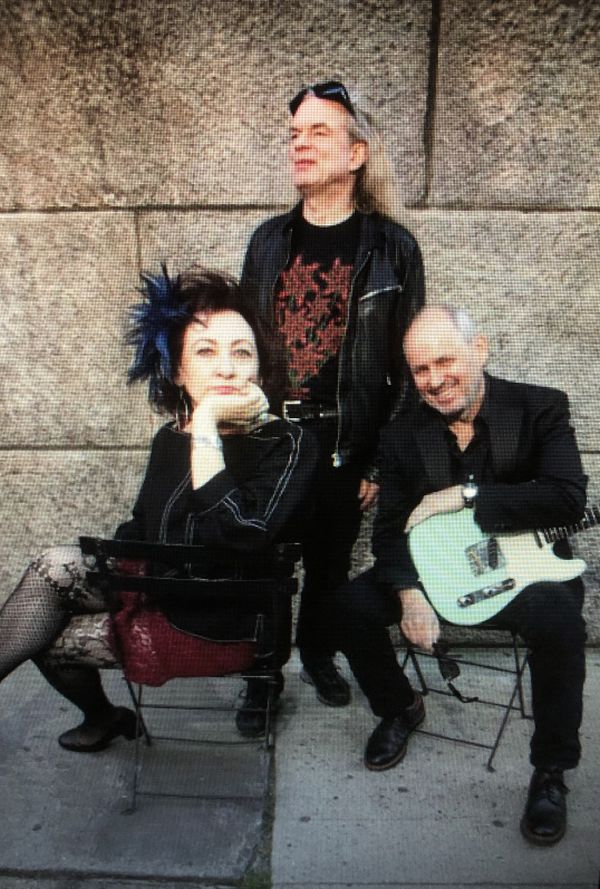 23 August 2019
Disturbed Furniture – Photo courtesy of Disturbed Furniture
Disturbed Furniture was an integral part of the vibrant arts and music scene that animated the storied downtown NYC venue Club 57 (1978-1983). The band reunited around two years ago to perform live and to record new music.
The first release of this new chapter in their career is Continuous Pleasures, a five song EP that arrives today, August 23rd, via Arevarc Records. The Big Takeover is pleased to be hosting the EP premiere on its release day.
This material for Continuous Pleasures was produced by band members Jorge Arévalo Mateus, Alexa Hunter, and Mick Oakleaf, and recorded at Mighty Toad Recording and The Honey Jar in Brooklyn, with additional tracks done at Blighty Music Studios in Los Angeles.
The EP features several new compositions, as well as fresh recordings of some of the group's original repertoire. EP-opener "Halo of Pain" is a menacing, atmospheric track that burns with rock noir intensity. Laid-back "Ill in Paris" sways with relaxed instrumentation and Hunter's insouciant to direct sing-talking vocals.
The band gets dreamy on the floating wings of "Angel Of Losses" with reverb guitar chime, subdued bass line, slowly shaken percussion, and soft drum beats. Hunter sings in a wistful tone in both English and French.
The fiery indie rocker "Hit Or A Miss" strikes hard with wily guitar angles, running bass line, and a propulsive drum beat, with Hunter defiantly exclaiming the lyrics. A slyness creeps back in with the funky EP-closer "In the Front" which slides by with a groovin' rhythm and a disco boogie chorus.
The impetus to reactivate Disturbed Furniture came from MoMA's major 2017 retrospective Club 57: Film, Performance, and Art in the East Village, 1978-1983, which documents the band's old stomping ground and opened on Halloween that year.
After meeting with the curators, lead singer Alexa Hunter agreed to contribute the group's music videos and their 45's cover art to the exhibition and appear in the accompanying catalog. MoMA not only acquired Disturbed Furniture's music videos proper, but also a series of Hunter's super 8 films and other footage shot in 1979.
Galvanized by museum-goers' enthusiastic reaction to the band's vintage output, Hunter began tracking down the original members still living in NYC and assembled a line-up featuring Jorge Arevalo on guitar, Mick Oakleaf on drums, and special guest, Shin Sakaino on bass. They began playing select live dates, writing songs, and recording.
Thirty-five years ago, Disturbed Furniture cast a large shadow on New York's underground club scene, sharing stages with many now iconic local, national, and international acts including the Psychedelic Furs, Stranglers, The Waitresses, and the GoGo's, toured regionally, and released well-received music and videos.
The band merged art world and punk sensibilities with the grittier dance aesthetics of the progressive funk of Parliament/Funkadelic, Prince, and others. Hunter and company's performances were informed by both the noir cabaret vibe of the East Village scene and the sensuality of contemporary urban sounds.
Hunter started Disturbed Furniture in late 1979. The first brief set by Disturbed Furniture was at Club 57 (naturally): three songs performed by her, a bass player she'd met at the Mudd Club, Tony Zebe, and a pick-up guitarist. After a number of line-up changes, Disturbed Furniture coalesced around Hunter, bassist Tony Zebe, Phil Schoenfelt on lead guitar, Stephanie Hameon on rhythm guitar, and drummer Mick Oakleaf.
Disturbed Furniture soon began to play the coolest downtown clubs on a regular basis, often opening for big touring acts. The group recorded and released a single which got spun in the clubs and aired on college radio. Disturbed Furniture started performing at au courant clubs throughout the Northeast.
When several members decided to branch out on their own, their spots were taken over by lead guitarist Jorge Arevalo Mateus, rhythm guitarist Todd Kray, and a variety of rhythm sections. With Kray, Arevalo, and Hunter's new material, Disturbed Furniture re-emerged, energized for the always changing club scene. The rejuvenated combo continued to record and perform, being offered opening slots for bands like the Clash before calling it quits in the summer of 1982.