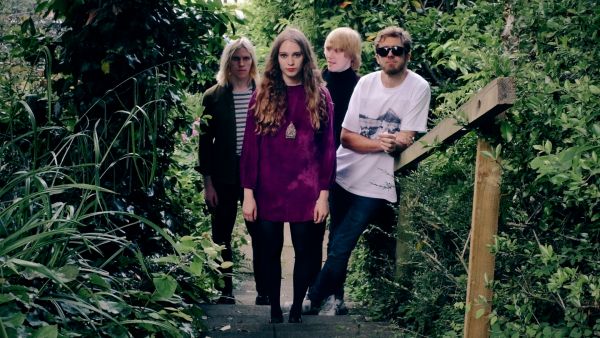 21 November 2019
Caramel – Photo Credit: William Cunningham
London-based psych-pop outfit Caramel are set to release their debut album, Deluxe Edition, on November 22nd via DuoPoly Records. Powered by rich melodies, seductive mosaics of samples and synthesizers, and compelling bass lines, Caramel takes you on a journey through time, space, and esoteric sonic landscapes..
The band consists of Sasha Moxon (synths, strings), twins William (vocals, guitars) and Jordan Cunningham (bass), and Cedric Monzali (drums). It was after the break-up of his former group Clout! that songwriter William Cunningham yearned to channel his now-refined talents into a new musical excursion with his partner Moxon. They also share a passion for creating animated music videos together and imaginative visuals are a part of the band's aesthetic.
Caramel recently released their lead single "Queesh," a deliciously sweet treat bursting with rich harmonies and candy-coated synths that is in the mold of output by Tame Impala, MGMT, and Unknown Mortal Orchestra. Musical influences include Broadcast (Monzali has previously played for them), Giallo film soundtracks, Brian Eno, ELO, and Ratatat.
The Big Takeover is delighted to host the premiere of Deluxe Edition, an album that takes the listener on an exploratory journey into psychedelic and odd-pop worlds. Mellow opener "Gulna" runs on a bass-driven rhythm and sways with shooting star zooms, laser blips, phasing synths, and a measured drum beat.
The trippy "Golden Ways" is a wavering retro-ballad with alternating vocal harmonies and quirky synths effects. The supple groove drops in mid-way through amid brightly pitched notes and lively drumwork. The Pram-like, shuffling instrumental "Flower Song" marches quickly along, filled with Theramin-like trills and a pushy tempo.
The vintage vibe is strong on this album and '60-steeped pop number "It's Okay" is no exception, yet it still gets futuristic with touches of spacey reverberations. Speaking of which, "Space Melody" is a restless jam of all sorts of cool instrumental noises, topped off with hazily floating vocals from William Cunningham.
His light, wistful vocals streak through the dreamy "Easter Weed" as he sighs ruefully, "I just can't keep on dreamin'" amid squelchy notes, perky percussion, a rubbery bass line, and active drumming. "Walking Away Was Never So Easy", about "broken lovers" is a languid '50s-era lament of brushed drums, starry guitar lines, and lush and ringing synths notes.