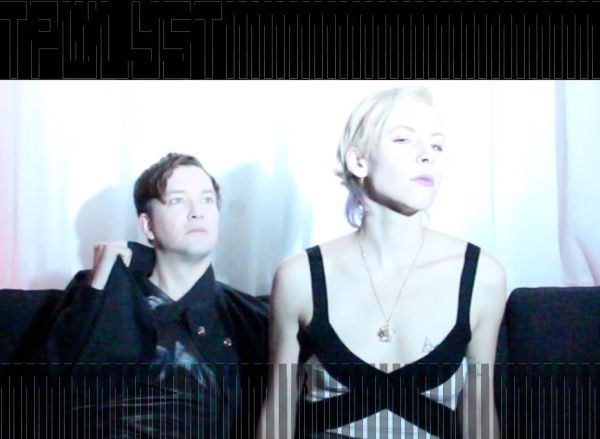 29 November 2018
Left to Right: Kasson Crooker and Sonja Eve Tea of The Planets Won't Let You Sleep Tonight – Photo Credit: Kasson Crooker
Ten years ago, the electronic/synthpop noir duo The Planets Won't Let You Sleep Tonight emerged from remnants of a dying star. Founded by Kasson Crooker (Symbion Project, ELYXR, Freezepop) and Sonja Eve Tea (aka 3v3.t3a), The Planets Won't Let You Sleep Tonight was a chaotic and tortured journey that yielded a handful of released songs and a shadowy and luminous completed album that only now is seeing the light of day.
Sonja 3v3.T3a tragically passed away and this album, titled Destroy Beautiful Things, is her legacy. Her sincere and heartbreaking lyrics are front and center, delivered raw and passionately. The world has lost a unique presence and Destroy Beautiful Things captures everything about her true essence – both her darkness and her shining light.
Destroy Beautiful Things releases on December 1st via Speed of Dark Music and The Big Takeover is privileged to host the premiere of the vibrant and mesmerizing LP in its entirety.
Album-opener "Planetary Alignment" kicks it all off with skittering, zippy, and always bright electronics that whip up to a swirling, scintillating ending. Sonja's vocals enigmatic and breathy to sweetly wistful vocals float urgently through the vivid electronic atmosphere.
The title track creeps in a starker darkness, sonically stripped down to sharp finger clicks, a low-down bass beat, and slowly ticking beat. Sonja's vocals are mellowed and drawn out, parsed out in time to the staccato beat. At the forefront are the always-astute lyrics about the individual and inter-personal relations. On this track Sonja muses, "I don't understand the games that we play / What makes us this way / Maybe it's wisdom / Maybe it's fear."
Down-temp trip-hop beats, yet a still-glowing ambience fills the urban-electronic track "Rapunzel" that rides on Sonja's soulful vocals. Grimy beats, ripe electro-notes, and echoed vocals ricochet through the harder number "Burn This City". A fat, bouncy beat, crackling percussion, and knob-twiddling electronics sizzle on "Starry" as a seductive Sonja curls through her vocals with a beguiling warmth.
The aurally playful "Without Shelter" grooves with crisp beats, shifting synth notes, and a bass-heavy bottom, but as always Sonja sings about serious things; this time about the struggle to maintain self-identity without the influence of others. "TWoS" winds along with squeezed out synths, buzzy electronics, and reverb beats. Sonja sing-talks like a torch singer in the spotlight; yearning in tone, yet also totally composed.
Sonja's defiantly brazen exclamations are a standout on the lyrically blunt and potent "Hypnotized", while the unusually gentle, yet still vespertine "Sew Your Sleep, Machine" drones with loops of synths and Sonja's delicately drawn out words about confronting loneliness .
The LP ends with a darkly majestic twist on the title track; a Symbion Project X Silver Strain comedown opus that slowly treads with a soporific heartbeat pace and then rises to the lowering skies with a gritty electronic grind and Sonja's voice highlighted as she sings with crestfallen passion.
Sonja's foreboding lyrics are magnified here versus the original, and in light of Sonja's passing, they deliver a chilling and heartbreaking view of a person in turmoil: "I am my only friend / My emotions always get the best of me / I destroy… beautiful things… / In my head / destructive thoughts / Imagine the end…" and the final cryptic line, "This room is empty / but I'm coming home…"
Destroy Beautiful Things will be available to purchase on December 1st at Bandcamp
The LP a must for fans of electronic noir, trip-hop, and darkwave music – but will touch everyone who listens to it, no matter what their musical preferences.
comments powered by