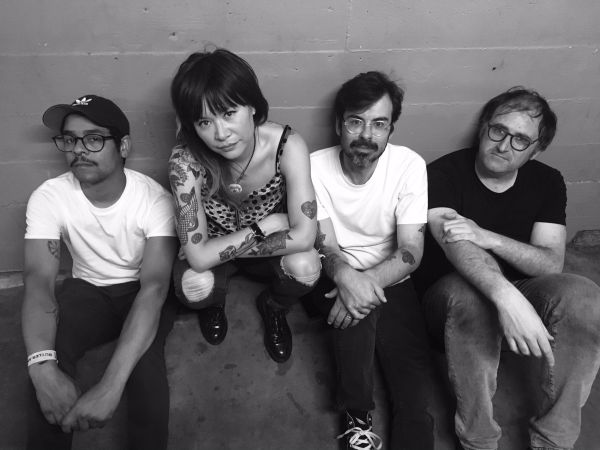 21 June 2019
Dots – Photo Credit: Mitch Cardwell
Oakland-based punk band Dots connect to listeners to their wild blend of psychedelic hardcore, punk rock riffs, and pop melodics. Spacey keyboards and heavily distorted vocals are added to the heady mix that is performed by Camylle (vocals, theremin, keyboards), Matt (guitar), John (drums), and Jason (bass).
Dots' self-titled debut album is set for release on June 28th and The Big Takeover is super-psyched to be hosting its premiere before it's officially out via Dirt Cult Records.
The members of Dots rampage rambunctiously through their tunes in a toss-off, but always energetic and catchy manner. Spunky punk attitude runs amok as each clambering track propels into the other, bursting with angular guitar jangle, sharp percussive agitation, slap-dash drumwork, and wailed out exclamations.
Opener "Throwing Pennies" jumps high with frenetic energy, while "Blackness" bludgeons and thrashes in metal style. Spacey keyboard notes swirl and crash against a running-for-its-life bass line on "Alpha Rat".
The quick "Convalescence" slams with guitar immolation and pushy vocal shouts. The fiery relentlessness and pummeled drum beats continue of "Surf's Up". Chaos reigns on "Dethroned", which flies by on speedy instrumentation and Camylle's defiantly exclaimed vocals as she roars repeatedly, "take you down".
"Spinal Tap" revels in crunchy guitar scramble and slammed drum beats, while album-ender "Judgement" cools it down ever-so-slightly with extended (yet still incendiary) guitar lines, calmer (yet still rubbery) bass line, rhythmic (yet still super-kinetic) drumwork, and Camylle's fervent proclamations.
In late 2018, Matt and Camylle had pretty much wound up their noisy, messy punk band B.D. (also known as Bad Daddies), which had been running on-and-off for about 7 years. They weren't really looking for anything new to do, but when Jason and John approached them about getting louder and weirder, it seemed like a very good idea.
Camylle plays with her other punk band Midnite Snaxxx, and curates the Typical Girls compilation series for Emotional Response Records, so, already being busy, this new project needed to be something a bit off kilter to be intriguing. Camylle remembers, "John messaged me about getting together and writing some songs. I just thought I didn't have enough time [for it], unless it was really weird, and hardcore."
Jason, for his part, has played bass or sung in "too many power pop bands and not enough punk since I was like 17." Jason met John in his last pop band and the two became friends. Jason comments, "John has been playing professionally, and drumming behind DJ's since he was 12 or some crazy shit, at these wild Venezuelan rave/functions in front of thousands of kids. He turned me on to beats and rhythms I never thought I could play."
One day Jason visited John at his house and John very solemnly said, "I need to show you something." Jason recalls, "I'm thinking the fucking 2001 Kubrick monolith is about to pop up and change my sad life, but it was just footage of B.D. playing under an interstate. Matt and Camylle were wearing the same outfit like some greaser gang and John and I were all, "Guess we're quitting pop music"."
Dots got it together, wrote some songs, played some shows, and, by early 2019, found themselves recording with Kelley Stoltz in San Francisco (with Thomas Jackson of Oakland's Baus occasionally on drums). And thus Dots was created.
Tour Dates:
June 22nd: Sweet Knives (Memphis, ex-Lost Sounds), The Control Freaks, Dots at Thee Parkside in San Francisco, CA
July 12: The Tissues (LA), Otzi, Dots at The Elbow Room Jack London Square in Oakland, CA
July 25th: Megazillionaire, Flexing, Dots at Clown College (ask a punk) in Corvallis, OR
July 26th: Collate, Soft Reputation, Dots at Victory Lounge in Seattle, WA
July 27th: Nothing Left to Lose Fest in Portland, OR
Instagram
Vinyl Pre-order at Dirt Cult Records
Digital Pre-order at Dirt Cult Records