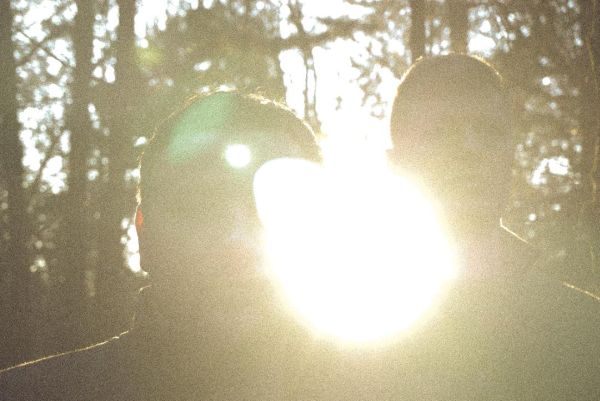 14 January 2021
Dover Lights – Photo courtesy of Dover Lights
Dover Lights, dark alternative music futurists from Arkansas, release their atmospheric, resonant, and transporting self-titled album tomorrow (January 15th) on vinyl and digital via Big Horse Records.
Big Takeover is pleased to host the premiere of the album in full one day before its official release.
Dover Lights is steeped in a night-world of visions, travels, and dreams illuminated by the sound of impressionistic rock guitars and synthesizers. Each song tells a story, although the meanings are heavily encrypted in elements from the natural world and biblical imagery — with lyrics sharing in the traditions of romanticism and magical realism of Jorge Luis Borges, William Blake, and Joseph Conrad.
The band, led by Daniel Brinker (lyricist/composer) and Andy Moore (instrumentalist/arranger), have created a multi-dimensional world entirely their own by incorporating sounds from the New Wave/post-punk spectrum, as well as the psychedelic folk of the sixties — with influences as diverse as Tears for Fears, And Also the Trees, The Church, Scott Walker, and Tim Buckley.
Instrumentally, a stark coldness pervades darkwave album opener "Prisoners", but song lights up with Brinker's emotively fiery vocal delivery.
"Memory Dissolves," the LP's second single, runs on propulsive post-punk bass line rhythms and Brinker's sonorous vocals, while "Carruntoohil I" is a gentle reverie of glistening guitar refrain and a found-sound backdrop of flowing water.
The Church-like lead single "Three Women" is a dreamy reverie that continues with mellifluous acoustic guitar interplay and dusky, contemplative vocals.
A tense frisson hangs over the industrial-tinged "Howling Man," that treads with a heavily measured pace and brooding vocals, but lifts up with buzzing and wavering synth notes.
Brinker reveals details about the album, confiding, "We live in the Ozark Mountains and take inspiration from the mountain territory which has incubated each and every song — even songs like "Prisoners" (concepts from Kierkegaard's Purity of Heart is to "Will One Thing" contrasted with the Berlin Wall) and "Howling Man" (a mechanized decent into mental and spiritual disintegration; a song which sounds something like the nexus of Scott Walker and early Genesis-clad Peter Gabriel)."
"The album is an experience. Each song was written and recorded with the full body of work in mind. Similar to listening to a Bowie album, no two songs sound the same, but they're all woven together through the vocals, the storytelling in the lyrics, and the tertiary colors in the guitar-work. Several songs on the album deal with spiritual desolation and the sense of being on fire, burning out of the confines of one's own body."
"It's not all darkness, however; there's a beauty in it all, and there are brighter songs like "Memory Dissolves" and "Three Women." Several people have described the music as dystopian, and it may come across that way, but I never thought of it like that during the making of the album. It was not written as a reflection of the present time, but more as a look inward, facing darkness head-on — translated from personal to universal experience."
"I'm a big fan of The Twilight Zone, and if you listen closely, you might hear sci-fi elements — sending out a transmission in outer space with the hope that someone somewhere might hear it. The album also deals with the loss of friends and old punk rock heroes from my hometown who died early from self-harm. The record is dedicated to Kyle Wilshusen, a neighbor I lost in 2015. The final song on the album, "Carrauntoohil II," in particular, deals with his loss. I hope that this record will be a comfort for those who are trying to hang on. Whoever you are, you're not alone."
Dover Lights is available on vinyl and digital formats through the band's website and Bandcamp.
All profits from the album go to the fight against human trafficking.
Website
Facebook
Instagram
YouTube
Bandcamp