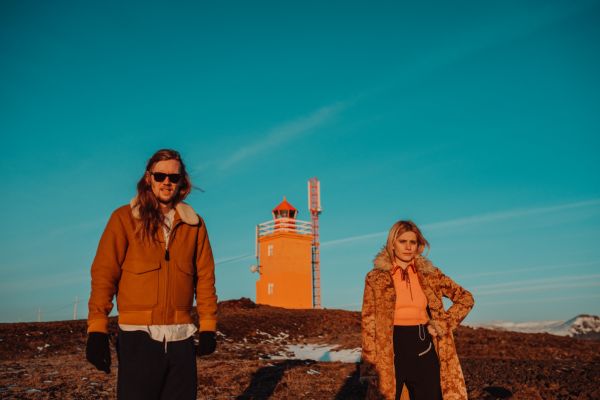 15 April 2019
Pale Moon – Photo courtesy of Pale Moon
Pale Moon — The phrase sounds like a moon condition we have yet to discover, but is in fact a rising musical duo from Reykjavik made up of Icelander Árni Guðjónsson and Siberia-Russian*Natasha Sushchenko*. This psychedelic act carve their path in music with haunting, captivating melodies and lush neo-psych textures that sound as if they emanate the '70s scene.
The collaboration began in the Catalan city of Barcelona where they first met. It wasn't until a trip to Mexico that the power duo crafted their first demos and decided it was time to pull up the sleeves and record these massive jams.
Inspired by the Rolling Stone album Exile on Main St., they set up a recording studio in an old farmhouse in the South of Iceland. Árni's parents, who used to breed sheep and prize winning stallions there, had moved the operation to another land and lucky for Pale Moon, it was still vacant. It seemed like the only way to escape everyday hustle and bustle of the city and give the music-creation process music time it deserved.
At the start, Árni took on his own spiritual and solitary journey. The first song he recorded in those outlawing days was "Exile", to underline his feeling of this new lonesome experience of working. An endless supply of new song ideas came constantly from Natasha and the EP started to take shape.
They asked a fellow musician from the powerful Gudjonsson family to mix the tracks. Arnar Gudjonsson took on the task gladly, who is notable for his work with bands like Leaves, Kaleo, and Warmland. Last year the band started off on the small stages of Reykjavik, and practiced their show in Mexico, which provided some good vibes for the kind locals.
The Big Takeover is extremely pleased to host the premieres of Pale Moon's debut EP, titled Dust of Days. The record is a brief 3-songs-long affair, but its effect is engaging. Each song works a different theme and even music genre, as the pair's vocals alternate and follow each other through the EP. There's a relaxed brightness that radiates from the tracks, warm and enveloping – and filled with good feelings. Pale Moon aren't afraid of sweeping harmonies and catchy songwriting. Árni, who recorded each instrument for the release, comments, "I just want to make music and nothing else."
When not recording music as Pale Moon, they run the concept store Kvartyra 49 in Reykjavik.
Árni and Natasha have kindly replied to a few questions about their new EP and their future plans. Read on to find out more about this newer and exciting duo:
Hello! What is the main concept behind your first EP?
"We wanted our first release to give a glimpse of our style and musical taste and it contains rather different songs. We didn't re-edit tracks and tried to keep the raw spirit of initial ideas. I don't think we had any intentional concept, but after it was finished and mixed, we both felt that it came together perfectly. You can spot our influences pretty quickly. It ranges from more recent neo-psychedelic music to really old-school rock'n'roll, and of course we love everything about the '70s."
Do the songs' sonics match the mood/feeling of the lyrics or are they contrasting with each other?
"There's definitely a connection between lyrics and sounds. For example, on "Everything is Alright" we came up with this epic instrumental chorus. We imagined spaceships leaving the Earth and rocket sounds echoing the the vast landscape. Religious topics of the song "Exile" brought the idea of using a Gospel choir, and the "Waiting for the Sun" outro has a Beach Boys vibe, because of lyric line "Cold and grey / I'd rather spend this month in L.A." You know, sun on winter days in Iceland is a rare appearance."
Why did you decide to release an EP instead of an album?
"It really made sense for us to make an EP [in order to] test the waters. Our single came out just few weeks ago and it's amazing to get feedback from blogs and major Spotify playlists. I think, when we are ready to give out a full-length recording, people will recognize our sound and be curious to give it a listen. I don't know if there's any perfect strategy, really. As soon as we got the first songs mixed and mastered, we wanted to post it right away, but of course it make sense to build your audience slowly."
What are your future plans?
"Our video comes out in beginning of May and we have amazing team behind this project. We are constantly working on new material too and more tracks will be out this year for sure. We just love making music and this is what we want to do."