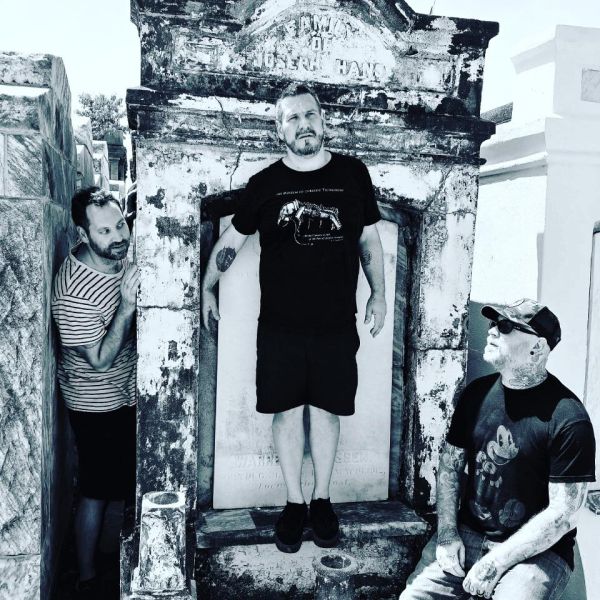 28 February 2020
Fur Coats – Photo Credit: Tom O'Brien
Dystopia Sherbit, the third LP from the Austin-by-way-of-the Midwest trio Fur Coats, is set for release via Johann's Face Records on March 3rd.
The album was recorded by Jimmy Wildcat at Sweetheart Studios in Austin and mastered by John Hoffman (of the celebrated Ohio band Vacation). For this outing, Fur Coats have called in support from a small, but mighty, cadre of guest musicians including Devon Kay (Direct Hit! Devon Kay & the Solutions) and Joel Midden (The Dumpies, Bastardgeist).
You can Pre-Order the album HERE
Guitarist/vocalist/keyboardist/mastermind Marc Ruvolo started his first punk band, No Empathy, in 1984 in Chicago, Illinois. His label, Johann's Face Records followed in 1989, and is approaching its 105th release.
Johann's Face has released seminal punk records from the likes of Alkaline Trio, The Smoking Popes, Apocalypse Hoboken, and many others. A veteran of many bands and projects since the '80s, Ruvolo has created and released music with Matt Skiba (Alkaline Trio/Blink 182), Devon Kay (Direct Hit!), and John Polydoros (Off With Their Heads), to name a few.
Ruvolo also is an active member of the SFF (science fiction & fantasy, if you're nasty) community, writing and publishing short stories. He is currently at work on a seemingly endless fantasy novel and a book of queer poems.
Ruvolo is joined in Fur Coats by Dugg Nelson, drummer of Capitalist Kids, Prince (Texas,) and emo-revivalists Bum Out. Bassist, and backing vocalist Johnny Incaini, whose played bass in Austin's Critical Dad.
The Big Takeover is stoked to host the premiere of Dystopia Sherbit, a wild, DIY punk/rock ride with a definite anthemic and tuneful side. The band mainly keep it moving it an energetic pace with rough and rousing vocal delivery, driving guitar grit that at times resounds with metal-music buzz, deep-diving bass lines, kinetic drum beats, and the smash of cymbals.
Ruvolo and his musical crew champion the underdog over the kings as the world continues to slide into a dystopia ruled by the rich. One song adds robotic vocals touches, while another swirls with psychedelic vibes, and there's a more reflective tune midway through to temper the up-tempo rhythms of the other songs.
Ruvolo reveals, ""Dystopia Sherbit turned out to be a middle ground between the second album, Gumballs in the Meritocracy, and the much harder-edged follow-up EP Milkdromeda. The themes, however, are the same: books, anxiety, the plight of refugees worldwide, and a sense of impending doom. The "Sherbit" is a false product; a trademarked nothing; an idea sold to us on a daily basis."
Fur Coats discography:
"Don't Make me Beg" 7" (2011/Dirt Cult Records)
"Goddamn, I'm a Handsome Man!" 7" (2012/Dirt Cult Records)
"The League of Extraordinary Octopuses" LP/CD (2014/Dirt Cult/Drunken Sailor Records)
"Short-Brain" 7" (2015/Make-That-A-Take Records/Drunken Sailor Records)
"Gumballs in the Meritocracy" LP/CD (2017/Hovercraft Records)
"Milkdromeda" CDEP (2018/Johann's Face Records)
Bandcamp
Facebook
Instagram:
Twitter