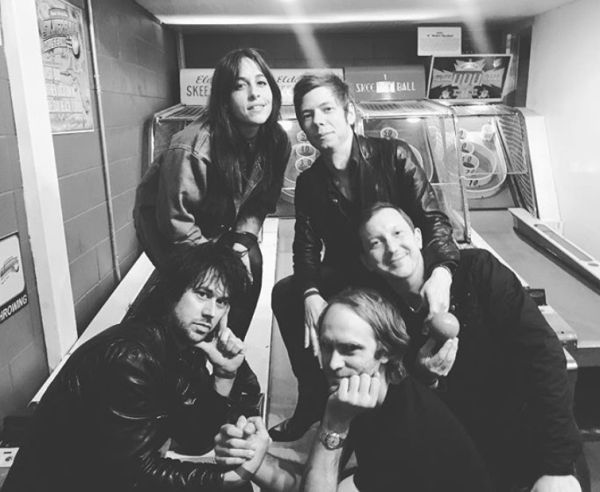 23 April 2019
Earnhardt – Photo Credit: Polly Watson
While we do cover our fair share of New York-based bands, more often than not, they fall into realms of music quite distant from the band we introduce you to today. Hailing from Brooklyn, Earnhardt is a collective professing the sweet hybrid sounds of Americana, classic rock, and alt-country. The Big Takeover has the pleasure of presenting their debut self-titled album – nine tracks you should take note of.
This album is actually the band's second release, following up their 2017 EP Live at 100. In the period between these two events, the band has been busy touring, writing new material, and recording. So too has there been a slight change of personnel. Today Earnhardt is a five-piece led by Adam Gerard on guitar and vocals, and as principal songwriter. His four sonic pillars are Grant Anderson (drums, vocals), John MacDonald (lead guitar), Steve 'Sunshine' Stapleton (bass), and Veronica Davila (vocals).
Adam Gerard explains, "This record is a collection of rock songs about that universal human struggle, that broken heart. They're all true, and meant to be listened to loud, ideally a couple of drinks deep, heavy-hearted or not. I think I tried to write a bunch of country songs and they ended up sounding more like '90s FM rock radio. I love the hook of a song. It's got to sound good. We embrace the hook…the pop element of it."
For two tequila—fueled weeks in late summer 2016, the band lived and breathed these songs, refining the sound under the supervision of engineer and co-producer Ben Brodin (Conor Oberst, First Aid Kit, Savages, Pete Yorn), who handled recording and mixing at Another Recording Company Studios in Omaha, Nebraska, in addition to contributing piano, keyboards, and guitar.
Earnhardt's long-play was mastered by Alex DeTurk, known for his work with Taylor Swift, David Bowie, Kamasi Washington, David Lynch, and Blonde Redhead. The output is a well-seamed record thriving in territory between Southern rock, alt-country, and rock 'n' roll. Sometimes even within the same song they mesh these elements together well in the same way that Drive-By Truckers do. Heartbreakingly contrasted by life's sometimes stark naturalism and the sunny, melodic feel-good quality of this music, Earnhardt are establishing themselves as a relevant force to reckon with in those respective genres.
This album should also appeal to fans of Steve Earle and 6 String Drag on the one hand, and Neil Young, Tom Petty & the Heartbreakers, and The Band on the other. Standout tracks here include "Transmissions", "Neversink", "Women Without Whiskey", "Drywall", and "Long Shot".
"As bandmates we really know each other. There's a collective instinct that we share when it comes to what something ought to sound like. This record has been a long time coming and we're grateful to be able to share it," says Adam Gerard.
This album involves a guest appearance by Mike Mogis (Julian Casablancas, TrashCan Sinatras, She & Him, Jenny Lewis), also known for composing the soundtrack to A Fault in Our Stars. He contributes pedal steel on "Women Without Whiskey", where Earnhardt offers their own rendition of the classic Drive-By Truckers track. Former bandmate Dominique Otto also contributed vocals throughout the record.
"We're so excited to finally have these recordings see the light of day, so now we can start looking ahead to the next record," says Steve 'Sunshine' Stapleton.
Adam Gerard and Grant Anderson previously performed as part of Young Lords, later forming the band Red Horse, releasing material with Steve Stapleton on bass. John MacDonald was also busy around this time as a member of Brooklyn-based The Archive. After a few years of sharing stages at shows around Brooklyn, Earnhardt began playing with MacDonald to round out the band's unique sound. Veronica Davila, also of the Brooklyn-based group Low Roller, adds vocal harmonies.
As of June 14th, the Earnhardt LP will be available on vinyl. Already now it can be downloaded from digital stores and the band's own Bandcamp, and is streaming on Spotify
TRACK LIST
01 Drywall
02 Neversink
03 Digoxin
04 Nature
05 Long Shot
06 Transmissions
07 Angel Coast
08 Women Without Whiskey
09 KT
LIVE DATES
April 24 Manhattan – Berlin (with Radiant Reveries, Irv Irving)
May 24 Queens / Ridgewood – Footlight (with Cowmen, Jounce, Tayllhassee)
While you're here, also check out two videos from the band's first Live at 100 EP and support the band where possible:
WILD HAIR from Earnhardt on Vimeo.
EARNHARDT
Facebook
Bandcamp
Vimeo
Twitter
SoundCloud
Spotify
iTunes
YouTube