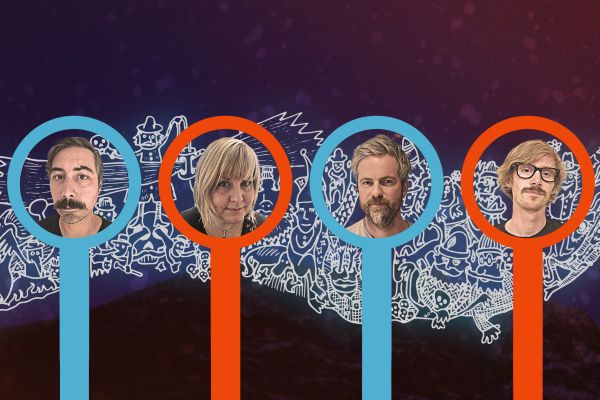 13 November 2020
The High Water Marks – (L-R): Logan Miller, Hilarie Sidney, Per Ole Bratset, Øystein Megård. Photo credit: Self-Portraits; Illustration by Per Ole Bratset
"I am so lucky to have been a musician throughout my life," says Hilarie Sidney of The High Water Marks, the band she fronts out of her adopted home town of Grøa, Norway. The group are releasing Ecstasy Rhymes via Minty Fresh today, November 13th.
It's been 13 years since the veteran musician released previous material with the band. She's also best known as the co-founder of one of the most influential musical collectives of the past, oh, forever amount of years. During her time living in Denver, Colorado, Sidney part of the legendary Elephant 6 collective and was a founding member of the much-loved The Apples In Stereo.
Sidney is the sole female founder of Elephant 6, which promoted The Apples In Stereo, Neutral Milk Hotel, and Olivia Tremor Control. Throughout her tenure in this collective, and when she moved forward from the group, Sidney's passion for songwriting never waned.
Sidney eventually found new love, and a new musical partnership, when she formed The High Water Marks, releasing a debut album (Songs About The Ocean) in 2003. The record was written and demoed through the mail with her now-husband and bandmate, Per Ole Bratset, whom she initially met at an Apples gig in Norway in 2002. A follow-up album (Polar) arrived in 2007.
While she was always writing new material, Sidney found a different direction starting in 2010, after a while of relationship turmoil in her life. She began to finish up a Bachelor's degree, which led to her being awarded a prestigious study abroad scholarship at the University of Oslo.
"Moving was everything I had hoped it would be," she explains. "In Norway, we have a work-life balance, health care, a living wage, five weeks of vacation…" And she could devote her time to playing music again.
Thirteen years after releasing her last album as The High Water Marks, the band has completed Ecstasy Rhymes, a new album that reflects the maturity, perseverance, songwriting, and performing talent that made Sidney's contributions to Elephant 6 and the Apples so integral.
The LP is 38 minutes of perfect power-pop, with one song after another that will take any fan of the songs that Sidney contributed to Apples recordings – her voice is instantly recognizable – right back to the most potent days of that band's career.
As he did on previous releases, Bratset also contributes lead vocals on several songs, all of which were co-written with Sidney. In addition to Sidney on vocals, guitars, keyboards, and drums, and Bratset on vocals and guitars, the band includes Logan Miller on bass, guitar, and drums, along with Øystein Megård on drums. keyboards, and backing vocals.
"I feel like for the first time ever, we have a dream team," Sidney says. "I have my partner in crime by my side, like always, but we managed to also find these two other fantastic people who we can work with so well. We finally have the best band we've ever had and a great record."
Big Takeover is highly pleased to host the premiere of Ecstasy Rhymes in its entirety as it officially bows today.
Top-notch indie pop-rock tracks abound, from the vibrant and sweeping album-opener ""Ode To Lieutenant Glahn," restless, yet tuneful rocker "Can You," and sweet title track with its wistful dual vocals and pop-symphonic pull, to the brightly smashing "Award Show," jangle-popper "The Trouble With Friends," the briskly up-tempo "Pepin Le Bref," and crisply driving rocker "Satellite."
Sidney also took part in an enlightening Q&A with her other band members, offering up insightful, and often amusing, info about her musical history and outlook.
Question from Bratset: "How do you define the term dude rock, and how do we avoid falling into the dude rock trap?"
"To me, dude rock can mean a lot of different things. Sometimes it means making overly complicated arrangements that seem kind of macho or overly masculine. Like muscle-flexing. I really don't want anyone ripping their shirt off, you know? I don't know. Sometimes just being in a band with only guys I get a little panicky about dude rock, hahaha. I'm pretty bossy though. I know Per Ole is giving me this question because I will shoot things down for being dude rock. What about this song? No, too dude rock. What about this drum part? No, please tone down the dude rock. That's our dynamic I guess."
Question from Bratset: "Is there a difference between being a girl in a band (borrowed from Kim Gordon) in the US and in Europe?"
"This one is a real mystery to me. The US can still be very gender divided. I have married friends/friends in partnerships in the US who still have the kind of relationship where my women friends are doing most of the cooking, laundry, cleaning, childcare, etc. Also, the TV ads in the US? The man having a mishap with food or drink and the woman coming to the rescue with the cleaning device or cleaning supply they are trying to sell."
"Here [in Norway] everything is equal in partnerships for the most part. Men are even forced to take paternity leave to bond with their children. So, because of this, I was very disappointed by the lack of women in bands here. Well, indie bands. The closest city to us is Trondheim. Actually, Øystein our bandmate lives there and we practice there."
"Trondheim has a scene that seems most dominated by guys playing prog, and bands who want to be like the band Motorpsycho, who is famous in Norway and come from Trondheim. I'm hoping that I just haven't discovered these bands with women and that I am going to find them soon. To be fair, there are female singer/songwriter types of musicians here in Norway."
"But I want to see a good old-fashioned punk/pop loud raucous band of women! Those are much easier to find in the US, and to make a very long story short, where the US is lacking in the gender gap in everyday life, it thrives better in the music world. The opposite is true here in Norway. This is my assessment of the situation, and I'm sure there are a lot of folks who would disagree with me on this."
Question from Bratset: "What is your songwriting process?"
"Is there a process? Hmmm… I think I just pick up the guitar and start putting chords together and some melodies come floating into my ears. Some are worthy of trying to make something out of, while others remain on my voice memos on my phone for all of eternity."
Question from Bratset: "What do you miss most about living in the US?"
"Going out to eat cheap (especially Mexican), cheap drinks, and seeing a wider variety of concerts. And of course all of my friends and family!"
Question from Bratset:: "I notice you like to put characters from history and literature in your lyrics. Is there any of this on the new record?"
"The first song, "Ode To Lieutenant Glahn," is about Glahn, the protagonist of Knut Hamsun's novel Pan. "Pepin Le Bref" is about Pepin, who was the first king of the Frankish Carolingian Dynasty. He was also the father of Charlemagne. So yeah, it's fun to make up songs about people who existed in fiction or non-fiction I suppose."
Question from Bratset: "Why do you think dude rock-devotees of Denver got so mad that you were playing a toy drum kit when the Apples were just starting out?"
"When the Apples first started playing live, it was in Denver, 1992. We were getting ready to record our first 7". Our first gig ever was at an open mic at a place called Cricket on the Hill. I played on a little toy drum set from Sears because I hadn't been able to piece together a drumkit yet, and we basically had really old ratty equipment in a town, and maybe an era where people had a standard of what was professional. We were not holding up that standard, haha."
"So after the show, a really big motorcycle guy came up to me and he said, "Who do you think you are playing that stupid little drumset? You think that's cute or something?" I was really confused. I still don't understand why that was upsetting. I didn't know what to say. But other shows followed where we were told things like, "Hey, you guys are alright. With better gear, you could sound like anyone you want!" haha."
"We also had some incidents like one time we played at the Lion's Lair and our bass player (before Eric Allen) got mad and left the stage. We kept playing without him, and he sat at the bar and heckled and berated us. So, yeah, I think we were kind of a mystery. In general, it took a few years, and some success across the US and outside of the US before some of the bands and people in the Denver scene would understand what our deal was, and why I might play a toy drumkit. Or even get a gig of our own for that matter."
Question from Megård: "How is the music scene in Grøa different from the music scene in Lexington?"
"Grøa can be pretty rough. I just heard there is a new country band starting up and I'm really worried they are going to steal our title of "Grøa's best band." But you know, Lexington has a lot more bands. So, we never really got to be "Lexington's best band." If you're wondering, we moved from Lexington, KY to Grøa, Norway 6 years ago. Grøa has a population of 393 people, and two of the world's tallest waterfalls. We find that we thrive best in the rural rock scene and around tall waterfalls."
Question from Megård: "Which song on the new album are you most satisfied with how it turned out and why?"
"A lot of songs really ended up surprising me, so it's really hard to narrow it down to one. First of all, this record would never have been finished without Øystein and Logan. Logan is like a machine. He would stay up all night working on parts and trying stuff out (he doesn't seem to need as much sleep as most people). His bass playing is phenomenal, and he has a way of tracking which makes me feel totally at ease and relaxed."
"Doing vocals is always the worst part for me. I'm not a singer; my singing is very average, but I like to sing my own songs! Øystein kept us on track and organized. Not to mention his keyboard/mellotron parts really took the songs up to a whole other level. It turns out he's an amazing drummer and it's not even really his instrument."
"So, in that way, I am really satisfied with the way the whole record turned out. As far as which song goes, maybe "Ode To Lieutenant Glahn," because it really needed something. It's a catchy song, but it needed better instrumentation. That is because of those guys."
Facebook
Instagram
Twitter
YouTube