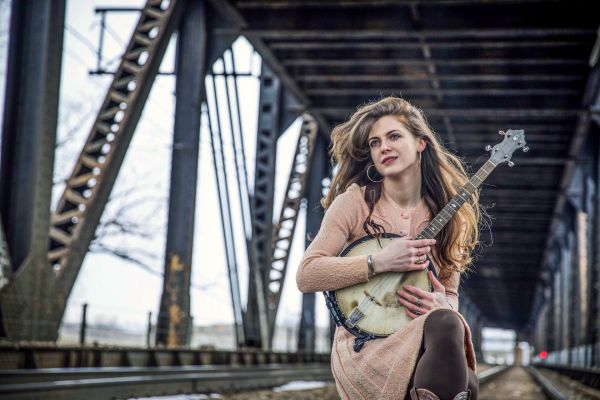 16 May 2019
Kelly Hunt – Photo Credit: Lori Locke
Kansas City-based (by way of Memphis) vintage folk singer-songwriter Kelly Hunt is set to release her debut album, Even The Sparrow, on May 17th via Rare Bird Records. A day ahead of the LP's official bow on the public stage, The Big Takeover hosts the full stream of the spare, sincere, and spellbinding LP.
Each musical instrument, if it could speak, would tell an intriguing story. Hunt's musical adventure started when she began to track down the origin of her anonymous calfskin tenor banjo. "I really wasn't looking for it," she says, "but I opened up the case and it said 'This banjo was played by a man named Ira Tamm in his dog and pony show from 1920 to 1935.' I strummed it and said 'This is unlike anything I've ever heard.' People often think of the banjo as being rather brash and tinny – loud and kind of grating – but this was so warm and mellow, with an almost harp-like quality to it, very soulful." – apt words for Hunt's Even The Sparrow,
The daughter of an opera singer and a saxophonist, Kelly Hunt was raised in Memphis and grew up performing other people's works through piano lessons, singing in choirs, and performing theater. "It was a very creative, artistic household," says Hunt. During her teenage years she began writing her own songs on the piano as a creative outlet.
After being introduced to the banjo in college while studying French and visual arts, Hunt began to develop her own improvised way of playing, combining old-time picking styles with the percussive origins of the instrument. "I'm self-taught, I just started letting the songs dictate what needed to be there," she says. "I heard a rhythm in a song that I wanted to execute, so I figured out how to do it on the drum head while still being able to articulate certain notes in one motion."
After college, Hunt followed a rambling path that took her through various careers, while she continued to make music as a private endeavor. After moving to Kansas City and discovering her mysterious Depression-era tenor banjo, Hunt began recording Even The Sparrow in Kansas City alongside collaborator Stas' Heaney and engineer Kelly Werts. "It took almost two years to record," Hunt says, "learning how to let the songs dictate the production."
Even The Sparrow displays Hunt's penchant for masterful storytelling and engaging arrangement, as researched and complex as they are memorable, punctuated by her articulate melodies and a well-enunciated and creative command of lyrical delivery infused with deft emotional communication. While reminiscent of modern traditionalists such as Gillian Welch – a number of her songs even borrow titles and phrasing from traditional American music ("Back to Dixie," "Gloryland") – Even The Sparrow reveals an ineffable quality that hovers beyond the constraints of genre, à la Anais Mitchell and Patty Griffin.
In "The Men of Blue & Grey," what begins as a Reconstruction-era ballad about the repurposing of Civil War glass plate negatives in a greenhouse roof soon becomes a meditation on the hope that growth and life may one day be able to emerge from the ruins of suffering and haunting of violence. "Across The Great Divide" turns an otherwise traditional accounting of spurned love into a philosophical epic of the ethics of forgiveness and freedom, evoking the ideas of Søren Kierkegaard and Walt Whitman.
Hunt's emotive vocals and bare, poignant lyrics on the folk-blues "Nothin' On My Mind" are supported with just plucked banjo and the effect is mesmerizing. Uplifting album-ender "Gloryland" is an old-time gospel rave-up, swinging with a lively spirit and added instrumentation (organ, guitar, and various voices on the chorus sections).
As for the original owner of Hunt's mysterious tenor banjo, not much is known. "I've never been able to find anything about Ira Tamm," she says, "I think he just had a humble little traveling show." What's clear is that the itinerant performer laid down his banjo at the height of the Great Depression, almost eighty years before it would be picked up by Hunt. "That banjo has stories. I wish I knew them all," says Hunt, though the banjo's most captivating story may just be beginning with Even The Sparrow.