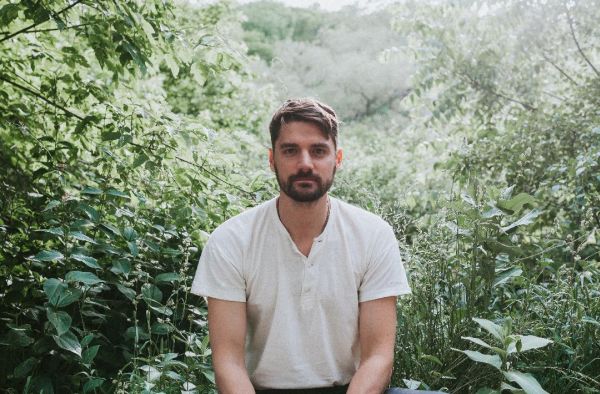 19 April 2019
Tim Baker – Photo Credit: Britney Townsend
Forever Overhead, the debut album from Canadian singer-songwriter Tim Baker, features eleven songs that center on kinship. Baker, formerly the songwriter and lead vocalist of beloved Canadian indie rock band Hey Rosetta!, took his inspiration from '70s songwriters like Jackson Browne and Randy Newman, whose music filled his childhood home, and from his contemporaries (Feist, Bahamas, Andy Shauf).
The resulting blend of piano ballads, pop grooves, and ebullient folk-rock is an enthralling listen, with nostalgic undertones that provide a timeless backdrop for Baker's vibrant lyricism. The Big Takeover is excited and delighted to host the premiere of Tim Baker's album in all its heartwarming, insightful, and inviting beauty.
Buoyant lead single "Dance" is about a longing for connection and feeling close to, but ultimately separated from, love. "All Hands" is a joyous indie-folk single, again explores connections, but is less of a lament than a thank you letter. dedicated to the people who have helped Baker throughout his career. It's also a nostalgic anthem about his Newfoundland home.
The uplifting "Hideaway" rises with fluid acoustic guitar lines with lush flourishes, shaken percussion, a swaying groove, touches of horns and handclaps, and Baker's at times fervently exclaimed vocals. "Strange River" takes this even further with a passionate gospel vibe of lively vocal harmonies and winding horn note. Baker once again sings openly and ardently.
Baker gets reflective on spare "The Sound Of The Machines" as he explores "real life". His wistfully yearning vocals are supported by gentle and contemplative piano notes as he sings, "Someday it's gonna be okay." Album closer "Don't Let Me Go Yet" lays down on a bed of piano, horns, cooing backing vocals, and Baker's plaintive vocals. He comes to a realization on this track as he admits, "I always leave / and chase all my foolish dreams / when I got everything I need / right here with me."
After Hey Rosetta! announced their hiatus, Tim went on a solo tour of alternative and oftentimes odd venues: a book store, living rooms, a ski lodge, the ice rink bar during a curling tournament, and other intimate spaces. This intentional, unconventional approach allowed him to distill the purest elements of these songs by road-testing them in the most challenging of circumstances – alone in front of silent, small, attentive audiences. These meditative performances were captured in the live video EP/doc style mini series entitled The Side Door Sessions. This journey and resulting connection with fans that Baker experienced would greatly inform his approach to recording Forever Overhead, a blueprint for the emotional weight at the heart of these songs.
On Forever Overhead, Baker's focus returns to specifics but the impact of his songs remains just as grand as the climatic works of Hey Rosetta!. The album swings with contemporary desires, frustrations, and joys with Baker at its heart, providing beauty and hope into listeners' lives.
Baker describes this undertaking in his own words, "I always felt that I want to write about things that are really meaningful to me and, perhaps in a kind of oblique way, do good. If you're going to commit your whole life to it, I think it should be about more than trying to be cool or something… which I've never been particularly good at anyway."
Forever Overhead, is produced by Marcus Paquin (The National, Local Natives), and releases today, April 19th, via Arts & Crafts.
Pre-Order Forever Overhead HERE
TIM BAKER – HEADLINE SHOWS 2019:
04/19/19 St. John's, NL Holy Heart Theatre* (second show added)
04/20/19 St. John's, NL Holy Heart Theatre*
04/23/19 Toronto, ON Great Hall* SOLD OUT
04/24/19 Toronto, ON Great Hall* (second show added) SOLD OUT
04/25/19 Toronto, ON Great Hall* (third show added)
04/26/19 Ottawa, ON Bronson Centre*
04/28/19 Quebec City, QC Maelstrom* (new date)
04/29/19 Fredericton, NB Wilmot United Church*
04/30/19 Moncton, NB Tide and Boar Ballroom*
05/02/19 Charlottetown, PE ECMAs
05/03/19 Halifax, NS St. Matthew's United Church (second show added)* SOLD OUT
05/04/19 Halifax, NS St. Matthew's United Church* SOLD OUT
05/07/19 Montreal, QC Le Ministère*
05/08/19 NYC, NY Rockwood Music Hall
05/11/19 Brooklyn, NY Jalopy Theatre
05/13/19 Asbury Park, NJ Danny Clinch Gallery
05/14/19 Vienna, VA Jammin Java
05/16/19 Boston, MA Cafe 939
05/18/19 Burlington, VT Higher Ground Showcase
05/20/19 Buffalo, NY Leopard Lounge at Town Ballroom
05/29/19 Edmonton, AB The Station on Jasper*
05/30/19 Calgary, AB Commonwealth Bar & Stage*
06/01/19 Vancouver, BC Commodore Ballroom* (venue change)
06/03/19 Seattle, WA Columbia City Theater*
06/04/19 Portland, OR The Old Church*
06/07/19 Los Angeles, CA The Hotel Cafe*
06/08/19 San Francisco, CA Hotel Utah*
with *Charlotte Cornfield
Facebook
Twitter
Instagram
YouTube