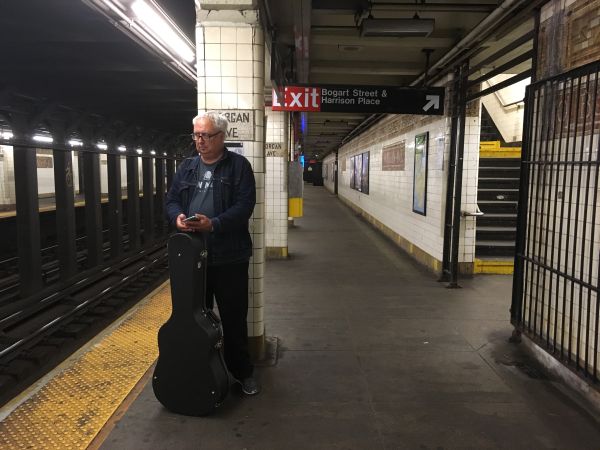 16 July 2019
Brick Briscoe – Photo Courtesy of Brick Briscoe
Petersburg, Indiana-based musician and radio and television personality Brick Briscoe recorded his upcoming release From Lucky Point to Père Lachaise after a life-changing battle with cancer and the life-affirming travels suggested by the album's title. The Big Takeover is proud to host the premiere of the album, which releases today, July 16th.
"From Lucky Point to Père Lachaise" refers to the songwriter's travels, specifically a trip to France to make a film and a visit to the Père Lachaise Cemetery in Paris, the final resting place of Frederic Chopin, Max Ernst, Édith Piaf, Jim Morrison, and Oscar Wilde. The album is intended (and should be listened to) as a continuous piece as its eleven tracks are linked thematically.
Briscoe was unsure if he had the energy to make the trip after being treated for cancer for over a year, but travel he did and he returned to the States with a renewed vigor. He wrote about the journey of his life, but in reverse, taking inspiration from the Godard quote "A story should have a beginning, a middle, and an end… but not necessarily in that order."
The album focuses on the romance and angst of life's journey and is sprinkled with Midwestern pragmatism and a liberal dose of observations from his travels; from Petersburg, Indiana (Lucky Point) to Chicago, Boston, New York, Paris, Bordeaux, and back.
In the end, Briscoe realized that he likes the person that he has become and embraces the struggle inherent to the process of writing and being a human in 2019.
The tone of the opening track is dreamy and pushes ahead with a determined drum beat. The next number is more spare, but showcases Briscoe's plaintive and searching vocals. He's backed by both acoustic and electric guitar lines; one simple and direct; the other burning a hole in the song.
On the following tune, Briscoe exclaims passionately about "real scars" and that "what happened is real" amid brisk acoustic guitar strum, wavering organ notes, and sharp handclaps. He continues in this raw vein before breaking down in a slow smolder and spoken word vocals, before it lights back up again.
Briscoe speaks and sings matter-of-fact truths, revealing "we all have to leave sometime" and that "fear and happiness are just a state of mind"_. On the next stark track Briscoe and his guitar-playing is all that can be heard. The final number is a rollicking rock 'n' roll song thick with garage rock rumble and Briscoe's always urgent and potent vocals.
From Lucky Point to Père Lachaise is Briscoe's 10th album and he will celebrate the release with shows at Bokeh Lounge in Evansville (Friday, July 19) and Montrose Saloon in Chicago (Saturday, July 20).
Briscoe's radio program The Song Show airs on NPR affiliate WNIN in Evansville, Indiana and his new TV show Any Road is broadcast on WNIN 9.1 in the Evansville and streams via the PBS app.
Website
Facebook
Twitter
Instagram
Amazon
Spotify
iTunes
Any Road on PBS