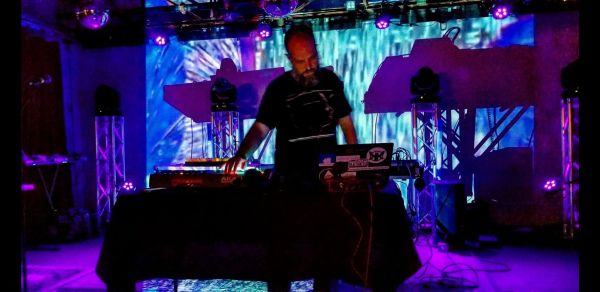 12 December 2018
Jason T. Lamoreaux of The Corrupting Sea – live – Photo Credit: M. Cody McPhail
The Corrupting Sea is the sonic project of Jason T. Lamoreaux which began sometime back in 2007. Although started so long ago, an album was not released until May of 2017, when everything was soncially in its right place.
The Big Takeover is highly pleased to host the premiere of The Corrupting Sea's seventh album, titled Ghosts, the fourth record released by Lamoreaux this year.
The six tracks on Ghosts are sonic explorations in letting go of the past. Ghosts references those things that we each struggle with; those things that make us make bad choices, hold us back, and keep us from reaching our potential.
The album begins with the submerged and ominous void of "Darkness", the domain of ghosts, and segues through various movements toward "Enlightenment", one's ideal goal in life.
While this is the overarching theme of the album, it is a personal journey as well. Channeling his own experiences, Lamoreaux explores his own ghosts on the LP and looks toward a future where hope triumphs and, perhaps, enlightenment may one day be had.
After passing through the "Darkness", a soft brightness slowly dawns on "Some Call Me Icarus", while still being somewhat tethered to a deeper, somber atmosphere.There is space here to look skyward, however, as the song opens up more towards its ending.
A gently curved soundscape unfurls on "Emergence",with a lighter airiness merging with a shadowy tone the passes back and forth throughout the track. Echoed bird chirp glows amid the heavier orbiting notes, giving the number a natural foundation.
"Leaping Into Madness" radiates with an extended drone and what sounds like hushed, but warmer symphonic sonics. The chains of the past are breaking and the unknown future beckons. The end half of the track, however is wracked with static. Maybe the journey is not to smooth after all…
The climb up the mountain is long and high on "Sisyphean Triumphs" as a burgeoning haze builds up, but is calmed by reflective piano notes. An effulgent intensity overflows and continues through the last song, "Enlightenment". Sharply shimmering luminescence fills the ears and clears the mind, allowing for reception to what the future holds.
Ghosts was recorded at Somewherecold Studios this past summer specifically for a debut on the brilliant Aural Canyon record label headed by Matthew Hanner. The LPt was deftly mixed and mastered by Orange Crate Art in Sweden. Synths, Midi, and all manner of sounds are by Jason T. Lamoreaux.
Aural Canyon
Bandcamp
Twitter
Facebook
Instagram
The Corrupting Sea
Bandcamp
Twitter
Facebook
comments powered by