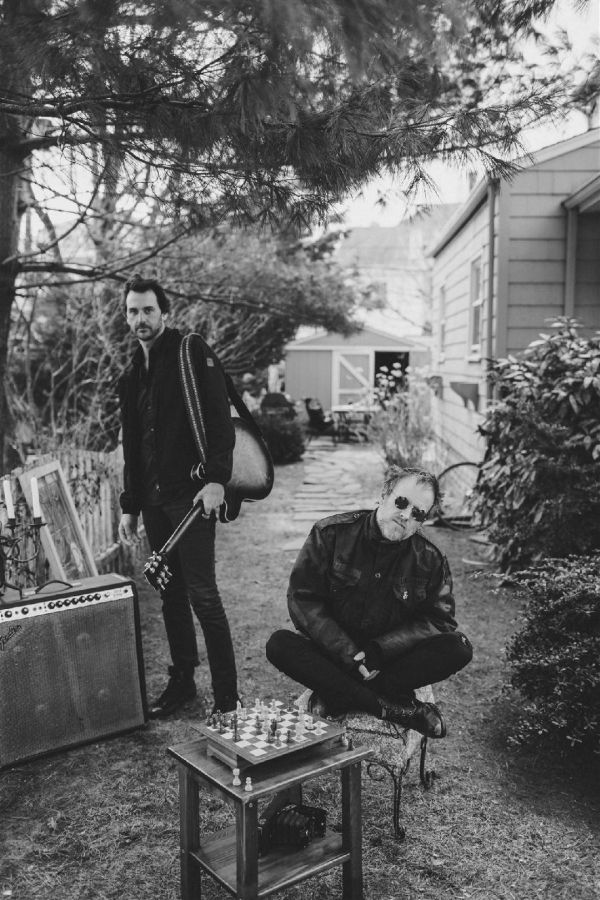 29 March 2019
Lonely Machines – Photo Credit: Cassie Castellaw
Lonely Machines consists of singer and guitarist Matthew Ernest Filler and drummer Robert Vaccarelli. The Big Takeover is enamored to be hosting the exclusive premiere of their debut album, Gypsy.
Gypsy was engineered and produced by Adam Vaccarelli (Robert's brother) and Matthew Ernest Filler at Retromedia Sound Studios. Matthew, Robert, and Adam have been playing music together since they were teenagers and this cohesiveness and understanding flows through the tracks of the album.
It's been said that Lonely Machines' sound is "as if Bowie released an album on Factory Records." Gypsy is throwback New Wave shadowed by the restless undercurrent of post-punk. Vintage dissipation and faded glamour, late nights and languorous moods, fashionably dispassionate to emotive passion, and intoxicating sonics fill each song to the brim, without spilling over the rim.
The band members all reside in and around Asbury Park, New Jersey, a somewhat haunted beach city with a rich musical history located about 40 miles south of New York City.
On Gypsy, they bring forth their influences from the number of genre-straddling bands in which they have played, including shoegaze provocateurs Mahogany, Miss TK and The Revenge, the Siouxsie-esque post-punk trio Microfossils, and space-age pop connoisseurs Monocle. Their most recent effort has been described as being, "a bit haunting, but still makes us want to dance and find a time machine to go back in time to the 1980s."
Matthew Ernest Filler explains, "Everything I've ever done feels strangely familiar, but it's really not. I do try to be accessible or relateable, and I do consciously tap into my influences, but I ultimately just end up doing what I want to do… something I would want to listen to. Gypsy is everything that I've wanted to do for a long time. I did this music with Bob because he's a master of vibe, and I love what happens when we play together. It's not something I can calculate or create with a production-forward mindset. It's something that guides itself based on the vibe we have together. We both love everything Factory Records, so that definitely happens very naturally when we get together. I also tend to be dramatic as a performer — my voice just lends itself to drama — that baritone. And I'm probably a bit dramatic as a person as well, so there is the melancholic undercurrent, and it's rarely on purpose. I've just learned to stay out of the way and go with it."
Matthew and Robert grew up improvising together in Robert's parents basement — his dad is a musician and the house was full of gear from the '60s and '70s. Later, Matthew lived in a converted, illegal storefront in the East Village, and they would throw parties every weekend full of artists and musicians, and they would also perform highly improvised sets with a stage set up against the storefront bay windows.
About the recording of Gypsy, Filler recounts, "For most of this record, I wrote lyrics on the fly. I'd get a vocal melody and some semblance of a phrase, or a group of phrases in my head. I'd hit record and let it happen. If we liked it, I'd leave as much as I could untouched, and I'd organize whatever else needed shaping. Then I'd just let whatever other creative decisions happen around those central parts. I went out of my way to make this process natural, painless, human, and NOT overcooked. We did the same thing with everything; one or two takes. You know, let's just capture whatever that energy is between nervousness and liberation, or the urgency of hitting record when something is only partially crafted. None of us can pretend to know what's going to connect, so why sit there and tweak all day like we know. I am a perfectionist and it took every ounce of will that I have to trust whatever it is that me, Bob, and Adam do when we're in a room together."
Gypsy is 9 songs and roughly 41 minutes of what Filler calls "nighttime loner music." Album opener"Steady Rain" careens through the mind of a character having a vivid dialogue with himself. The chorus belts out, "Don't go on thinking / It's not worth reliving / It's time to just be in the steady rain. / Listen to reason and listen to rhythm / The quiet serenity, steady rain." Filler says that it's about his practice of transcendental meditation, quite literally!
The brooding, but groovin', Roxy Music-like title track moves with New Wave heightened synths extensions with a dotting of brighter synth notes that are contrasted with a low-register, rhythmic bass line, thumping drum beat, and burning guitar line.
Airy synths diffusion plays off a strict drum beat on "Sudden Thoughts", which elevates on the chorus with Filler's cried out vocals and winding guitar lines. The noir and stark "I Divide" rolls with an active bass line, spare metallic strikes, and other echoed instrumentation.
A loping bass line grind runs through the danceable "Stars", which darkly shines with doubled vocals, synths sparkle, and a rapidly smacked drum beat. Near the end of the number an electric guitar line flames, upping the intensity.
Funk pop rises to the fore on the infectious "Down." Post-punk closer "Night Kill" slays with an Interpol-like romping pace, sharp and sinuous guitar line, low piano notes, and hard-hit drums. Filler sing-talks his vocals, at times light and airy, and at others dissociatively dreamy…
Enter this mesmerizing aural dimension below:
TRACK LIST
Steady Rain
Gypsy
Sudden Thoughts
I Divine
Different Light
Stars
Down
The Weekender
Night Kill
CREDITS
Matthew Ernest Filler – vocals, guitar, bass, and keys
Robert Vaccarelli – drums
Produced by Matthew Ernest Filler and Adam Vaccarelli
Mastered by Joe Lambert (1,2,5,6,7) and Matthew Ernest Filler (3,4,8,9)
Engineered and Mixed by Adam Vaccarelli and Matthew Ernest Filler
Spotify
Instagram
Facebook
Bandcamp