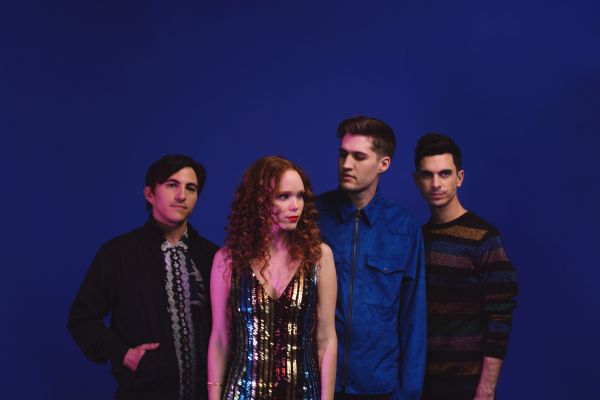 27 June 2019
Royal Teeth – Photo Credit: Jakob Wandel
New Orleans-located indie rock/electronic pop band Royal Teeth will be releasing their long-awaited full-length second album Hard Luck on June 28th. The LP features their five recently released singles, as well as a slew of scintillating brand-new rock/electro-pop/hip-hop hybrid tunes.
Hard Luck marks Royal Teeth's comeback to indie rock, with a progression in their sound that exudes energy and conviction. No stranger to the ups and downs of the music industry, they have known success and off-sets. Hard Luck is a chronicle of the rocky road of being in a band, and also of the determination, passion, creativity, and connection that makes it all worthwhile.
As singer and guitarist Gary Larsen puts it, "This line of work can be difficult. It requires you to be vulnerable and put yourself out there to be judged by others. It's hard to get used to. We are using this album as a platform to face our fears, and to focus on the love we find through the music we create and those who connect along the way. Larsen continues, "I hope that this album gives strength to anyone who has a hard time putting themselves out there for the world to see."
The band members (Larsen, singer Nora Patterson, guitarist Thomas Onebane, and drummer Josh Hefner) used their more positive and inspired view to craft new songs with a fresh sound and spirit that is infused throughout Hard Luck. The group began recording from their homes in New Orleans and Nashville as far back as 2017, and they've felt revitalized. Unlike their previous releases, the new album is rough around the edges. "We didn't want to reference anything we had done before. We needed to move on and figure out what we are today," Larsen explains.
The Big Takeover is extremely pleased to host the premiere of this vivid, infectious, dynamic, and captivating album in full a day before its official release. Catchy and anthemic lead single "Never Gonna Quit" serves as a mission statement for the LP, boasting loudly about the ability to take a shot to the chin and continue pushing forward.
Other LP highlights include the amped up, swaggering, and alluring track "It's Just The Start", sultry electro-rocker/hip-hopper "Show You What I Can Do" featuring the esteemed Tunde Olaniran, the sleek, yet emotionally vulnerable ballad "Rivalry," and their latest vibrantly pumped-up rocker "Get A Load Of This One."
As a whole, Hard Luck rides the ups and downs of life's challenges with an uncompromising ambition that relies heavily on positivity and embracing life head-on. Luck may be hard to find in the music biz, but it sounds like Royal Teeth may have just found it on their own.
Website
Facebook
Twitter
Instagram
YouTube
Spotify
iTunes