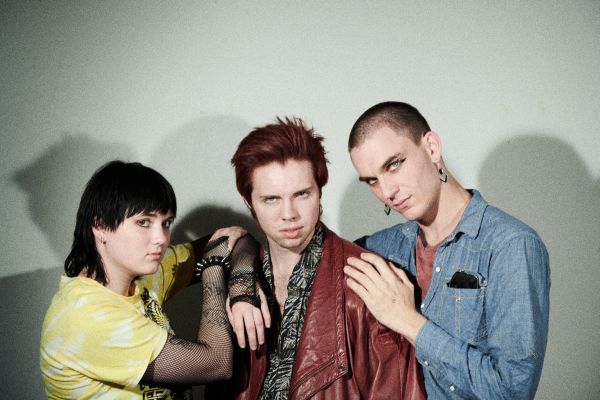 20 March 2020
New Primals – Photo courtesy of New Primals
Through four years of touring, line-up changes, and a bold evolution of sound, Minneapolis-based alternative music trio New Primals have reached a musical peak, delivering their debut full-length in the form of the glorious raw and unbridled Horse Girl Energy.
The 10-track album sees New Primals straddling the line between the burly, raging noise rock of the AmRep scene (Cows, The Jesus Lizard) and the sassy dance-punk made famous by labels like Three One G (Arab on Radar, Ex Models).
Guitarist and vocalist Sam Frederick comments, "We listen to a lot of different types of music and come from varied backgrounds. I'd say, in terms of our music, we play what feels good, and we play what we like to listen to. Writing the music is usually sort of a "stream-of-consciousness" process. We get in a room, freak out, and whatever happens happens."
Horse Girl Energy was engineered by JJ Monroe at Tangerine Studios and North Shore Studios in Minneapolis. The LP was mixed and mastered by Todd Rittmann (former guitarist of US Maple; currently of Dead Rider) at Shy Diamond Studios in Chicago. The album finds a welcome home at Minneapolis-based Learning Curve Records, an authority on all things noisy and rocking (Vaz, Plaque Marks, Bummer, Tongue Party, Hex Machine, and more).
The Big Takeover is dead excited to host the premiere of Horse Girl Energy in full today in all its explosive, energetic, vibrant, and yes – primal – splendor.
From start to finish, Frederick's angular riffing is electrifying and their theatrical howls are right in league with the best of their wild-eyed predecessors – frontmen like David Yow, Circus Lupus' Chris Thomson, and US Maple's Al Johnson. Beneath Frederick's manic energy, the unshakable rhythm section of drummer Lars Oslund and bassist Ali Terveen drives forward with ironclad intent.
Of the album's lyrics, Frederick states: "The lyrics depict a range of personal issues, including addiction and suicidal thoughts, and navigating through life while representing myself as a non-binary person in a world that, often times, doesn't seem ready or willing to accept my identity."
"Some of the other tracks on the album deal with less personal issues such as living in the 'information age' where it seems like almost every piece of information given to us through the media has an agenda behind it. There are also a couple songs about dealing with what I'd call the 'shared trauma' of everyone seeing that the state of our world is in a general spiral, and not knowing what to do about it."
"These are some of the concepts I have in my head when I'm writing, but I love the thought of leaving it up to the listener to interpret their own meaning from the lyrics in our songs and connect with them in their own way. I do hope that people will be able to extrapolate their own meaning from the lyrics and music. That, to me, is one of the exciting parts of experiencing art in general."
When asked about the album's unusual title, Frederick explains, ""Horse Girl Energy" is actually a concept I originally heard from a friend of mine, Natalie. To me, it sort of encapsulates a wild, untamed, and unpredictable spirit that we like to tap into when we're playing or performing. You put a horse on stage in front of a live audience, you don't know what that fucker's gonna do!"
Buy Horse Girl Energy at New Primals' Bandcamp or Learning Curve Records
The band will be live-streaming a performance tonight, March 20th (YouTube Live, Facebook Live, Instagram Live) in lieu of their record release show.