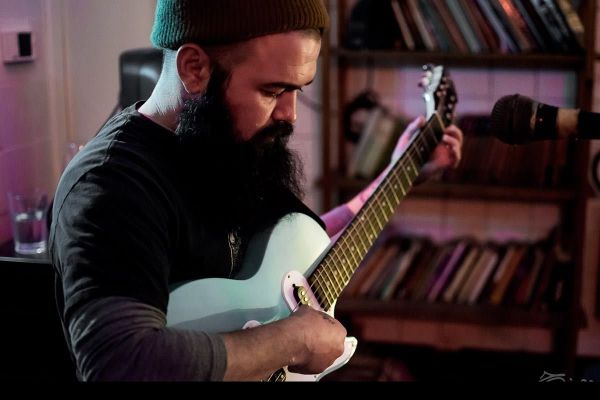 14 November 2019
Matthew Paul Butler – Photo courtesy of Epifo Music
North Caronlina-based neo-folk/indie soul singer-songwriter Matthew Paul Butler's new album Hymns For The Dying has found refuge with Epifo Music, who will release the LP on November 15th. Butler will tour extensively in North America and Europe in support of this album.
Butler's songs are driven by a diesel-fueled bar band on overdrive and a voice that wavers somewhere between a hug and a left hook. Hymns For The Dying is the culmination of years of displacement, rebuilding, and multiple attempts to settle down.
Butler's parents were Christian missionaries and he grew up in the Democratic Republic of Congo (then called Zaire). He found himself often in church meetings, in houses of other missionaries, and in the woods with other children. But his family was forced to leave Zaire when the military revolted. The family attempted to return six months later, but another uprising forced them out of the country.
For Butler, Hymns For The Dying are not documentations, but interpretations of life events, and through these interpretations, a place where people can be together in strength or vulnerability. Matthew's hymns are fierce yet graceful, with a looming tension that at any moment, a fragile artifact will be knocked over, like life itself, irreparably.
Butler's heartfelt emotions and forthright lyrics and delivery are the highlight of each track, and his passionate ruminations and exclamations are fleshed out by rich and vibrant Americana instrumentation to spare acoustic folk guitar constructs.
Hymns For The Dying was recorded by sound engineer Daniel Hodges in various homes around Charlotte, North Carolina. Not unlike Townes Van Zandt's recording history, several attempts had been made to record Hymns For The Dying over the years, with master tapes having been lost or destroyed, and new bands needing to be pieced together.
Pre-Order Hymns For The Dying at Bandcamp
Matthew Paul Butler kindly provided insightful details about each track off his album:
""Mockingbird" is, most simply, a love song. Starting at the first meeting or glance and falling deeper in love while recalling the darkness in the object of love. In another sense it a plea to another saying "Remember how beautiful it is when we are together, how happy and hopeful it is when we are together. Please, don't forget."
""Gods In Progress" is one song that I didn't understand until about a year after I wrote it. In some ways it deals with the abuses of modern spirituality and in others is a comment on human relationship."
""Dead On Sight" started as a basic love song but turned into an exploration of some facets of relationship: the give and take between love and sex, the desire to be wanted and the healing that these parts of relationship can bring."
"I wrote "Goldenrod" for my dear friend, Adam Faucett. We didn't know each other when we were kids but this is what I imagined it might have been like for us in our late teens to be on drugs in a house somewhere down in the humid south."
"How Shall We Be Saved" – "After my friend and bandmate, *Mat*t, passed away by suicide things were very dark. I recorded 4 songs for a split a month later, all of them for Matt, and "How Shall We Be Saved" was one of them. The first version was slow dark and mourning but as I began to see what a light Matt had been to others and the joy that still surrounded his life even after a terrible end, it became what it is today. A celebration of my friend and the beauty he gave us."
""Angel of Death" began early morning in the mountains of Italy while the rest of the house was still asleep. I was stunned by the view and a line or two came into my head followed by a line from the Bible "place me like a seal over your heart for love is stronger than death." The rest came from there; a thought that maybe we could view death and love with similar eyes."
""Gold Coast" is an observation of the arrogance and stubbornness that hold us to our own ideals juxtaposed against our hidden need for a hand or a listening ear."
""Holy is Your Breath" was a chance for me to write and sing about sex in a way that wasn't grotesque. It was and is a moment and a feeling."
"I wrote "Sampson" after I had wronged someone I loved. It's written from their perspective or the perspective of anyone who has ever been betrayed and also portrays the resignation that often occurs after these events."
""Apocalypse" is a celebration of hedonism through a dark lens. A wild and free life shadowed by disaster and the end of all things."