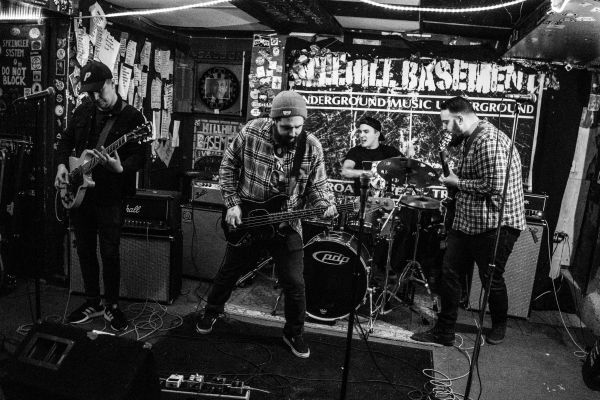 30 November 2018
Coach's Son – Photo Credit: Sean Varga Photography
Punk rock's real power doesn't come from energy or aggression, contrary to what many might assume. Instead, its power comes from vulnerability—to admit what's breaking or broken, to examine it honestly, and confront it as necessary. Perhaps its noisy demeanor is a facade, or perhaps it's an expression of that vulnerability.
Bands like Trenton, NJ's Coach's Son understand this and their debut EP I Don't Know Much About Art, But I Know What Makes Me Mad expresses this duality. The EP comes out today, November 30th via Illinois' Jetsam-Flostam record label.
The Big Takeover is excited to host the premiere of I Don't Know Much About Art, But I Know What Makes Me Mad in its entirety.
The songs on the EP walk a tense and fine line between controlled and chaotic, due in no small part to guitarist and singer/shouter Sean Bystrzycki's distinctive menacing growl. Coach's Son is comprised of friends who stretch as far back as middle school, which may be why they balance each other musically.
The EP opener "Parenthetical" blasts out with Bystrzycki's throaty roar, which is matched against guitarist and singer Matt Vaneekhoven's keening tone. Where Bystrzycki's lines are terse and coiled, Vaneekhoven's provide the more melodic, lyrical compliment. "Distraction weighing on my mind, keeps me from home," he sings, "Distance is the part of this that hurts the most / Stretching through the mud and moss to find a way / Waiting for an open door to stumble through."
Such dualities exists throughout I Don't Know Much About Art, But I Know What Makes Me Mad —the rough and the smooth, the spare and the complex, and the aggressive and the introspective. They are there on "Stressed Investor," whose kicky verse crumbles into a tumultuous chorus, and on the knotty "Fox Thoughts."
On the single "Be Still, Cody" Matt Bernard's bass smolders as it rolls behind the other instrumentation, kicked around by Dakota Bethke's battering drums. Bystrzycki's lyrics paint an obscure and poetic portrait of a flawed character: "You keep your records as told," he sings, "Scribbles bound in leather / With clasps that bind and twine for brace / You thought you should keep it / Trash the histories, balanced soul."
Some would say the most impactful punk-rock is more emotional or intellectual—less about the energy or aggression and more about what inspires it. Perhaps that's what is stated in the EP's title: though the band may not know much about art, by expressing their frustration and fury—their vulnerabilities—they've created something powerful, meaningful, and memorable.
Order I Don't Know Much About Art, But I Know What Makes Me Mad EP, physical HERE
Order I Don't Know Much About Art, But I Know What Makes Me Mad EP, digital HERE
Bassist Matt Bernard took some time out of his daily grind to shed some light on their new EP and their compelling sound:
"Hi Matt! Let's get into the details about your new record. What the theme of the EP, if there's an overall concept? If not, what are some of the songs' subjects?"
Matt Bernard: "I guess if there was an overarching theme for the EP it would be progress. It's about trying to move past the inconsequential mental obsessions that seem consume you. We all seem to inflate and dwell on minor details that we wish would blend into the background. A common thread that became apparent while writing the EP was a theme of moving forward and trying to be more present, while trying to avoid getting caught up in your own mental hang-ups."
"What's the music scene like for you in NJ? Or do you play more in NY?"
Matt Bernard: "Our central hub is Trenton, however we play Philly and Central Jersey a lot. We have been fortunate to play with other genres of music, from punk to hip hop. We are actually a part of a multi-genre collaboration album entitled Analog Trenton, a project we are proud of, encompassing how diverse and lively the Trenton music scene is. The project will include over 30 different bands, solo artists, and poets all recorded on analog tape. It does a great job of showcasing the central NJ sounds!
"How do you get such a full guitar sound? From the type of guitars, f(x), and/or your playing styles?"
Matt Bernard: "This is something that we spent a lot of time honing in. Both Matt Van and Sean play Gibson guitars out of lower watt tube amps. Matt's sound seems to lean toward brighter/prettier, and Sean's a little more towards a dark/heavier sound."
"Sean is playing a Gibson Les Paul DC Special with P-90's through a Marshall JCM 900. His pedal board is actually pretty simple; he's got a Boss Blues Driver and a Boss Digital Delay."
"Matt Van is playing a Gibson Les Paul Classic through an Electro Harmonics Mig 50 (modeled off of the old Sovtek amps). Matt's pedal board has a little more going on with it. He is going through an EHX Soul Food, TC Electronics Spark, and a Boss Digital Delay."
"When it came to my bass rig, I play a 78 Fender Mustang bass out of a 65 Fender Black Face Bassman amp. On my pedalboard I'm running an Earthquaker Devises Westwood as my always on, and an EQD Hoof as my boost/fuzz. The goal behind the bass tone was to have that dirty distorted overdrive sound without loosing the low end. Doing that helps fill out the space when both Matt and Sean are playing leads."
"We would be lying if we didn't mention Sean Glonek at SRG Studios where we recorded the EP. He definitely worked his magic to help us dial in our tones. He helped tweak our setting so we can maintain the grit we love, but keep everything from bleeding together."
"What bands do you admire? Are they outfits that have influenced your sound?"
Matt Bernard: "So we all grew up listening to a lot of punk, hardcore, and rap. Some of the more notable bands that really impacted us and helped us define what ended up being our sound were bands like None More Black, Small Brown Bike, Bear vs Shark, Polar Bear Club, and iron Chic."_
"That being said, when writing we always like going the route of "different". We try to stay away from the obvious progressions that the genre holds. To us it's about what we think sounds good, not what the formula calls for."
"How would you describe your sound? Rock, punk, noise-rock, …?"
Matt Bernard: "To be honest, we've had a somewhat difficult time described our sound to people we tend to hear things like post-punk, post-hardcore, and aggressive emo. We also seems to strike a chord with the math-rock and noise-rock crowd as well though. I think out of all those genres our favorite classification was happy sludge."
Coach's Son:
Bandcamp
Facebook
Instagram
Jetsam-Flotsam:
Website
Store
Bandcamp
Twitter
Facebook
comments powered by