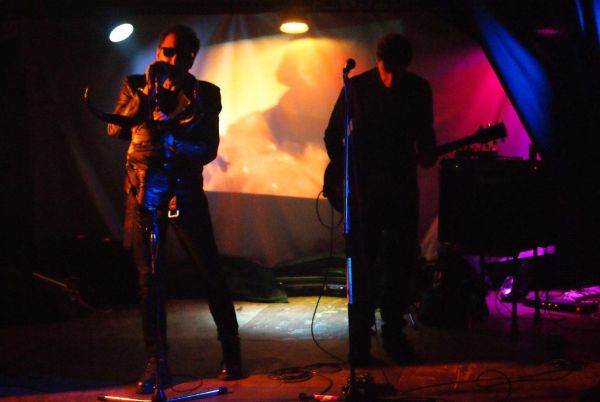 18 September 2018
The Venus Fly Trap – Photo Credit: Paul Cox
In the late '70s to late '80s, the UK was clearly at the forefront of the post-punk movement, producing such wonders as Bauhaus, The Damned, Siouxsie and The Banshees, and The Cure. Once electronica was brought into the mix, it verged into new territory, and New Order and Attrition were among the bands taking the lead.
Today we introduce you to a band whose history is intricately tied to two of the aforementioned bands. British cult outfit The Venus Fly Trap was founded in Northampton by Alex Novak (vocals) and Andrew Denton (guitar, programming) in 1986 after Novak parted company with darkwave post-punk band Attrition. The band emerged from the same fold as Bauhaus, with Novak having attended art school with three-quarters of the band and gigging alongside Bauhaus in several previous bands.
Later on, Bauhaus' Kevin Haskins would produce the band's 1989 EP Rocket USA / Cloud 9 / Opium War and co-produce the Shedding Another Skin LP (1992) with Pat Fish (The Jazz Butcher). Fish also produced their Pandoras Box album (1991).
The Venus Fly Trap will soon release their new Icon LP via Glass Modern Records. True to their trademark musical form, science fiction weaves with mythology and indie rock in the style of Public Image Ltd, Cabaret Voltaire, and Killing Joke. Yet this weave is also wide enough to bring to mind such epic artists as Section 25, Front Line Assembly, and Front 242. Their music is inspired by Bauhaus, film noir, The Velvet Underground, Joy Division, The Doors, Sisters of Mercy, and Nine Inch Nails.
Produced by Martin Bowes of Attrition fame and also Pigface, the new Icon album follows the Nemesis LP (2008) and Metamorphosis, which was released on limited red vinyl in 2016. There's so much to be excited about here, from the electronic introduction of "Icon" to such noteworthy songs as "Deadly Nightshade", "Puppet", "Flashback", "Vitesse", and "Return of Sidewinder". This music is irresistible, powerful, and relevant. Definitely recommended.
"I was inspired by ancient mythology how it has been subverted via cinema and TV screen idols / godesses..and the nature of fame via TV and the internet… the fascination of being famous for being famous, drawing on what Warhol said "in the future everyone will be famous for 15 minutes," says Alex Novak.
With a strong European following, earlier releases came out via labels Danceteria (France), Azyl (Czech Republic), Spectre (Germany), Soundbuster (Germany), SPV (Germany Poland), and Big Blue (Poland).
Their live music adventures have seen them shared the stage with The Mission, Spacemen 3, Tom Verlaine (Television), Clan Of Xymox, New Model Army, Killing Joke, Sigue Sigue Sputnik, Attrition, Pop Will Eat Itself, Chameleons, Christian Death, Red Lorry Yellow Lorry, The Jazz Butcher, Sultans Of Ping, and Front Line Assembly, among others.
The Icon album will be released on September 28th. It will be available on CD via Glass Modern Records and digitally across online stores and streaming platforms, as well as Bandcamp
TRACK LIST
1. Icon
2. Vitesse
3. Voodoo Voodo
4. Flashback
5. Deadly Nightshade
6. Return Of Sidewinder
7. The Genesis Of The Daleks
8. Puppet
9. In The Moonlight
CREDITS
Alex Novak – Vox
Andrew Denton – Guitar, Keyboards, Vocals & Programing
Paul Cox – Backing Vocals (Track 8,9), 12 String (Track 9)
Nathan Bundy – Additional Keyboards (Track 4,6)
Sylvie Denton – Spoken Word (Track 1,2)
Anthony Denton – Spoken Word / Backing Vox (Track 1,9)
Martin Bowes – The Exterminator
Music by A.Denton / Lyrics by A.Novak © Venus Fly Trap 2018
THE VENUS FLY TRAP
The Venus Fly Trap at Discogs
Glass Modern Bandcamp
Spiral Archive
The Venus Fly Trap Facebook
Glass Modern Twitter
Glass Modern Facebook
Glass Modern Bandcamp
YouTube
comments powered by