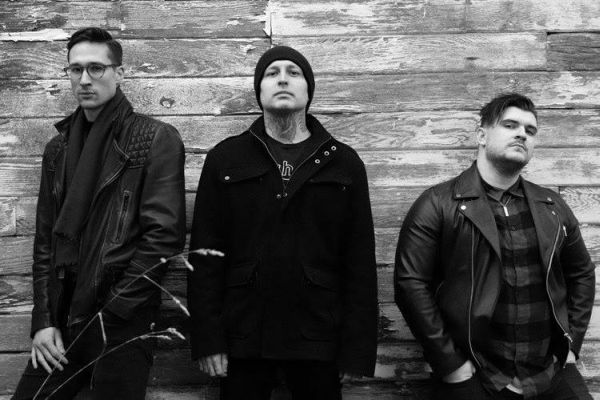 19 May 2020
Altar of Eris – Photo Credit: Dylan Miller
Catching the ever-growing wave of the continued revival of the post-punk genre, Seattle-based Altar of Eris present their Isolation EP, which Big Takeover has the pleasure of premiering here today. Comprised of six tracks, this is the trio's second release.
Altar of Eris is comprised of long-time friends Travis Stanley (vocals, synth, lyrics, drums, and social media), Nick Trimmer (bass, drums, and production), and Brandon Bannister (guitar, drums, and band relations).
Espousing and weaving elements of darkwave, post-punk, industrial, and electronic body music, this EP is recommended for fans of Ritual Howls, Drab Majesty, Boy Harsher, All Your Sisters, Joy Division, Softkill, Sisters of Mercy, Kontravoid, and Twin Tribes. Altar of Eris are not shy to bare themselves to the dark night of the soul, but with catchy pulsating rhythm, dark ominous atmosphere, and a foreboding sense of fatality.
Their signature sound is characterized by the utilization of drum machines, eerie synthesizers, bludgeoning bass, and melodic guitar riffs. There is something here for both New Wave and old-school devotees of Goth and post-punk music.
"Isolation is a hallmark release for Altar of Eris. As a newly formed band, this is our most polished release to date. Named for the fact that this EP was recorded in quarantined isolation, this EP touches on themes of social segregation, broken hearts, promises, and dreams," says Brandon Bannister.
"It also explores the occult, existential pessimism, and classic horror – I feel we have created something immersive while opening a door into the void. The music we create is rooted in themes of trauma, grief, heartbreak, philosophy, and the occult with the intent of cathartically exploring life and music through a lens of self-loathing and existential dread."
Altar of Eris' influences are wide-ranging and pull from both classic and modern acts of a similar genre, including The Cure, Clan of Xymox, Joy Division, Boy Harsher, Ritual Howls, and Drab Majesty.
The Isolation EP is a true DIY project. In addition to writing and performing the music featured here, the band members in Altar of Eris handled the recording, mixing, and mastering themselves at their home studio in Seattle, while Nick Trimmer produced the EP.
Altar of Eris' sound is something as intangible and esoteric as it is an outlet to express complicated feelings and uneasy emotions. If one was to paint their sound with broad strokes, it could be summed up as brooding, aggressive, melancholic, dark, and creeping.
The Isolation EP follows the Table of Discord EP from several months ago that was released on New Year's Day. That was offered both digitally and as a limited edition of 100 red cassette tapes, hand numbered and wrapped in black tissue paper (plus MP3 download and bonus track).
The Isolation EP will be released on May 29 and available everywhere, including Spotify, but It can already be ordered via Bandcamp
CREDITS
Recording, mixing, and mastering was done by Altar of Eris in Seattle
Written by Altar of Eris. Lyrics by Travis Stanley
Produced by Nick Trimmer
Travis Stanley – vocals, synth and drums
Nick Trimmer – bass and drums
Brandon Bannister – guitar and drums
Also check out the video for "Cemetary Burns" (from their Table of Discord EP):
ALTAR OF ERIS
Bandcamp
Linktree
Facebook
Instagram
SoundCloud
YouTube
Spotify
Apple Music