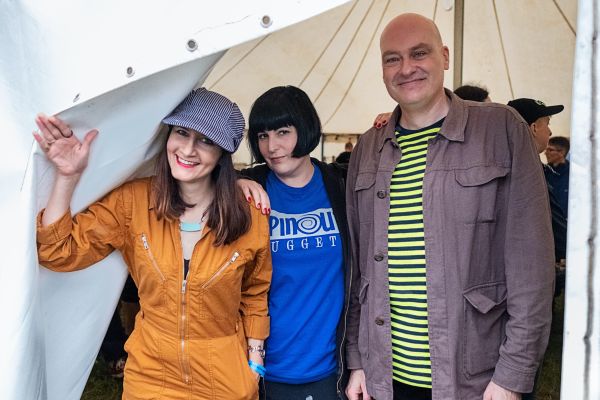 15 May 2020
Jetstream Pony – Photo Credit: Matthew Schwartz at penandcamera.com
Brighton and Croydon, UK-based post-punk/indie pop band Jetstream Pony features a Who's Who of indie pop veterans: Beth Arzy (Trembling Blue Stars, Luxembourg Signal, Lightning in a Twilight Hour. Aberdeen) on vocals, Shaun Charman (The Wedding Present. The Popguns) on guitar, and Kerry Boettcher (Turbocat) on bass, plus new drummer Hannes Müller (The BV's, Endlich Blüte), who joined after their debut album's recording.
Arzy and Charman met as members of The Fireworks and recorded Jetstream Pony's first couple of singles, "Like You Less" and "Had Enough," on an iPad as rough demos. They were picked up and released by the boutique vinyl-only label Kleine Untergrund Schallplatten of Augsburg in their original versions, and received receptive reviews and radio play, including BBC6 Music.
After those releases, Jetstream Pony began to operate as a full band that included Charman's friend and Turbocat bandmate Boettcher. New studio recordings followed gigs in the UK and Germany. The five-track 12" EP Self-Destruct Reality made several "Best of Year" lists, followed by the 7" single "I Close My Eyes" / "It'll Take More Than a Friday," which was released for a tour with The Wedding Present this past December.
Jetstream Pony's self-titled debut studio album arrives on May 22nd on vinyl and CD via Shelflife Records in the US and Kleine Untergrund Schallplatten in Germany, with 10 new songs showcasing a much grander and more developed sound.
Big Takeover is highly excited and delighted to host the premiere of the album in its entirety before its official release. Album-opener "It's Fine" combines the drive of post-punk, the swirl of dream-pop, the catchy melodics of indie pop, and a melancholic longing inherent to Arzy's vocals.
"Trapped In Amber" continues the post-punk propulsion with a running bass line, quickly battered drum beats, and shimmering strands of guitar chime. Arzy's airily velvety vocals coat lyrics like "I'm only down / when you're not around." with a wistful regret.
Self-reflection and the balancing of relationships form the core of the album's lyrics, with "Worthless" featuring twining vocals from Arzy and Charman, a touch of symphonics, and at times, resounding guitar lines.
The brisk and flowing "Gone To Ground" sparkles with shining guitar jangle, but also adds a crisp, staccato beat and sharp lyrics including "You hurt yourself by never letting go." and the refrain _"I hope you're warmer to the ones that you love," sung by Arzy and echoed hazily by Charman.
The sonically grimy "The Very Eyes of Night" moves with an emphatic, but muffled beat and low-slung guitar buzz, before bursting out with bright guitar riffage. Arzy exclaims lightly on the chorus sections, Sometimes I'm happy on my own.", shadowed by Charman. This declaration is delivered like a quiet, but calm and direct truth; that sometimes even in the best relationships, we all need some space to ourselves.
Charman gives some details about the general feeling of the album, commenting, "We wanted to go for a bigger, deeper sound on the album, though we're surprised ourselves in that there's a touch of melancholy that isn't so obvious in our previous releases. Beth writes down ideas, verses and prose, which I edit to the songs, which works really well; the themes continue with Kerry's song too."
"There's a tension between indie pop and something darker; post-punk and even shoegaze. We're really happy with the album. It is far more developed than our early iPad recordings. The engineers Paul and Tony, and Kerry Kelekovich with the mixing; they all did a great job."
Jetstream Pony Bandcamp
Jetstream Pony Facebook
Shelflife Website
Kleine Untergrund Schallplatten Facebook