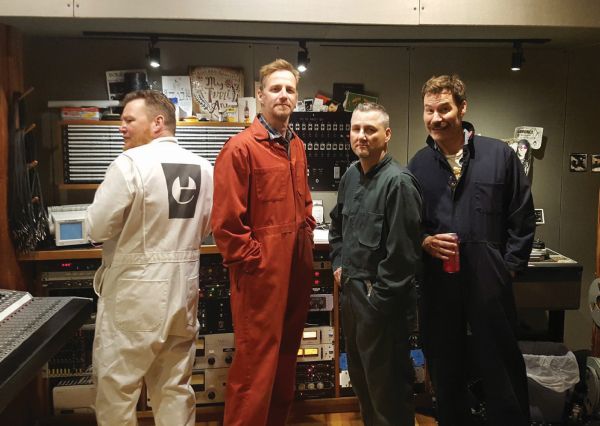 14 November 2018
Big'n – Photo courtesy of Big'n
The Big Takeover is super-psyched to host the premiere of the new Big'n EP, Knife of Sin, which streams here two days before its official release on November 16th.
Big'n is a noise-rock band from Chicago, Illinois, who formed in 1990, consisting of William Akins, Brian Wnukowski, Fred Popolo, and Todd Johnson.
Big'n combines a Midwestern rock sensibility with a more embittered, dark, and anti-ideological edge that stems from their musical influences. Any fans of Jesus Lizard, Slint, Tortoise, or Dazzling Killmen would be advised to spin this EP ASAP!
The band rages through the slash 'n' burn juggernaut that is Knife of Sin, continuing to apply their abrasive, bruising sound to even more uncompromising ends. Choppy, lurching guitar 'n' drum rhythms, a grinding bass line, sharply angling, low-end, detuned guitar lines, and rough, guttural exclamations create a heavy and menacing atmosphere. Lyrically, the songs of Big'n run the gamut of depression, cursed love, the burden of life, parental preachings and, of course, the inevitable deathwish.
Knife of Sin was recorded by the renowned Steve Albini and Greg Norman at Electrical Audio in Chicago and mastered by Carl Saff. It will be released on November 16th in a unique, futuristic aluminum foil packaging courtesy of Computer Students, as well as in 12" vinyl and digital formats.
Pre-Order HERE
Facebook
Instagram
Computer Students Website
comments powered by