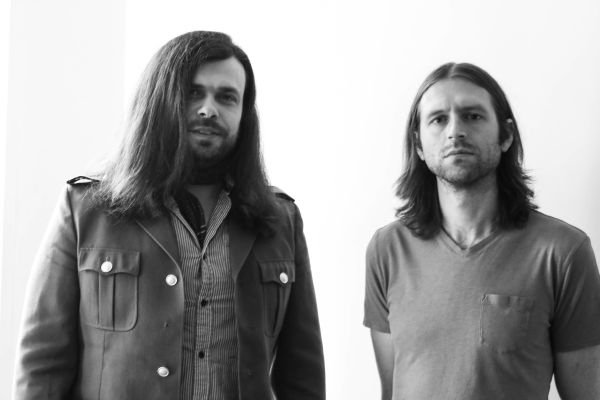 25 January 2019
paris_monster – Photo Credit: paris_monster
NYC electronic/acoustic garage-rock duo paris_monster releases their debut full-length, Lamplight, today and The Big Takeover is mighty pleased to host its premiere right here. The band are currently on tour to support the LP, which kicked off January 22nd and continues through mid-February (and a couple March and April dates so far).
On Lamplight, paris_monster closes a gap between synthesized sound and made-in-the-garage sonics; between modern detail and old-school grit. The electro-acoustic hybrid LP is beat-driven, with heavy shoots of rock, funk, and soul growing from its Americana roots. Solid earth balances with soaring soundscapes. Striking vocals, stark, mesmerizing instrumentation, and at times, a mass of noise materializes. Volatility is the new order. A reflection of our times, perhaps?…
Lamplight solidifies paris_monster's dirty, glitchy, lyric-centered, and groove-based sound. It's a milepost in their search for a focused, yet flexible musical approach. Lyrical themes of bygone eras in rural settings, characters lost, and mortality confronted run rampant. Of love achieved, and denied.
These themes stand in strong contrast to the grimy grooves, emphatic beat, and electronic restlessness, creating depth and dimensions that could have been otherwise achieved only by dropping a modular synth in the corn fields of central New York or the woods of Connecticut.
Stream, Add, Save, and Order the Lamplight HERE
TOUR DATES
Jan 25 Blue Nile- New Orleans, LA (w/ Big Sam's Funky Nation)
JAN 26 Last Concert Cafe- Houston, TX (w/ Turkuaz)
JAN 27 Empire Control Room & Garage- Austin, TX
JAN 29 Last Exit Live- Tucson, AZ (w/ Turkuaz)
JAN 30 191 Toole -Phoenix, AZ (w/ Turkuaz)
JAN 31 Belly Up- Solana Beach, CA (w/ Turkuaz)
FEB 1 Teragram Ballroom- Los Angeles, CA (w/ Turkuaz)
FEB 2 The Fillmore- San Francisco, CA (w/ Turkuaz)
FEB 5 The Holland Project- Reno, NV
FEB 6 The State Room- Salt Lake City, UT
FEB 7 Lost Lake- Denver, CO
FEB 8 Lazy Dog- Boulder, CO
FEB 14 Botttle and Barrel Alton, IL
FEB 15 Logan Square Auditorium (Wintercamp Music Festival)- Chicago, IL
FEB 16 Blackbird- Urbana, IL
MAR 23 Rough Trade- Brooklyn, NY
APR 7 Johnny Brenda's- Philadelphia, PA
Website
Facebook
Twitter
Instagram
YouTube
comments powered by