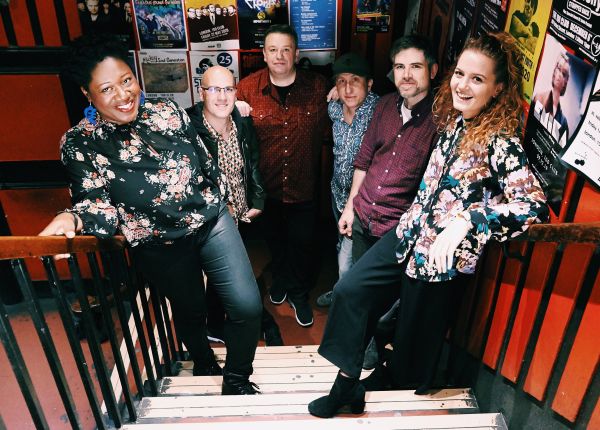 31 January 2020
Crowd Company – Photo courtesy of Crowd Company
Hailing from London, UK comes Crowd Company, a dynamic octet evoking a modern take on vintage soul funk. Crowd Company conjures the spirit of the 1960s and 1970s with a dynamic and colorful palette of sonic exploration. With three vocalists among the eight-member band, lead vocal parts shift seamlessly and three-part vocal harmonies are often incorporated into the mix.
Comprised of core members Rob Fleming (vocals, guitar), Emil Engstrom (bass), Claudio Corona (keys), Esther Dee (vocals), Jo Marshall (vocals), and Robin Lowrey (drums) — supplemented by a horn section including such top players as Piers Green and Ed Benstea — Crowd Company is just as much a powerhouse on stage as they are in the studio. To date, the band has shared stages with and opened for acts such as George Porter Jr. of The Meters, Soulive, The New Mastersounds, Daptone Records' Saun & Starr, James Taylor Quartet and Monophonics.
Lowdown, released today, January 31st on Evan's Vintage League Music recording label, is the band's latest addition to their growing catalog.
The Big Takeover is excited to host the premiere of this album that bursts at the sonic seams with rich, vibrant, and varied compositions. Engaging album opener "New Direction" points the way with a retro sound that shines brightly with the hope and promise of a better future.
Deep funk grooves and dancing piano notes are accented by sharp horns and coolly alluring vocals on "Stories," while "You Ain't Ready" reverberates with wavering keys, vocal accompaniment, horn peeps, and the momentum of "forward motion" lyrics.
The heartfelt "Change My Mind" swims in burnished horns and strong, but reflective vocals that opine about the power of love. A funky strut fills "Free To Choose," while the mellow "Brooklyn Summer" flows with "inspiration". The title track digs into the betrayal of a friendship, but while the lyrics are bittersweet, the sound is upbeat, because "…it's time to make a change." and leave the toxic connection behind.
Expressive organ notes and horns, including sax, sweep and dive through "Get Used To It." The antic "Express," true to its title is a briskly up-tempo number that rushes to the end of the line.
"We've been overjoyed by the fabulous reception of the singles released ahead of this new album and are excited to finally share the complete collection," singer/guitarist Rob Fleming shares. "We flew out from London, England to record Lowdown at the studio of our great friend Alan Evans (Soulive. Ae3) outside of Boston. We played together in one room, keeping a live, analog kind of vibe. The addition of Ryan Zoidis and Eric "Benny" Bloom from funk stalwarts Lettuce on sax and trumpet respectively, and the mastering of the record by Brian Lucey at Magic Garden, was the icing on the cake. We are so proud of this record, the songs, and the way it sounds."
"This is an amazing album! I was immediately blown away by the tunes," remarks Alan Evans. "For me it's all about having great songs and this band has them. They came out to my studio, Iron Wax, and we went for a really natural recording process and we had very few takes for most tracks."
Crowd Company have dates scheduled around their homebase through September 2020, with plans to head stateside later this year. Stay tuned to the band's official Facebook page and website for tickets and more information.
Facebook
Website
Vintage League Music Website