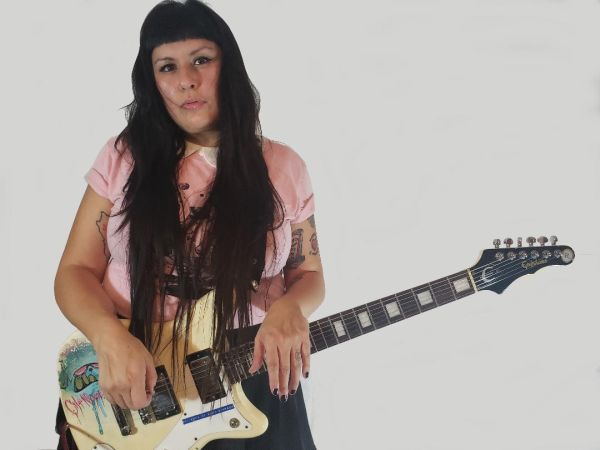 29 October 2021
Miski Dee Rodriguez of City Mouse – Photo Credit: Britta Pogue
City Mouse began when Miski Dee Rodriguez walked away from a hustle and bustle corporate world in Los Angeles and sold her soul to rock 'n' roll. Touring relentlessly for the past 15 years, the band has played their hearts out across the U.S., U.K., Europe, Canada, and Mexico.
City Mouse have released several singles and a full-length record, Get Right (produced by Mass Giorgini), on Southern California-based independent label It's Alive Records.
City Mouse songs deliver on an emotional level with every note and word. Whether empowering or heartbreaking, each song is crafted and played with an honesty and passion that commands attention and draws you in deeply.
The band is releasing their Magnitude EP today and Big Takeover is pleased to host the premiere of the record.
The 3-song EP is vibrant and tuneful, with Miski's Dee's lively vocals swooping and exclaiming with emotive force on each track. She's backed by robust rock 'n' roll guitar fuzz and drive, a deep bass line, and kinetic drumming.
Miski Dee is currently working on a new full length album with her current line-up that is anticipated for release January 2022. The band hails from wherever Miski Dee calls home base at any given time (currently, Tampa, Florida) and that is often somewhere new.
About the EP Miski Dee comments, "I feel like I'm setting the City Mouse sail in a different direction with this EP and the future full-length. Things are feeling a little less punk, a little more rock n' roll which is truer to more of the music that I have been inspired by my whole life. I've added a lead guitarist so songs have even more room to grow and evolve to their full potential and seeing them do just that has been an incredibly elevating experience."