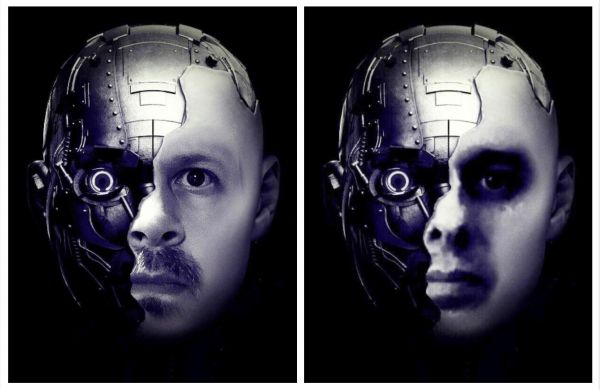 3 June 2019
Def Robot – Photo Credit: Paul Taylor
The Big Takeover is pleased to present you the album premiere of Makers of Mountains from the British eclectic music duo Def Robot. This new LP will be released on June 7the – their first offering under the name of Def Robot. But members Paul Taylor and David Hancox are not novices…. This is, so to speak, their fourth time around the block as bandmates. Earlier, they collaborated in Manchester-based Furball, Slouch, and Kerosene.
Def Robot was launched earlier this year, guided by a shared enthusiasm for punk, rock, and Americana, mixed with northern English grit and dark film noir. Their sound and songs gradually came together. So fortunate that they did – this album is full of interesting moments and even some curveballs. The changing shifts in music along the way should also keep listeners on their toes. The final few tracks of the album are also full of surprises bringing to mind the heyday early '90s college rock.
Addressing such themes as global ignorance of the destruction of our planet, relationship breakdown, guilt and hope, arrogance and censorship, the tracks on this album ought to appeal to fans of such bands as Pavement, Wilco, Buffalo Tom and Queens of The Stone Age. Standout tracks include Falling Apart Again, Last Stop Coney, Mover and a Shaker, and Ferman Saved My Life (CUT!).
"We are here to paint a bleak but thrilling picture like a brooding electric storm in a desert at night, with two shadowy figures on the horizon," says David Hancox.
Paul Taylor explains, "In 2018, we had reconnected, because we started working on unreleased Kerosene tracks, which were re-recorded, edited and mastered by all of the band. We had found that our own recording and production skills had been individually worked on, in the intervening years since our former bands had ceased to be. Having been in three different bands together previously, it felt natural to start a fourth."
Today Def Robot straddles the geographic divide between Berlin and Kendal (South Lakeland District of Cumbria). While historically renowned for pipe tobacco and snuff and grey limestone, today it is perhaps best known for its mint cake and the Kendal Calling Festival. The band recorded, produced, mixed and mastered this album in Manchester, Kendal and Berlin.
Pavement, Wilco, Fugazi number among their influences, as do the Pixies, Mike Watt, Descendents and Ennio Morricone, as well as 80s and 90s Manchester music.
As of June 7th, Makers of Mountains will be released on CD and digitally across online stores such as Apple Music and streaming platforms like Spotify. The album can also be ordered directly from the band in both format via Bandcamp.
CREDITS
All songs written by Paul Taylor and David Hancox
Recorded, produced, mixed and mastered, by Paul Taylor and David Hancox in Manchester, Kendal and Berlin
TRACK LIST
1. Falling Apart Again
2. Mover And A Shaker
3. Fall On You
4. Sweet And Sour
5. Fortune Cookie Writer
6. Ferman Saved My Life (CUT!)
7. Pieces Of Me
8. Gordon From Gordon
9. Long Time Dead
10. Last Stop Coney
Also check out the videos for "Falling Apart Again" and "Ferman Saved My Life (CUT!)".
DEF ROBOT
Facebook
Bandcamp
Twitter
SoundCloud YouTube
iTunes
Spotify