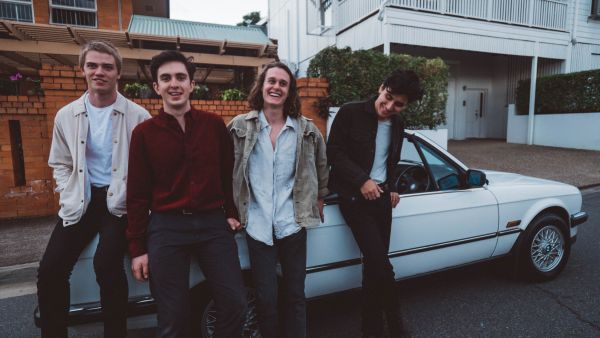 2 August 2019
Twinfolds – Photo courtesy of Twinfolds
Australian indie rock band Twinfolds are releasing Meet You At Dinner, their second EP and The Big Takeover is excited to be hosting its U.S. premiere in full today.
Meet You At Dinner is a further display of stylistic diversity from a group that started out with the sole intention of being a classic rock band, but who got a bit confused along the way. The four friends from Brisbane don't like taking themselves too seriously, a feeling that they hope is conveyed in the performances on this EP.
Twinfolds recently invited listeners to tune in to lead single "Meet You At Dinner", a bedroom-pop song which flows with a musing narrative, glowing guitars, simmering rhythmic groove, and perky percussion.
The EP includes the heavier, strutting, retro-'80s rock-inspired "Drowned Out", a gentle, synths-driven ballad titled "White Flag" that still incorporates the occasional slice of bright guitar riffs, and the passionate, folk-influenced "This Is Where It's At".
The lyrically socio-politically blistering "This Is Where It's At" is a standout track from the EP with its totally unexpected juxtaposition of subdued acoustic guitar strum with raw lyrics and feeling.
And when the second half of the song kicks in, the calm folk sonics are blown away by a post-rock storm of whipped up guitar fervor. The potent and relevant lyrics are delivered from the viewpoint of a millennial and they capture the current cultural angst and anxiety about climate change, pollution, the too-powerful rich, overpopulation, and more.
The recordings on the EP were actually finished while members of the group were living in different parts of the world, which showcases the passion they all have for writing and recording together despite the physical distances that separated them.
Unfortunately, this geographical distance means that the band is unable to play shows in support of this release, at least until the internet speeds in Australia are improved and they can use Skype to perform.
The Meet You At Dinner EP is available everywhere now.
Be sure to view the new animated video for "Meet You At Dinner", which was done by Studio Antwan.