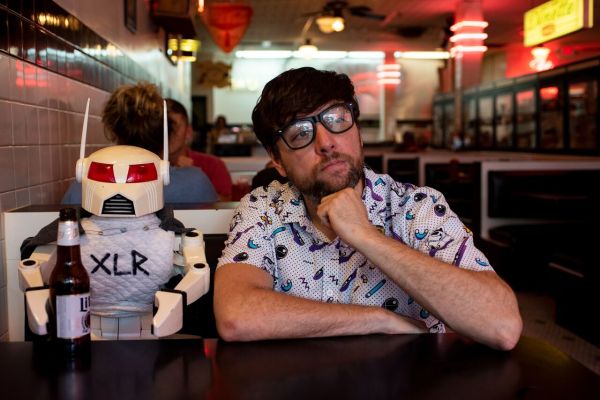 5 November 2018
Andy Gonzales of Marshmallow Coast – Photo courtesy of HHBTM Records
If Marshmallow Coast's previous album, Vangelis Rides Again, was the soundtrack to the after-hours malaise for the bender that comes right after a break-up, then their new album, Memory Girl, is the sound of the hungover morning after meeting someone new. In other words, optimistic and hopeful, yet still pining just a little bit for your previous love, and cautious about proceeding further. Walking a fine line between wanting to give in to these new feelings while still not being sure that you are over your last love.
Memory Girl is Athens, Georgia-based Marshmallow Coast's 10th album, it's due out November 9th on HHBTM Records, and The Big Takeover is quite delighted to premiere the whole LP right here.
To capture the hazy feeling of being in love, Andy Gonzales (of Montreal, the Music Tapes, Mind Brains) stylistically dove headfirst into the 1980s, bringing together the warmth of adult contemporary and the coolness of synthesizer-driven pop and New wave. Yacht rock? Such comparison may seem dismissive, but it really shouldn't be; after all, that particular style was notable for its mixture of pleasant and relaxing sound tempered with thoughtful and relatable lyrics. And what's wrong with that?
That's exactly what Memory Girl is; visceral, not cerebral; a record that doesn't rush itself. Sure, it's 27 minutes long, but it's a most relaxing, intoxicating, and downright enjoyable 27 minutes. Much like a deep tissue massage, once it begins, your ears won't want it to stop, as you enjoy the pleasure of Gonzales and company examining such universal themes as falling in love ("Take You On"), remembering what an old love felt like ("Lovers Leap"), and the sunny optimism that comes from getting to know someone new ("Shooting Star").
And zombies. Mustn't forget the zombies!
Memory Girl is the perfect summertime album for fall, a reminder of warm sunny days and the fresh and exciting feeling of feeling the loving feeling all over again. It's a delight that comes from a mimosa in the morning, Avalon at 8 AM, or Boz Skaggs for breakfast – something you really shouldn't do too much of, but when you do, it is an experience you most definitely will enjoy.
Pre-Order Memory Girl HERE
Andy Gonzales also kindly revealed details of each song on the album. Read below to find out more interesting info:
"Take You On"
"I was imagining a genre of music called "Brian Emo" which is synth-heavy and full of unique instrumentation and sounds, with lyrical content that unapologetically explores emotions related to sadness. This is a song I wrote while adhering to this hypothetical genre. It's probably the most dramatic track on the album and is meant for those who can relate to being heartbroken."
"Lover's Leap"
"This is a song about a couple engaging in a secret romance that is doomed to fail. My Shakespearean tale with a fatalistic outcome. This was the first song I wrote for Memory Girl, I wanted to have an instrumental chorus and let the music largely dominate the song."
"K. Freeman Enslaved"
"This is a cover of a Pipes You See Pipes You Don't See song. Pete Erchick wrote it and it is a tale of a man completely used by the system and basically a human battery akin to the premise of the film The Matrix. I did a way more dance-y kind of early Of Montreal-style of production. Very intentionally early 2000s type drum sounds and guitars/ production. Complete with the filter swept bass drum breakdown et al."
"Sinz of my Father"
"If anyone can relate to having a non-existent, or highly disappointing father, than this song is for them. I hate to talk trash, but I believe parents should build up their children and help them launch into the world with tons of tools and support. Sometimes a parent just "is", they have their own problems and struggles and cannot give of themselves to the standard that I have determined is appropriate. If you were disappointed and felt you had to do it all on your own, did you rise above? Ultimately, that's what this song celebrates."
"Shooting Star"
"This is my personal favorite song on the album. I am so proud of it. The progression came to me quickly and I love to sing about how once someone is in your heart, that will never go away; even if you leave each others lives. I felt like if I could just see a shooting star while walking with a particular person, that it would make things better."
"Foxy Boy"
"I wanted to write a song about my dog Foxy. It also has a sort of Air quality, like their song "Sexy Boy". I carefully recorded some guitar chord strums and then played the guitar on my sampler for a very crisp and clean acoustic guitar track. I really really wanted saxophone to lend the song a jazzy vibe, and also employed a star vocalist Emileigh Ireland. I added a line. "Now. I love you and you love you". Dogs who are happy probably love themselves. I also love people who love themselves. But ya gotta stay humble and not be narcissistic."
"Memory Girl"
"This is the title track. I bought a Memory Boy pedal which is a chorus and delay pedal. It makes everything dreamy. I wanted to use girl as a play on that. This is a personal song of meeting someone and falling in love. I feel like a Taylor Swift facepalm. This song is supposed to be like a relaxing dream."