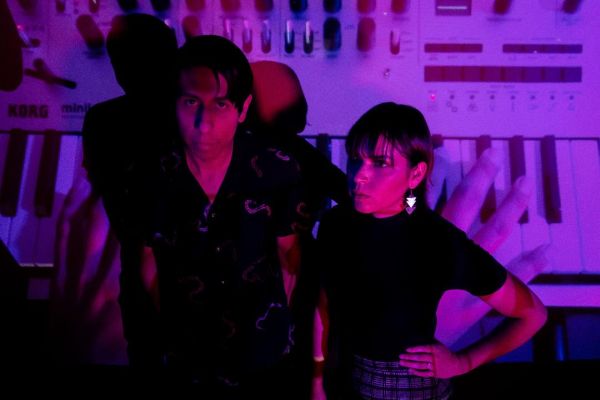 25 June 2020
Glass Spells – Photo Credit: Lunar Maps Photography
Glass Spells is a synth-pop band from San Diego, California that delivers hypnotic female vocals over piercing synths, pulsing bass lines, and dance beats.
After the debut release in 2014, Glass Spells have been featured on radio stations in San Diego (91x, FM949 ) and also other college radio stations like KXLU. They were recently selected as the San Diego's 91x radio local break.
The buzz around the outfit has led to many shows, where they became known for the captivating live performances. They did a showcase at the San Diego Music Thing and were mentioned as the best new band by San Diego Uptown News in 2015
Glass Spells is comprised of Anthony Ramirez (bass, synthesizers), Tania Costello (vocals), and Michael Buehl on drums. The band have won the attention of many by its characteristic sound, which incorporates several elements from Indie, post-punk, and modern electronic music to create textures and rhythms that will not get out of your head.
Big Takeover is pleased to host the premiere of Glass Spells' sleek and sparkling new EP, Mirrors, which releases officially on June 26th. The EP features analogue-blended synths, deep bass lines, energetic drum beats, and dreamy female vocals.
Comparison's to Ladytron are justified, especially on EP-opener "Night Hour," although in general Costello's vocals are suffused with a warmer glow and gentle wistfulness. The beats are crisp and strict, the electronics are effervescent, and the synths diffuse in hazy waves.
The punchy title track is a dark dancefloor whirl of synthwave sonics and emotionally cooler vocals from Costello. She relates, "When Anthony sent me the track for the first time, it made me want to write about the event that occurs when you are having a night out, drinking and completely under the influence. The time when suddenly you suddenly catch a glimpse of yourself in the mirror, looking like a total mess and you are just trying to convince yourself to act sober, to wake up from your intoxicated state, but unable to reach reality."
Costello's (dis)passionate vocals ricochet through the thumping beat of "Psychic Lovers," while "Empty Road" includes spectral synths and echoing electrons.
High-energy and romping EP-closer "Don't Save Me" runs on a Motorik pace of kicky drums, quickly wavering electronics, buzzing synths, and Costello's at times sharper sing-talking delivery.
The record is perfect for a spin on the retro-'80s-themed dance night at the club (are they open yet?!!) – or at any gathering where the dancefloor is the center of attention (or, heck, just dance along in the darkness of your room with the headphones on. That's perfectly viable too!).
Ramirez comments, "We started working on the new EP early 2019. I built the idea based on Mirrors, I wanted to achieve something new, and create new sounds. [The] EP tracks 1 – 4 were produced by Blake Miller of Moving Units."
Bandcamp
Facebook
Instagram
Tumblr