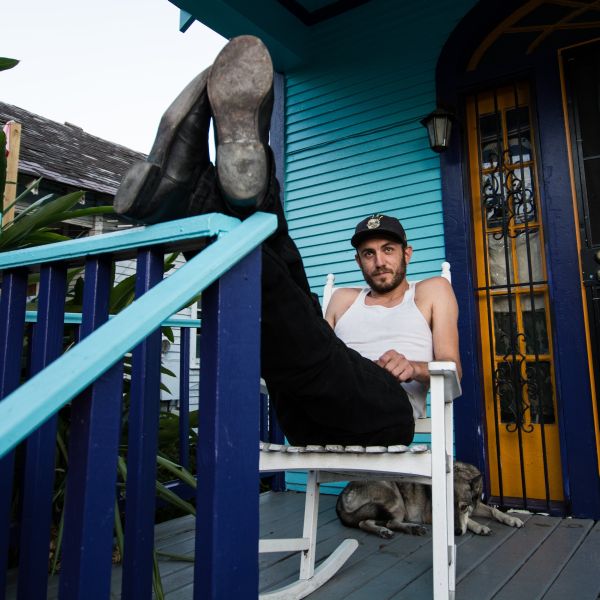 24 October 2018
Jon Hatchett – Photo Credit: John Dixon
Jon Hatchett is a New Orleans-based songwriter and band-leader who has been playing clubs and dive bars across the country alongside others for years. But now he's got his own band, his own songs, and his own sound he dubs "spiderbilly", a response to the domination of cities and skylines that obscure what country music is all about.
It's a rollicking, punk-infused strain of Americana that's put Hatchett's band in the thick of a thriving local scene of punks, street performers, and vintage jazz heads. Rooted in the timeless traditions of classic country and Texas songwriters, Hatchett's honky tonk tunes are woven with influences as diverse as punk rock, blues, and Balkan music.
Hatchett explains, "I like the idea of mashing together creepy minor-key instrumental parts with hard-hitting 3-chord country songs," The result is the darkly fun, "creepy-crawly", and danceable sound of upcoming album Mother Nature Wins Again, which arrives on October 26th, just in time for your Halloween party.
The Big Takeover is pleased to premiere the robust and rousing to reflective Mother Nature Wins Again in its entirety.Recorded at Grammy-award winning Cajun producer Joel Savoy's studio in Eunice, Louisiana, and mixed at The Bombshelter in Nashville, Mother Nature Wins Again is propelled by the clearer focus and broader horizons the band has experienced since its formation in 2014.
The LP features Izzy Zaidman on guitar, Pete Olynciw on bass, and Benji Bohannon on drums, as well as vocals from Kelli Jones, Sabra Guzman, Miriam McCracken, Heather Littlefield, and Jean Bertrand. At the helm is Hatchett's masterful songwriting,
Hatchett swings through the light and upbeat title track that opens the album. Down-home country kicks off the honky tonker "Another Night Gone Wrong", while Hatchett hitches up his belted jeans on the softly loping and scrambling guitar lines C&W "Hold On".
The driving "All For The Thrill" delights with its heady mix of spy film tension, surf rock reverb, and Western twang styles. Hatchett strips it down, but keeps it intense with fiery jags of electric guitar and balladeer-type vocals on the wryly titled "Was The Feeling Last Night Worth The Feel Right Now?"
Charming retro-country-pop flows through "I Wanna Be In Love, but the lyrics tell another story, with the lovelorn protagonist pining for a sweetheart. Tale-telling "Its Nice To See You (but it's Not Nice To Be Nice)" rolls along with a gentle pace, curling guitar lines, and Hatchett's laid-back vocals.
Jon Hatchett's spiderbilly sound is spun into the stuff of dreams and reality on the album; of love and longing, and whiskey-soaked good times – and the morning after. The album blends the familiar and universal seamlessly, shape-shifting into something surprising that you weren't aware you needed to hear – until now.
Hatchett reveals, "Most of my favorite dogs are mutts, and you could say the same about this album. It's country enough to where you can two-step to most of it, but there is a touch of New Orleans R&B, rock and roll, and really whatever we thought fit the song. We tried to arrange it while still letting it feel loose enough to step out of the range of conventional country music. I tried to set these things in popular uptempo form, with the familiar and the unfamiliar put together – a form of satire to think about, but also to party to – danceable music that is sort of dark in terms of lyrical content."