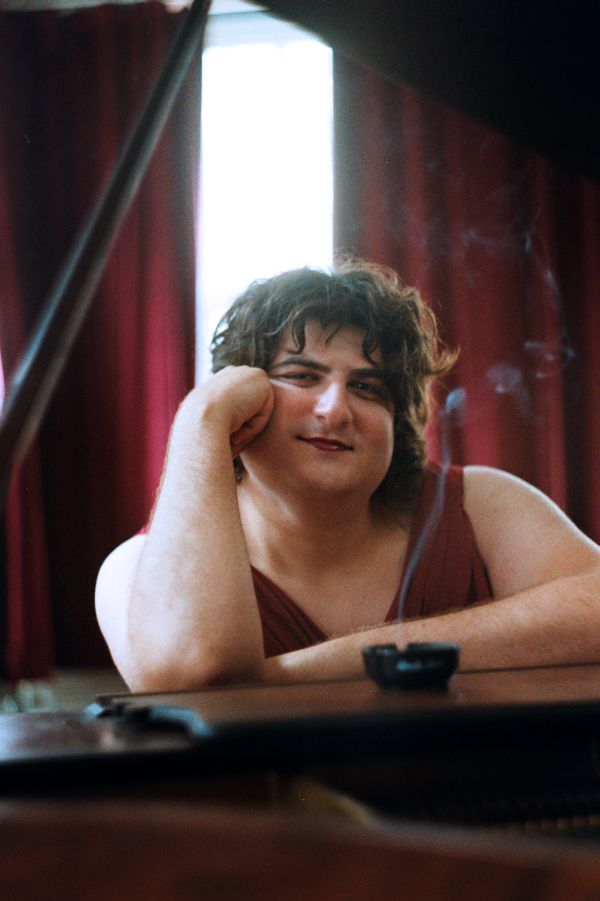 10 January 2020
Josephine – Photo Credit: Seth Applebaum
Dig! Records is starting the new year off right with Music Is Easy, their first album of a brand new decade from native New Yorker Josephine.
Josephine is a singer/songwriter and shape-shifting drag yenta who, along with producer Dr. Josh Hahn and Nat Brower (of Brower acclaim), forms an eclectic and engaging trio.
The band has crafted a warm, glittering, and throwback LP full of soulful to spirited '50s, '60s, and '70s-era-influenced glam-pop tracks with enough hooks for everyone to hang their coats on – so take a listen and stay for awhile.
The Big Takeover is pleased to host the premiere of the album in its entirety. Retro-pop LP-opener "Through a Sea of Time" drifts by with a pretty, laid-back vibe.
The trio dig deep into the past yet again on the frolicking '50s-inspired number "Me & My Boys" that features classic, sky-high harmonies and a tinkling of the ivories.
Vintage psych-'60s "Dear Money" flows with velvety hushed vocals, a spirited beat, and crisp percussion. The title track focuses on Josephine's heartfelt vocals, acoustic guitar strum, and supporting piano notes.
"Fantasy Lyfe" also keeps it low-key with the a stripped-down sound of Josephine's vocals accompanied by piano. Jangle-popper "He Still Calls Me Baby" chimes with burnished guitars, plush sax vibrations, and yearning vocals.
To celebrate the release of Music Is Easy today, Josephine takes us through the LP track by track:
"Through a Sea of Time"
"This is my favorite Josephine song. It's all downhill from here, folks! I like the hypnosis of this one. It's the only track on the record using a drum machine, which helps make things sound more cosmic. I'm proud of my clavinet and Rhodes playing and Nat laid down a really good bass line. "Sea of Time" is like a contemplative, meditative journey through innerspace and maybe even outer space. La, la la, la la la, la."
"Music Is Easy"
"This is another one of my favorites. So good I named the album after it! I really like the lyrics. At first glance it comes off arrogant, but it's not just that. Living is hard, music is easy. Don't overthink it. Nice backup vocals by Nat and Dr. Joshua Hahn. Play on, play on."
"Me and My Boys"
"A bouncy fun one. Very yellow! Dr. Hahn's idea of making "yellow music" rubbed off on me, which is where the line "our guitars make yellow noise" comes from. We were very consciously aiming for a "Wild Honey"-era Beach Boys vibe here. There's 5 Josephine vocals doubled, and 4 or 5 grand pianos on top of each other. Sweet drums by Nat. Nice acoustic 12 string solo by Dr. Hahn. Fun fact: I played the bass with a felt pick. The lyrics are a kind of sarcastic and kind of sincere tribute to the boys in my life, like a kiss and a wink. You can take it any way you wish."
"Dear Money"
"The first day I met Dr. Hahn we tracked this song. It was a challenge! First Nat tried drums, and then Dr. Hahn eventually nailed it. We had done so many takes, I just knew the song was strong because I still wasn't sick of it even after all of that struggle. We ended up finishing at 7 AM the next day and wandered out of the studio like zombies with our first Josephine track under our belts. I came up with the genre "soulgum" to describe the album and this song exemplifies that description the most. A sexy bubblegum soul song about money, "Dear Money" resonates with a lot of people because we all love/hate/wanna fuck money. We all want it, but just as easily let it go once we do…"
"Take All The Time That You Need"
"Aww. This one is so sweet and stripped down and self-assured. This is about two life-long friends who are sometimes lovers. Just two acoustics, a bass, and two vocal tracks. Aw, maybe this one is my favorite. Hehe."
"I Heard You're Gonna Leave Him"
"Soulgum insanity. I brought in a demo that was very acoustic guitar-driven and it was Dr. Hahn's idea to center the track around piano instead. Smart cookie, that Dr. Hahn. Awesome drumming and bassing from Nat. Lyrically, this is Josephine's "dirty mackin" song. I try to convince a friend to leave his lover for his many indiscretions… only so I could secretly swoop in and take him for myself. Bad Josephine! You might also catch my not-so-subtle nod to Phil Seymour in some of the vocalisms."
"Fantasy Lyfe"
"This one was just about tacked on last-minute, but I think it's an important piece of the album. It's half a piano ballad, left unfinished. A dramatic ode to fantasy, stardom, performance, night life. It's like a warning from an older vet to a kid just getting into the game: Fantasy will take your whole life. Dr. Hahn went to town with the Roland Space Echo at the end, leaving us with ominously spacey conclusions."
"I Won't Wait Forever"
"This snaps us out of our fantasy back into reality… "sun beats down on Henry street and the faceless crowd face the heat." A lot of songs on the album deal with waiting, and time in general, and this one is no exception. It's about humans trying to move through the world together, while also dealing with their own selfish motives. It's about claiming space for yourself, and demanding what you want in this world. There's some gender swapping too here, as I refer to myself as a 'busy man with busy plans.' See, an older woman such as myself can still keep up with the kids in this business!"
"He Still Calls Me Baby"
"Aww… this one is a very sincere song about an ex who still called me baby after we broke up, and the blue, mixed feelings that evokes. It's a tearjerker. I'm quite proud of it. Pretty "ooh aah" backup vocals from Nat and Dr. Hahn in the choruses."
"Song For Sleepy"
"This is Dr. Hahn's favorite track on the record. Not just because he plays drums, cowbell, and guitar through a Leslie on it! But more so because it sounds like The Band– haha. This is another song where Auntie Josephine's speaking to the kids, rousing them to get up from their stupors and LIVE! God damn it. This is another one with like 4 or 5 Josephine vocal tracks, so it has that going for it too. Get up, get up, C'mon!"
First 50 orders include a glossy 8×10" autographed by Josephine.
Dig! Records Bandcamp