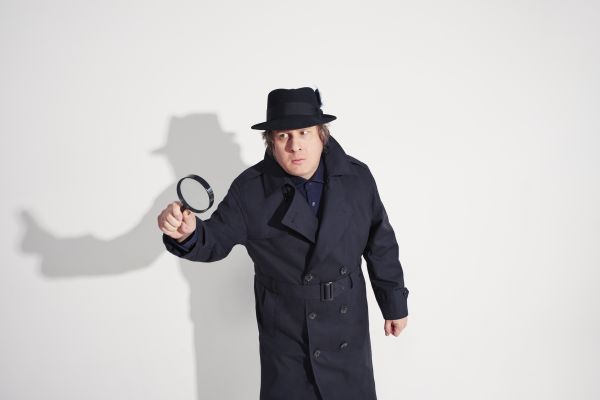 1 August 2019
Jonny Couch – Photo Credit: Kelsey Wagner
A former punk rock drummer, the Brooklyn-based Jonny Couch is set to released his debut album, Mystery Man, on August 2nd via Damaged Sofa Records.
Couch reinvented himself as a solo artist in 2016 with the vibrant and assured Animal Instinct EP. That record introduced the world to his soulful, synth-laced pop side. Couch's songs are gems and he flashes different facets, from infectious rockers to contemplative ballads. They all descend directly from the power pop and New Wave greats of the late '70s and early '80s.
The Big Takeover is super-excited to be hosting the premiere of Mystery Man in full. For the LP, Couch (vocals, synth, drums) enlisted Twisty Cats' frontman Peter Mavrogeorgis as producer (at Dollhouse Productions) and co-musician (guitar, bass, backing vocals) – Mavrogeorgis' production credits include Grinderman, The National, Sharon Van Etten, and more. The result: ten perfect songs, bursting with Couch's songwriting prowess and quirky charm.
"My favorite bands are Cheap Trick and Buzzcocks," says Couch, "but this is more of a personal record than a band effort, highly influenced by power pop solo artists like Nick Lowe." Add to that some of the synth-candy of New Wavers like Duran Duran and The Psychedelic Furs, and the sonic picture takes shape.
More than just a formidable songwriter and vocalist, Couch is a personality. With his yearning vocals and distinctive look, he embodies the part of a lovable, lovelorn anti-hero, wandering through his songs like a doomed detective in his own neo-noir film. The neo-noir metaphor runs deep – from the album title to the album cover and song titles like "Vertigo" and "Framed."
Couch lists films like Body Heat and Body Double as some of his biggest influences. His lyrics are equally romantic, dark, and funny: "I'll be gone before too long / But for now I'm a mystery man on a holiday / Asking you to stay," he pleads on the title track.
Couch is a fixture in the New York scene these days, spotted regularly on the stages of haunts like Berlin and Our Wicked Lady, rarely without his signature black cap. Recent shows include gigs with Paul Collins, The Plimsouls, and nearly all the city's notable new bands on the rise.
A true original, Jonny Couch wields passion, humor, and a deep understanding of rock 'n' roll, to irresistible ends. Couch reveals details about his album, explaining, "The Mystery Man album is my strongest and most diverse work yet. We recorded it in the midst of the blistering heat in Savannah, Georgia. As a result there are 10 songs that feel as hot and colorful as the Neo-noir crime films that inspired them. There's even a tune about surviving the summer. The songs are about relationships and trying to navigate them when the lines are blurred. Quite often it's too hard to see where dreams and mysteries end, and where reality begins."
TOUR DATES
Aug 1 – New York, NY at Berlin – Mystery Man album release show
Aug 14 – Brooklyn, NY at Our Wicked Lady
Oct 13 – Austin, TX at Cheer Up Charlies
PRE-ORDER Mystery Man