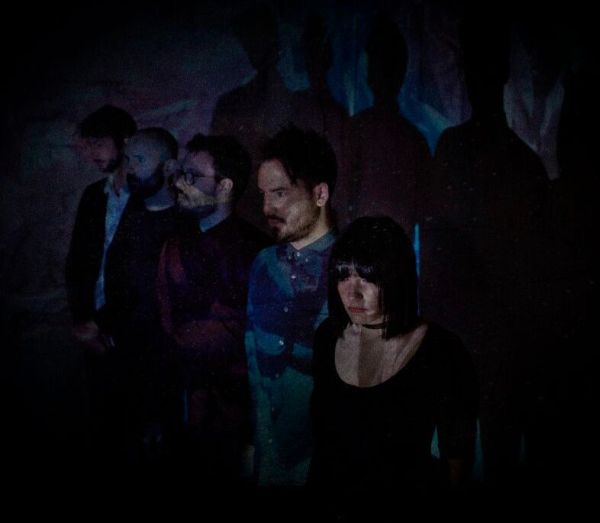 5 June 2019
Nebula Glow – Photo courtesy of Nebula Glow
French shoegaze/dark dream-rock band Nebula Glow is set to release their thrilling debut self-titled EP on June 6th via Somewherecold Records.
Nebula Glow was formed by Quentin Le Roch (guitar, backing vocals) and Manuel Devier (bass) in Paris back in 2015. The idea grew out of their numerous coffee breaks together between 2013 and 2015, where they realized that they had similar musical references: the heavy indie rock of Nothing and Smashing Pumpkins, the post-rock of Envy, and the shoegaze of Slowdive and MVB.
After a few demos were recorded in Quentin's bedroom, they decided to surround themselves with other like-minded musicians in order to fully realize Quentin's compositions.Greg Wojcik was added to the band in 2016, playing compelling lead guitar and inspired by his post-rock influences: Explosions In The Sky, God Is An Astronaut, and This Will Destroy You.
Shortly thereafter, Valentina Esposito arrived on velvety to aerial vocals and guitar, with her strong admiration for the Cranberries, PJ Harvey, and Hole. In early 2018, Antoine Lenest joined the group on drums with his precise and creative drumming style.
Last year, the band began to refine and define the direction of their sound, with everyone bringing their own musical universe to the table. Beyond aforementioned band and singer references, Nebula Glow blends them into their distinctive sound; one that allows for the alternation between more serene spaces and wistful, ethereal melodies and an intense, weighty, and energetic dynamism.
Next up were lots of shows where Nebula Glow focused their music on appreciative audiences and then the recording of their debut self-titled EP. The six-song Nebula Glow was recorded in May, 2018 with mixing and mastering by The Jonesy Agency.
The first single, "Nothing but a Shadow", premiered May 22nd on Krissy Vanderwoude's (Whimsical) show Drowned in a Sea of Sound on DKFM Shoegaze Radio.
The Big Takeover is psyched to host the premiere of the EP in full. Nebula Glow glows with exquisitely shimmering dreamscapes and explodes powerfully propulsive and eruptive shoegaze music with densely textured, and at times, excoriating, walls of sound that drive forward or spiral to the sky.
Using shoegaze as their sonic foundation, Nebula Glow mixes in post-rock expansiveness and grittier '90s-style alt-rock and noise-rock to offer up a stream of stellar tunes that flow from melancholic moments of loss and bittersweet nostalgia to dazzlingly exultant heights.
Thematically, the EP's lyrics touch upon human relationships and the emotions generated by the presence or absence of loved ones. Get swept away into the deep shoegaze space of Nebula Glow's captivating new EP.
Pre-Order Nebula Glow at Somewherecold Records