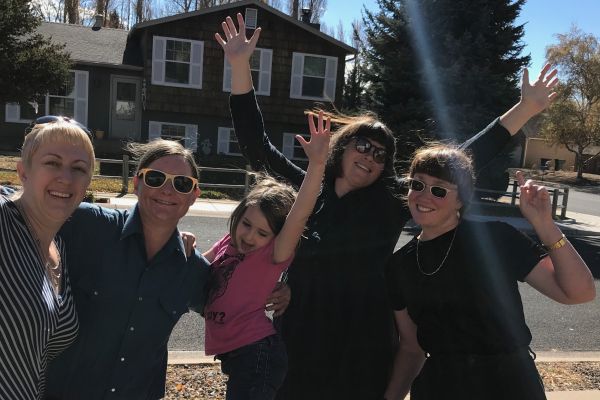 9 November 2018
Possum Moods – Photo courtesy of Emotional Response Records
Possum Moods is a trans-Pacific indie supergroup starring Mia Schoen of such revered Australian indie bands as Sleepy Township, Huon, New Estate, Cannanes, and more, and Jen Turrell from Boyracer, Rabbit in Red, and more outfits.
The band's third full-length, Northern Times, is out today via Emotional Response, a record label that Jen and Stewart Anderson (also of Boyracer) run. On this go-around, Possum Moods is rounded out by Harriet and Phoebe of Australian underground No Wave pop band Olsen Twins and Stewart played drums and produced the LP.
Northern Times was recorded over a 3-day get-together, with Mia and Jen trading off vocal duties over the 12 contemplative and bittersweet to breezy indie pop-framed songs. The sweet and wistfully reflective to upbeat vocals delivering thoughtful lyrics are surrounded by sparkling guitar strum and chime, subdued to running bass lines, cymbals shimmer, and kicky drum hits.
The interplay of vocal harmonies is key to the the charm of the lo-fi, but highly enjoyable tunes. Several voices sing and sing-talk simultaneously, sometimes twinning (or tripling!), but most times contrasting in intonation and pitch, creating a many-level melodic structure. Jaunty to melancholic keyboard notes, sawing to pulled strings, and various percussive elements add even more sonic texture to the album's songs.
The LP builds on the previous full lengths, highlighting the delicate, personal feelings of Jen and Mia's musings on desolate landscapes, long journeys, both deep and deserted love, and more. Recorded organically, the tracks have a fresh DIY spontaneity to them. Stewart explains, "[We had] such a blast recording it. All the songs were written pretty much on the spot and recorded quickly. It was a lovely recording and fun happenstance recording experience. It sounds great with headphones (I think). You can even hear us cooking burritos in the background!"
Order Northern Times at Emotional Response's Bandcamp Vinyl LP is limited to 300.
Emotional Response Website
Facebook
Twitter
Instagram
YouTube
Mia Schoen's Website
Boyracer on Bandcamp
Boyracer on Spotify
Olsen Twins on Facebook