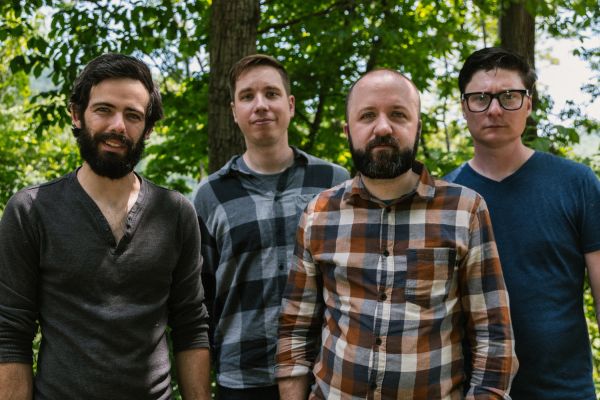 14 September 2018
Old Faith – Photo Credit: Marcelo Asher Quarantoto
Having spent significant years of their lives nestled in the Appalachian Mountains, Old Faith is a band that captures the soundtrack of triumph and contradiction that comes with the terrain. Their dynamic song-crafting takes listeners through the passes, valleys, and peaks of a life well-lived. Old Faith is releasing their debut self-titled album today via Refresh Records, and The Big Takeover is very pleased to host the LP premiere.
The rhythm section of David Beale (drums) and Josh Iddings (bass) sets the heartbeat, speeding up, slowing down, pushing the listener to keep up. Andrew Schools (guitar) provides the texture, a canvas brushed thick with the sounds of swelling crescendos, a glimpse at the clouds ahead and an ascent shortly conquered. Stephen Baker (guitar) captures the bright colors, the echoing of a breeze through trees, ever-changing and challenging the listener to venture just a little further.
Old Faith began their journey together in the summer of 2013, originally under the moniker Bombardier, releasing two acclaimed EPs, You Don't Know How Lucky You Are and Liminality in the years that followed.
Now, Old Faith is a fresh start for old friends, a reunion ignited by the tragic passing of David's father, David Brian Beale, Sr., "Buck" to all who knew him. Often in life, we find strength in returning to our roots, finding home, and restoring an old faith in each other. This album is a celebration of that friendship and the life of Buck, who brought them all back together.
The band paired up once again with Kris Hilbert at Legitimate Business to capture and mix their dynamic sound. They enlisted TW Walsh (Pedro the Lion, Sufjan Stevens) to master the record, fitting together the story soundscape, from mountain valley and back again.
Old Faith is an engaging and expansive, dynamic to reflective opus that rolls like fast-rolling river currents, flies high to the smoky skies, and digs into an earthy, textured richness. Each track is rife with guitar chime, reverb, and burn and restless in its rhythms, changing like between-seasons weather, at times whirling with heavy sonic storms, and at others, buoyant as a feather on the breeze. So take a trek through the LP – the instrumental landscapes are beautiful.
Andrew Schools explains the album's theme in more detail, revealing, "With our first full length record, we wanted to take the listener through an experience, connecting each song to the next. We all were raised or spent a significant amount of our lives surrounded by mountains, and we sought in composing these songs to capture in music our appreciation for peaks and valleys of life."
Order Old Faith at Refresh Records
comments powered by