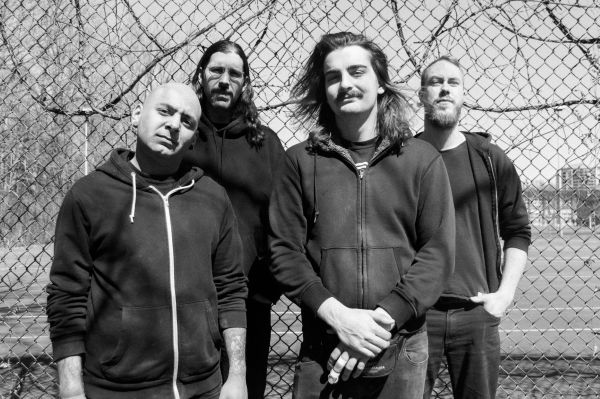 6 September 2019
Shallow Waves – Photo Credit: Stefan Dina
It was in late 2017 that Toronto's Shallow Waves started to move away from its alternative/'60s garage rock origins to refocus towards their current sonic identity. Taking a cue from known contemporary bands (Wand, Flying Colours, The Black Angels), as well as Toronto's local psychedelic scene, Shallow Waves transitioned into a heavier, shoegaze-influenced psychedelic direction.
This change also provided for a different shift in the band's writing process, with all four members contributing. Previously the songs were predominantly written by founder Zaid Khan, but now Jesse Turnbull, Owen Fedchenko, and Thomas Gibson are part of the songwriting mix.
Shallow Waves will be releasing a mini-album, Parallel States of Consciousness, on September 13th via a majority of online platforms. The album was recorded in several studios within Toronto including Taurus Recordings (Metz, Sheepdogs, Fucked Up).
The band is excited to share their ever-evolving sound on Parallel States of Consciousness, and The Big Takeover is mighty excited to host the album premiere a week ahead of its drop-date.
There's actually nothing mini about this album. Shallow Waves traverses a tumultuous musical landscape through 7 dynamically restless and massive tracks. Opener "Shapes" treads with a dreamier pace before lighting up with blazing guitar burn and punchy drum strikes. "Minutes" crackles with a fiery collision of noisy instrumentation, but is also interspersed with calmer lulls.
The band jettison slowly into "The Void", building up a staccato rhythm that progressively gets more intense. A windstorm of reverberating psych-guitar whirl and pummeled drums blasts out by song's end.
Lead single "Dust" kicks it up, starting as a low-key reverie with hazy vocals and low-end bass line, but quickly morphs into another guitar-led conflagration. "Scream" features sharper exclaimed vocals, a touch of psych-organ, and marching tempo that turns into a churning miasma on the chorus sections.
Album-ender "Without Function" careens out of the gate in a propulsive barrage of fast-smacked drums, cymbals crash, bass line undertow, heightened guitar jags, and passionate vocals.
The band elaborate on their sonics, revealing , "Parallel States of Consciousness" is a new step in the progression of Shallow Waves sound. A heavily influenced psychedelic rock album that moves away from the alt rock leanings of our earlier records. This album is also a much more collaborative effort than previous releases, resulting in what we feel is very massive sounding and adding a new dimension to the music"
Website
Facebook
Twitter
Instagram
Spotify