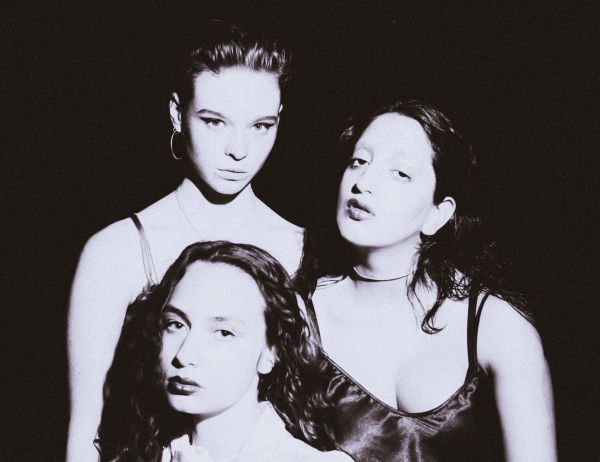 26 October 2018
Dolores Haze – Photo Credit:
Since releasing their stunning debut album The Haze Is Forever back in 2015, Swedish three-piece Dolores Haze have been solely on the offensive ever since. The LP led them to huge international acclaim, which included an award for "Best Rock" act at the prestigious P3 Guld-Award, as well as two nominations at the Swedish Grammy Awards, and even a performance at the Swedish Music Hall of Fame initiation ceremony.
Now after sharing the wonderfully scathing "Banana" and more progressive titular track "Play Hard Fuck Hard Love Hard", the trio are unleashing their long-awaited second album, Play Hard Fuck Hard Love Hard, today via Warner Music Sweden, and The Big Takeover is supremely pleased to host its premiere in full.
Much like the diverse singles to date, the striking and tuneful Play Hard Fuck Hard Love Hard looks to reflect the multi-faceted angle the band likes to pursue. With comparisons to the likes of fellow Scandinavian acts Tove Lo and Sigrid, the new record sees them embark on more diverse approach to production.
Blending aggressive electro-pop with the dream-pop and hip-pop styles and their punk attitude, the group are spreading their wings creatively in order to deliver a release with just as much heart as it does bite.
With their single "FLIP", the band channel their far darker guise, mixing harsh electro-pop with a vicious lyrical flow. The track plays as their most forceful and hard-hitting cut on this new record, unleashing the sheer energy this group are notorious for, while remaining true to their core sound.
From there, the trio let their strong personality shine through on the trap-inspired "Suck On My Ego", one of the more hip-hop-infused tracks for this new record. Inspired by producer Lil Pz first meeting with the band's Groovy Nickz, claiming 'her spirit's so high I'm getting vertigo', the track is an ode to the diva in all of us and unrelenting confidence in just being yourself.
"Ltd. Edition Bichon Frisé" is their nod to men who are so good looking, it is impossible to be mad at them. With its pulsing pop dynamic, the band's humor really shines through on this release as they poke fun at the privilege of looks and take aim at those that exploit it.
With the LP's last three songs, "The Final Show", "Never Saw It Coming", and "Watch It Burn", we get to hear the more vulnerable side to the band's attitude. They all deal with loss in some way or another, whether it be a relationship breaking down or an homage to former band member Groovy Fuck, they express themselves with a wonderful elegance that acts in juxtaposition to the first half of the record. Swooning beats and heartfelt lyrics give us the perfect closure to an album that is just as much about caring for others as it is throwing punches.
While their debut album The Haze Is Forever, set Dolores Haze up as a bold and exciting new outfit, this follow-up cements them as one of Sweden's most captivating bands of the moment. With more confidence, prowess, and conviction, Play Hard Fuck Hard Love Hard sees them move into high gear and deliver a full-length release filled with gusto and aplomb.
Website
Facebook
Twitter
Instagram
YouTube
Spotify
SoundCloud
comments powered by